4.9-magnitude quake jolts Mediterranean
A 4.9-magnitude earthquake jolted the Mediterranean around 1.49 a.m. early Feb. 11. The source of the quake was located to the east of Crete and some 14.7 below sea level.
Duvar English
An earthquake of 4.9 magnitude off the coast of Crete shook the Mediterranean in the early hours of Feb. 11.
The quake took place at 01:46 a.m. and the source was located as east of Crete, Turkey's Disaster and Emergency Management Authority (AFAD) reported.
The source of the earthquake was reportedly 14.7 kilometers below sea level and some 178 kilometers from the Marmaris district of the Aegean town of Muğla.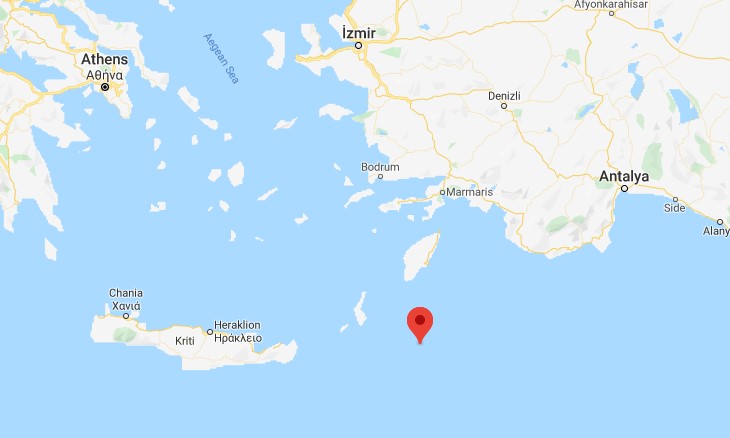 Fractured structure
The Mediterranean experiences earthquakes often as the earth is highly fractured in the mountainous region that reaches all the way up to the Aegean coast, said Prof. Şakir Şahin of Süleyman Demirel University.
"Seeing as the earth has a highly fractured structure in the area, earthquakes are common," Şahin said of the Mediterranean seismic belt.
The Mediterranean ridge/fault line reaches from the Atlantic Ocean to France, Spain, the Swiss Alps, Italy, Bosnia Herzegovina, Albania to Rhodes and finally ends in Fethiye, in Turkey, Şahin said, adding that the mountain ridge is one of the youngest on the planet.
A total of 19 earthquakes were recorded in 24 hours from Feb. 10 at 10:00 a.m. to the same time on Feb. 11 by the Kandilli Observatory and Earthquake Research Center.
The 19 quakes, including the 4.9-magnitude event, had an average magnitude of 2.38.