Turkey's 'Maldives' face cesspool pollution on top of touristic construction
Turkey's Salda Lake, often said to resemble the Maldives with its white sand and turquoise waters, is under risk of pollution due to nearby cesspools. The cesspools were reported to pollute a nearby stream that flows into the lake about a kilometer from the famous white beaches.
Cihan Başakçıoğlu / DUVAR
Often dubbed Turkey's Maldives for its white sand and turquoise waters, southwestern Salda Lake faces a major pollution risk because of a few cesspools in an area called "white islands."
Recently reported by NASA to resemble a crater on the surface of Mars, Salda Lake has been the site of various environmental conflicts as a state contractor started construction around the waters to build a "people's garden."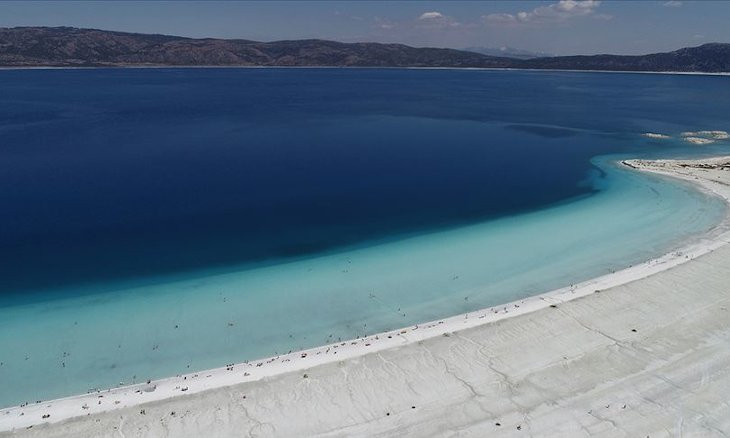 Turkey's Lake Salda similar to Jezero Crater on Mars, says NASA
Most recently, members of environmental defense organization Salda Lake Society posted photos of large craters in the soil in Salda Village's Çayır district, caused by cesspools.
Waste water from the cesspools is suspected to get mixed in with a nearby stream that flows into Salda Lake, which has also suffered from human pollution created by almost 250,000 tourists that visited since June 1 when Turkey started COVID-19 normalization.
"Pollution is visible in the stream's discharge in the lake. This isn't water from a mountain spring, it's clearly water from the cesspools in Çayır," said an official statement from Salda Lake Society.
Sharing photos of visible pollution in the lake, the society noted that the images were taken a mere kilometer east of the lake's famous white beaches dubbed the "Maldives."
The society slammed the Burdur Governor who said in July that the water from Salda lake was potable according to sample analyses.
"A simple fact that's part of everyday life in Turkey these days goes for Salda Lake as well: The official statements don't line up with life's realities," the society noted.
Noting a recent statement by Burdur Governor Ali Arslanta that invited everyone to "come on out" to Salda Lake, the society urged visitors to visit the site where the polluted stream meets the lake.
"Urgent precautions should be taken against the pollution in Salda Lake and [visitors] shouldn't swim in its waters even if it seems clean, because you might get sick," the society added.
The society demanded that the lake, along with the white beaches, should be off-site to visitors, and that viewing docks should be built on higher-up spots.
Calling for the cancellation of the "people's garden" project lead by the ruling Justice and Development Party (AKP), the society urged visitors' facilities to be built on viewing decks and nearby settlements instead of by the water.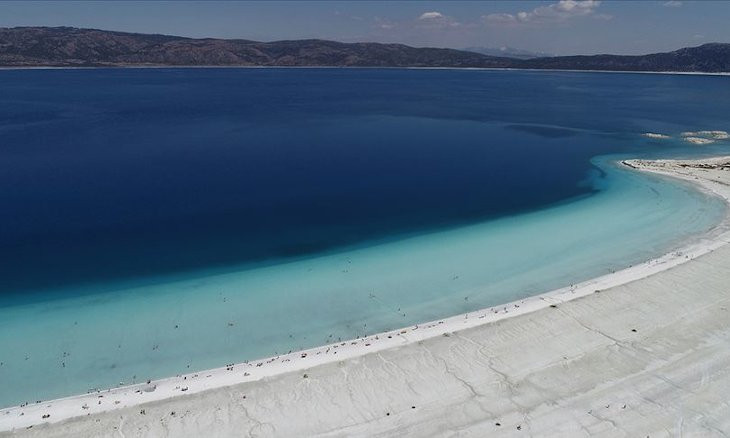 Ministry starts 24/7 live broadcast from 'Turkey's Maldives' after construction causes uproar