Fires break out in Black Sea delta after change in protected status
The Kızılırmak Delta Wetland and Bird Sanctuary in the Black Sea province of Samsun has observed raging fires since the reversal of its "protected area" status. While a part of the delta was transferred to the property of the government, environmentalists suspect the fires were started intentionally.
Haydar Öztürk - Burcu Özkaya Günaydın / DUVAR
Fires have broken out in the Kızılırmak Delta Wetland and Bird Sanctuary in the Black Sea province of Samsun several months after the protected status of the land was altered, arousing suspicion that construction will be pursued in the area.
The Kızılırmak Delta and Bird Sanctuary is home to 321 of the 420 bird species found in Turkey and was added to a tentative list of UNESCO World Heritage sites in 2016.
In April, a segment of the land was transferred to the Ministry of Environment and Urban Planning, and the gendarmerie troops guarding the area were replaced with private security forces.
Two fires that have recently broke out resulted in the destruction of 170 hectares, leading local environmental activists to suspect that the fires were voluntarily sparked.
"There isn't enough heat to start a fire, and there are no trees with pine needles. It's swampland. There are tough reeds called Gogo, and it takes a great deal of effort to light them on fire. It would be very difficult for them to burn on their own," said Samsun Environment Plantform (SAMÇEP) spokesman Mehmet Özdağ.
Özdağ said that entrepreneurs that promised to open a 'nature school' in the area in fact opened a restaurant, and the restaurant's construction prevented flamingos from breeding.
There are only 20 pairs of the rare flamingos in Turkey, and three were expected to arrive and breed in the delta, but they did not show up this year.
"The restaurant was opened close to lakes that shelter fish. By doing that, you are intervening with the whole ecosystem of the area. There is a natural habitat. You are bringing construction to an area where not a single car passes," Özdağ said.
Pro-Kurdish Peoples' Democratic Party (HDP) Izmir deputy Murat Çepni said that the change in status of the land amounted to allocating it for construction.
"The Kızılırmak Delta was divided into three parts. One part is protected. One section was granted to the Ministry of Environment and Urban Planning. The ministry can do whatever it wants to this area," Çepni said.
Samsun Municipal Mayor Mustafa Demir categorically denied claims that the delta was being zoned for development, and said that the land would recover from the fire within a year.
"During the fire a great number of animals escaped, and unfortunately some of them perished. This is a very sad situation. But no one should worry, this does not harm the status of the area," Demir said.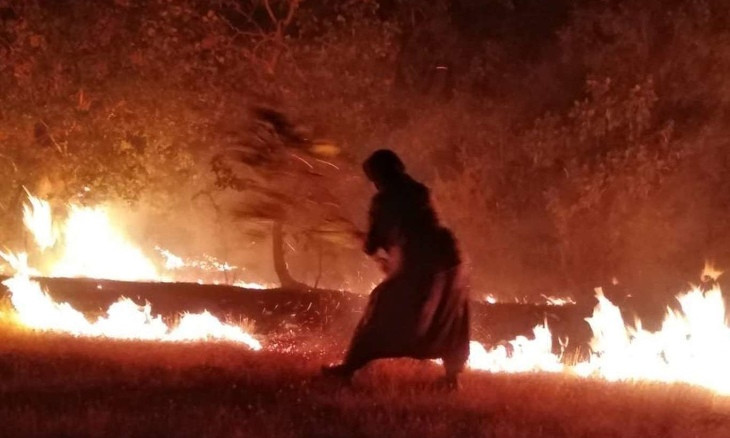 Three months of fires rage on in southeastern Turkey's Cudi Mountains