Erdoğan mourns death of Islamist cult leader, attends funeral ceremony
Turkish President Recep Tayyip Erdoğan has penned an obituary for Islamist İsmailağa Community leader Mahmut Ustaosmanoğlu who died at the age of 93 in Istanbul. He also attended his funeral ceremony held at Fatih Mosque on June 24.
Duvar English
Turkish President Recep Tayyip Erdoğan has expressed his condolences for the death of Mahmut Ustaosmanoğlu, the leader of the influential İsmailağa Community, in a half-page obituary posted in several newspapers.
Praising the cult leader in the obituary, Erdoğan said that he had "devoted his life to science, education, worship and act of showing the true path." "I offer my condolences to his family, the İsmailağa community and all his loved ones," the text read.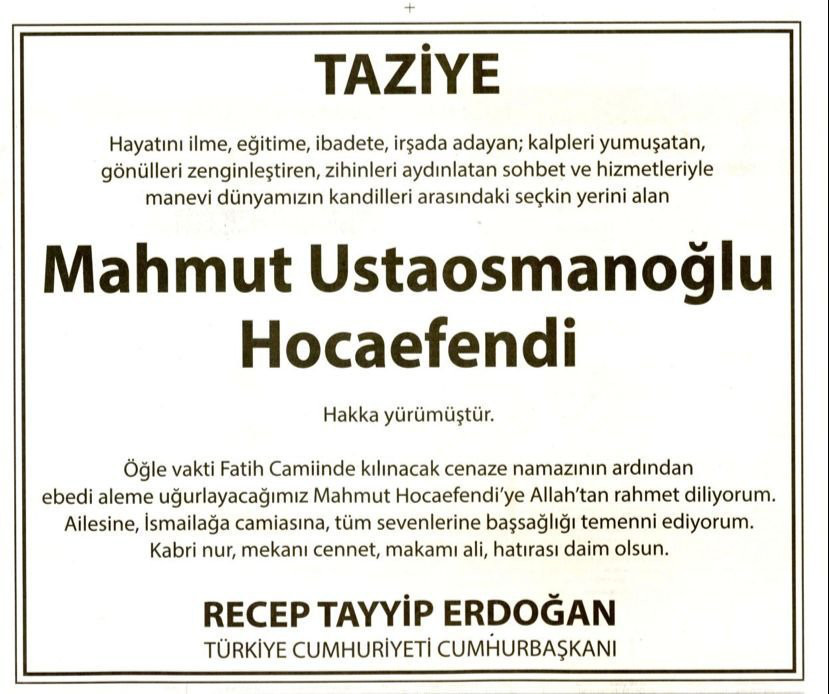 Ustaosmanoğlu died on June 23 at the age of 93. His funeral service was held on June 24 in Istanbul's Fatih district where the cult is centered. Erdoğan also attended the ceremony at Fatih Mosque, along with several of the cult's followers.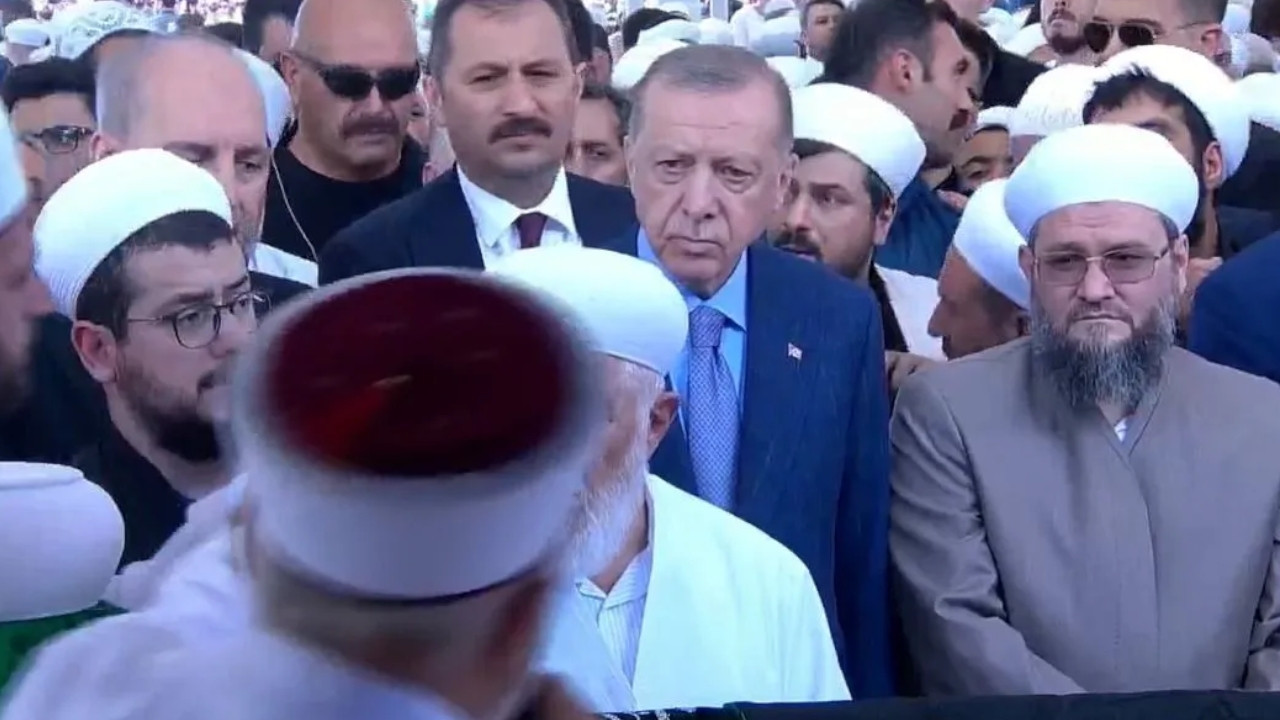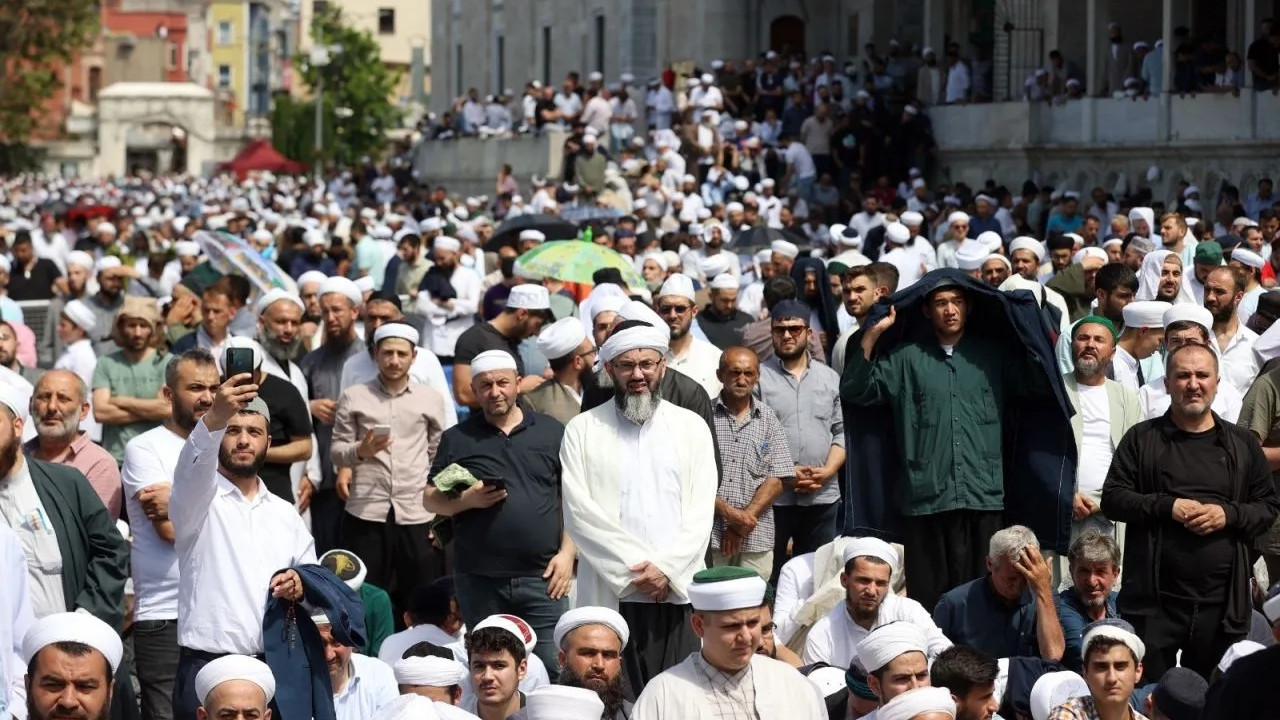 Following his death, several government officials expressed their condolences. Erdoğan also shared a message of condolence on Twitter. Erdoğan deemed Ustaosmanoğlu "one of the spiritual guides of our country" and wrote that he had devoted his life to Islam.
Ömrünü İslam'a vakfeden, ülkemizin manevi rehberlerinden Mahmut Ustaosmanoğlu Hocaefendi'ye Cenab-ı Allah'tan rahmet niyaz ediyor; ailesine, talebelerine ve tüm sevenlerine sabr-ı cemil diliyorum. Mekânı cennet olsun.

— Recep Tayyip Erdoğan (@RTErdogan) June 23, 2022
Based at the İsmail Ağa Mosque in Istanbul, İsmailağa Community is affiliated with the Naksibendi cult. Its members dress radically, usually wearing cloaks and displaying long facial hair. According to several reports, some ruling Justice and Development Party (AKP) politicians are engaged in business deals with the movement.
The relations of the ruling AKP with religious cults have been a subject of debate in Turkey, especially after the July 15, 2016 attempted coup - widely believed to have been orchestrated by the U.S.-based Islamic preacher Fethullah Gülen, an ally-turned-foe of the AKP and Erdoğan.
The botched coup that killed over 250 people followed years of Gülenist infiltration in state institutions. The government is currently being criticized for not distancing itself from Islamist groups and letting cults fill the gap in state institutions that opened after widespread dismissals of Gülenists.