Excavations to uncover hidden past of Ani ruins in eastern Turkey
Turkish archeologists have renewed their excavations in the ruins of Ani, which is included in the UNESCO World Heritage List. This year the work continues in four different areas. The ancient pieces that will be unearthed will be displayed at the Kars Museum.
Duvar English
Excavations have begun at four different points in the ruins of Ani, an ancient city in the eastern province of Kars that has long been regarded as one of Turkey's most impressive tourist sites.
According to the UNESCO website, Ani, which is next to Turkey's closed border with Armenia, was the capital of the medieval Armenian kingdom of the Bagratides in the 10th century.
Also called "the world city", "the city of 1,001 churches", "the cradle of civilizations", and "the city with 40 Doors", the ancient city was added to UNESCO's World Heritage List in 2016.
Having hosted several civilizations since its foundation, the ancient city houses invaluable historical buildings, such as churches, cathedrals, mosques, palaces and baths.
The new excavation works will further uncover the hidden history of the ancient city. Planned to last for 12 months, the works are carried out under the partnership of the General Directorate of Cultural Heritage and Museums of the Ministry of Culture and Tourism and the Kafkas University (KAÜ).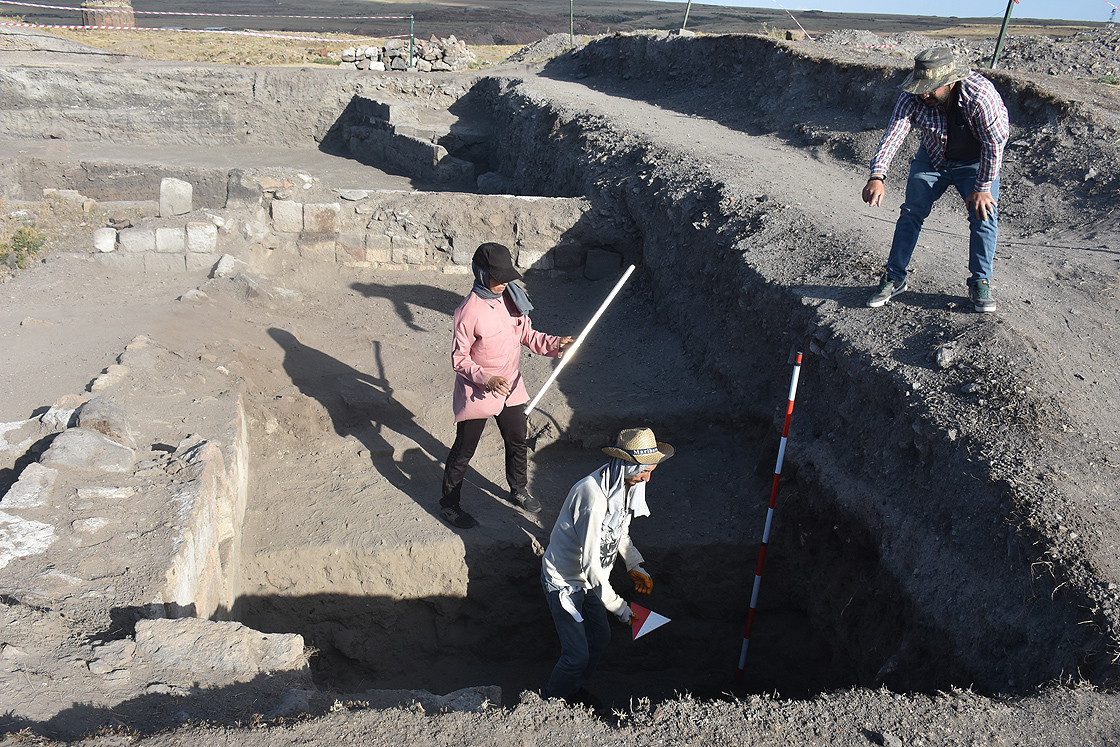 Muhammet Arslan, the head of KAÜ art history department, presides over the excavations. Arslan told the state-run Anadolu Agency that the works are run with the participation of 35 people, including scientists and students.
"Excavation works have been especially concentrated on the places on which the Seljuk bath, Seljuk market place and Seljuk houses were located. Our work is not just towards excavations, but also protecting the artifacts that we uncover," he said on Aug. 7.
He also said that the ancient pieces that are being unearthed during the excavations are being displayed at the Kars Museum.
The ancient site, including Islamic architectural work from the 11th and 12th centuries, was the capital of Armenian emperors in 961-1045 A.D. at the time of the Pakradouni Dynasty.
The first settlement in Ani dates back to 3,000 B.C., and it has been home to nearly two dozen civilizations during history.
Tourists show great interest in the Mosque of Abul Manuchihr -- the first Turkish mosque -- as well as the Amenaprgic Church, and Ani Cathedral.