Experts once again voice concern over planned LNG terminal in Aegean Gulf of Saros
A second expert's report with regards to a planned massive natural gas harbor project in the Aegean Gulf of Saros has once again confirmed that not only does the project have a risk of putting wildlife and forest ecosystem in danger, but also the area is a located in a zone of "high seismic activity."
Deniz Çil / DUVAR
Experts have issued a second report with regards to a planned massive natural gas harbor project in the Aegean Gulf of Saros, saying the project threatens the natural and untouched beauty of the area in several ways.
Locals of the Gulf of Saros, in the Keşan district of the northwestern province of Edirne, have been for months protesting a project for a natural gas harbor and Floating Storage Regasification Unit (FSRU), planned to be constructed by Turkey's Petroleum Pipeline Corporation (BOTAŞ).
The initial environmental impact assessment report (EIA) for the project came out in favor of construction, but following an appeal by activists, a local court canceled the positive EIA decision and assigned a group of experts to look into environmental concerns.
Last year, exports concluded in a report that the area "is not suitable for the project scientifically, legally or environmentally," but following an appeal by BOTAŞ at the Council of State, Turkey's highest administrative body, another group of experts was assigned to analyze the area.
The second expert's report once again said that the project threatens the area in several ways and the initial EIA report was insufficient and did not address many issues.
Following the release of the report, a group of activists from Keşan City Council and Saros Volunteers held a press meeting.
Keşan City Council president Hasan Karagöz said that the report showed the project is against Bern Convention, will put wildlife and forest ecosystem in danger and the area is located in a zone of "high seismic activity."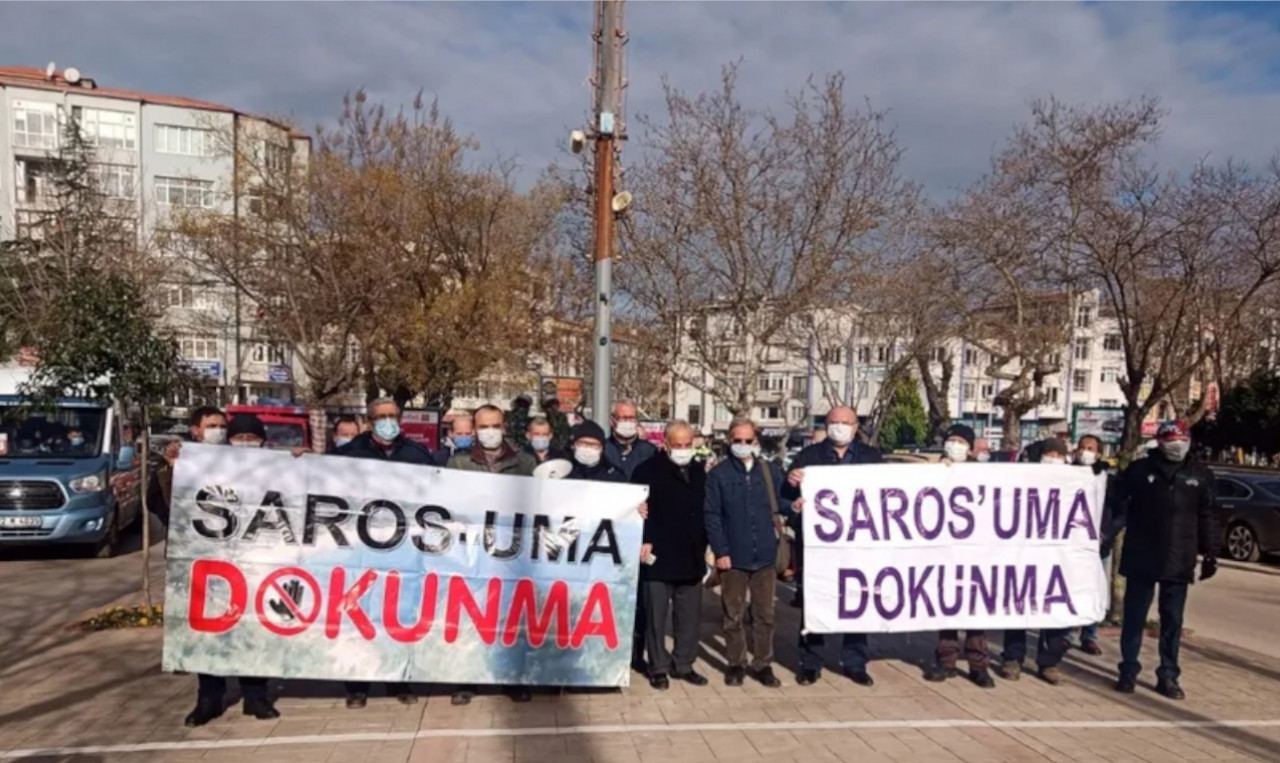 "BOTAŞ and the Environment and Urbanization Ministry have to stop construction works in the region immediately and return the areas to their previous states and compensate all landowners' damages," said Karagöz.
He said that BOTAŞ had violated the court rulings by already initiating construction works in the area and not waiting for the release of the expert's reports.
Lawyer Bülent Kaçar also addressed the crowd, saying the second expert's report has also proven that the project will create big damages for the Gulf of Saros and the region.
"How many more appeal petitions and court rulings are needed for BOTAŞ and Environment and Urbanization Ministry to understand this project is unlawful?" Kaçar asked.
"Our clients' lands have been ruined with bulldozers due to an insistence on the project which is against science and law. Authorities want to seize people's ancestral lands with urgent expropriation decisions," he said.