Demirtaş targeted on e-commerce site where his book is sold
Former HDP co-leader Selahattin Demirtaş has become the target of hate speech on an online shopping platform where his new book "Efsun" is being sold. Following the reactions, the e-commerce site Trendyol removed the hate speech-containing comments.
Serkan Alan / DUVAR
Selahattin Demirtaş, the jailed former co-leader of the pro-Kurdish Peoples' Democratic Party (HDP), has become the target of hate speech on an online shopping platform.
Demirtaş's new book "Efsun" came out in early October and is sold on several e-commerce platforms, one of which is Trendyol.
In the "questions" section of an online store on the platform, some users targeted Demirtaş and those who have been purchasing the book.
Many comments referring to Demirtaş as "terrorist" and "traitor" were posted in this section, in resemblance to the government's rhetoric against Demirtaş. One user even called on the "burning of those purchasing the book." Another wrote, "How nice it is to sell the traitor's book," targeting this time the online store "İyi ki var."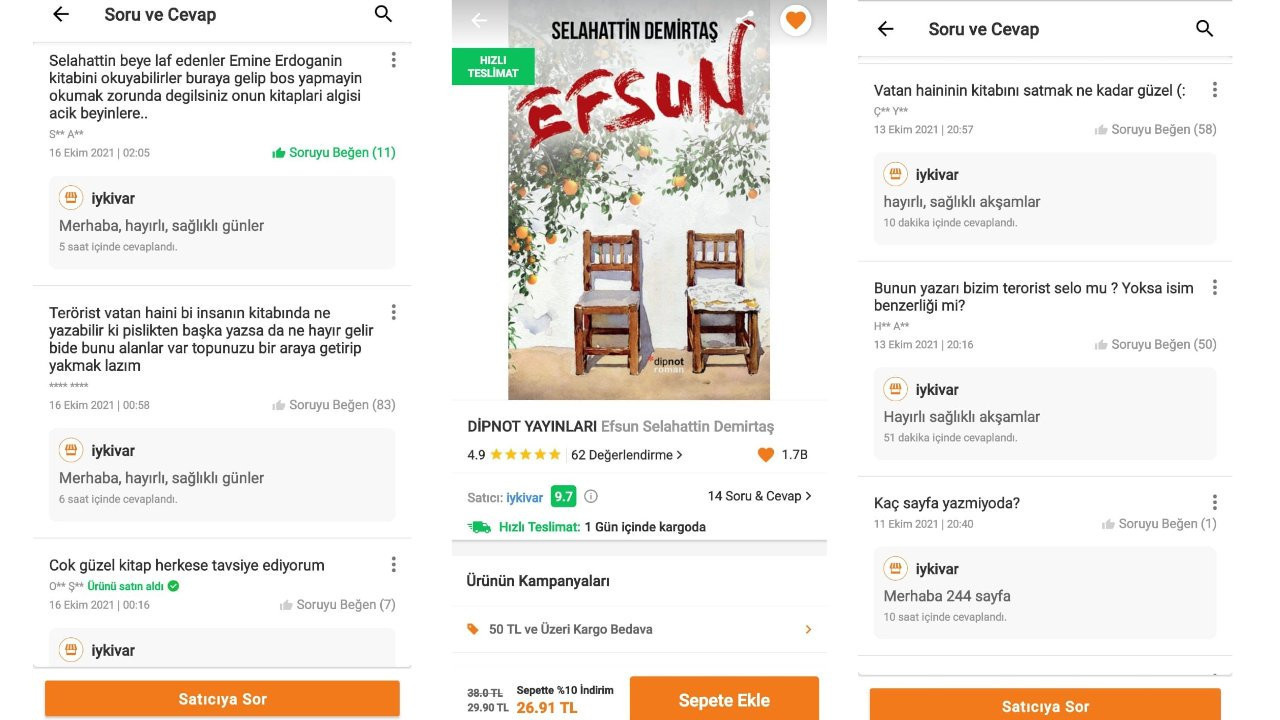 Despite several complaints, these comments were not initially removed from the "questions" section.
Afterwards, Gazete Duvar contacted Trendyol, asking why it was allowing speech comments to stay on the website, to which one customer service representative said: "The comments on the seller's section cannot be removed unless they include swearwords."
The Trendyol representative further said that the comments were being "reviewed."
After Gazete Duvar reported on the issue, Trendyol eventually removed the relevant comments.
Demirtaş faces hundreds of years in prison on charges related to the Kurdistan Workers' Party (PKK) - designated a terrorist organization by Ankara - despite a previous European Court of Human Rights (ECHR) ruling that he was imprisoned on political grounds and should be released immediately.
President Recep Tayyip Erdoğan often targets Demirtaş in his speeches, referring to him as a "terrorist" and accusing him of being responsible for deaths during the Kobane protests of 2014.
Demirtaş co-led the HDP before his arrest in November 2016. He ran for president twice against Erdoğan — once while incarcerated — and is a vocal critic of the government.