Leading medical association finds penalties suggested in gov't bill insufficient to deter violence
The AKP-MHP alliance has introduced a bill to increase the penalties for perpetrators targeting medical staff. The bill proposes increased prison terms by 50 percent, but Turkish Medical Association (TTB) demands that sentences be doubled.
Duvar English
The Turkish Medical Association (TTB) has demanded harsher penalties than were suggested in a recently prepared bill by the government to deter violence against health care staff.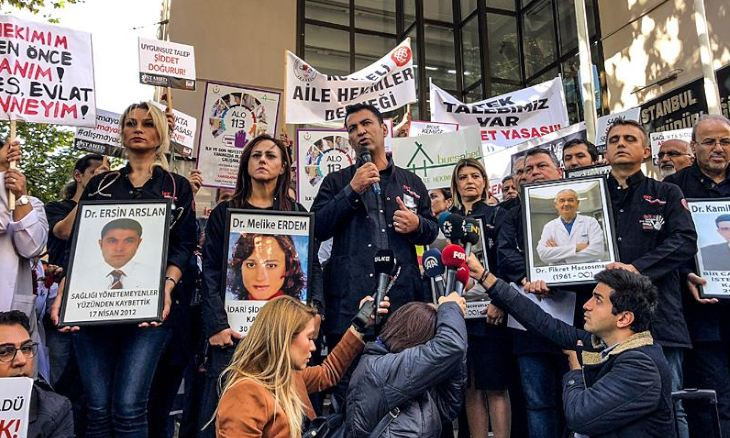 AKP, MHP deputies vote down motion on violence against medical staff
On April 8, the ruling Justice and Development Party (AKP) and its ally Nationalist Movement Party (MHP) submitted a bill to the parliament speaker's office concerning the prosecution of attackers targeting medical staff. The AKP-MHP bloc's move came just a day after they voted down a motion of the main opposition Republican People's Party (CHP) calling for a parliamentary discussion regarding the issue.
The AKP-MHP alliance's bill proposes a series amendments to the 12th Article of the Turkish Health Services Fundamental Law No. 3359. It says that judges will not be able to suspend sentences imposed on perpetrators of attacks against medical staff or defer the announcement of the verdicts. The TTB said on April 9 that it supports such a move as these rulings cause workplace demotivation and low morale in the health sector.
Thebill also seeks to increase the current penalties for attacks onmedical staff by 50 percent. The TTB said that although it finds thebill as an "important step to deter violence" against health carestaff, the increase in penalties should be 100 percent.
After submitting the bill, AKP group deputy chairman Bülent Turan addressed the reporters in the parliament on April 8, saying: "With this law proposal, without making a distinction between [medical staff working in] private or public sector, execution of sentences will not suspended for crimes such as threatening, defamation, injury or hindering healthcare staff from doing their duties. These people will directly face jail. And penalties are being increased by 50 percent."