Journalists and father detained for investigating child's suspicious death
A journalist and a documentary filmmaker were detained as they attempted to follow a story regarding the suspicious death of a child, while police also took the child's father into custody. The detention of 11-year-old Rabia Naz's father Şaban Vatan was condemned by numerous social media users.
Duvar English
Turkish police have detained a journalist, filmmaker and the father of a child, whose death remains suspicious, following their efforts to shed light on how the child died.
Journalist Canan Coşkun and documentary filmmaker Kazım Kızıl were detained on Nov. 13 after they had traveled to the Black Sea province of Giresun to follow a parliamentary commission that was established to research the death of 11-year-old Rabia Naz Vatan.
Her father Şaban Vatan was also detained early on the next day.
"Police came to my house. My testimony will be taken," Vatan tweeted on Nov. 14.
While local officials claimed that the death of 11-year-old Rabia Naz Vatan was a suicide resulting from her leaping off the top her family's home in April of last year, her father believes that she was hit by a car belonging to a relative of a local politician and former mayor of Giresun's Eynesil district, and that she was subsequently placed in front of her home to make it seem as if she had committed suicide.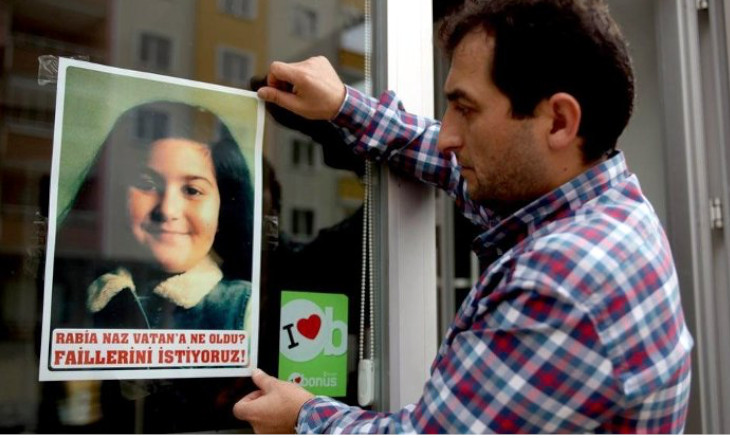 Vatan believes that ruling Justice and Development Party (AKP) Giresun Deputy Nurettin Canikli was instrumental in covering up the killing.
The father has gone to great lengths to shed light upon what he believes actually happened to his daughter.
Reporters Without Borders Turkey Representative Erol Önderoğlu and pro-Kurdish People's Demcratic Party (HDP) Deputy Filiz Keresticioğlu both called for the immediate release of Coşkun and Kızıl in messages they wrote on Twitter.
Metin Cihan, the first journalist to attempt to shed light on how Rabia Naz died, shared the messages he received from her mother, Atika Vatan, concerning Şaban Vatan's detention, as he urged the authorities to "stop the cruelty" against the family.
The detentions were widely slammed by Twitter users, with many asking the reason behind the move.