LGBTIQ+ migrants in Turkey face double discrimination
A report published by the KAOS Gay and Lesbian Cultural Research and Solidarity Association details the experiences of 320 people that have been exposed to discrimination in Turkey. The problems LGBTIQ+ migrants face are not limited to their landlords and neighbors.
Meral Candan/ DUVAR

"Some people are afraid of the sea, I'm afraid of people. They won't leave me alone, I want to live freely and in comfort but wherever I go I'm hunted as if I'm a criminal." These were the words of Sami, who attempted to reach the Greek island of Kastellorizo a few weeks back by swimming from the nearby Turkish beach town of Kaş. Sami's journey came to an end three hours later when he was captured by a coast guard boat.

"I was so hopeless, I didn't know what I was going to do," Sami said, adding that he has still not abandoned his wish to leave for another country.

'No different than trash'

As he recounts how he was dragged into hopelessness, Sami wanders through the streets of Istanbul's Cihangir neighborhood. Sami was born in Damascus in 1992. Like many Syrians, his life changed after the outbreak of the civil war in 2011. Sami first joined the ranks of the Syrian's regime army but upon realizing he could not serve in the military, he escaped. He re-settled in Istanbul with his family six year ago. But his troubles followed him there. When Sami's family found out he was gay, they beat him and threw him out on the street.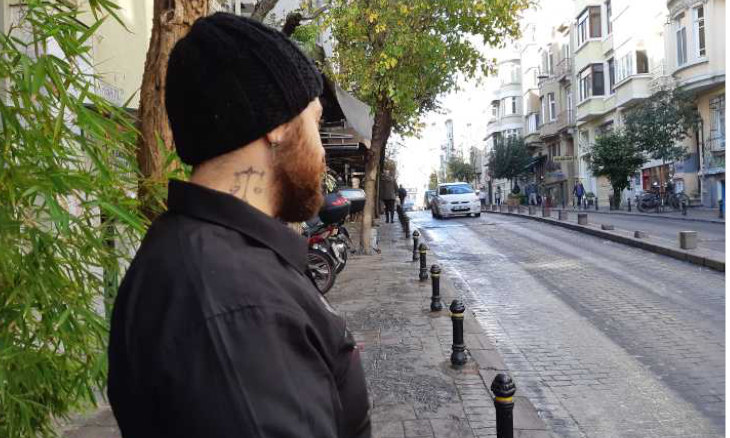 Sami initially lived on the streets and in a shelter. He has made two unsuccessful attempts to flee to Greece. He was unemployed for a long time before working as an ironer in different factories. Years later, Sami reunited with his family and returned to their home in the Istanbul suburb of Esenyurt. Yet this would not last long, as Sami's mother discovered a gay dating app on his phone. Again, Sami was beaten and thrown out on the street. What hurt him the most were these words his father said as he kicked him out of the house: "Do you see the trash in the street? You are no different from it."

The following day, Sami trusted his swimming skills and dived into the Mediterranean from Kaş. In his own words, the island of Kastellorizo seemed "close enough that I could touch it by reaching out with my hand." Still, he was unable to reach it and was apprehended by coast guards. He received help from a civil society organization and was able to return to Istanbul. For nearly a week, Sami has shared a home in the Tarlabaşı neighborhood with four other LGBTIQ+ migrants, though he is afraid of ending up homeless again since this time it is the neighbors that want him out of the house.

"Our neighbors are complaining to our landlord with false claims that we are engaging in prostitution at our house," Sami said, adding that he is afraid that the police could come to their door at any moment.

Neighbors don't want LGBTQ migrant neighbors

Sami's experience mirrors that of many LGBTIQ+ people in Turkey. According to a 2018 survey conducted by a local human rights association, a high percentage of people in Turkey believe LGBTIQ+ people and migrants face discrimination. 36 percent of the 1064 people that were surveyed in 26 provinces across Turkey said they feel that LGBTIQ+ people are either constantly or frequently exposed to discrimination. The results are similar when it comes to migrants. But when people were asked during group meetings "who would you not rent your home to?" the answers were generally LGBTIQ+people and migrants. The reasons the respondents gave included "they will damage the house," "who comes and goes to and from the neighborhood is unclear," and "they are causing moral decline in society."

The problems LGBTIQ+ migrants face are not limited to their landlords and neighbors. Sami, who wants to go to Canada, said that despite the fact that he indicated that he was gay on his application to Turkey's Directorate General of Migration Management, the ID card he received indicates he is married. As such, this "mistake" on his ID card needs to be changed.

Whilst searching for a new house and dealing with ID card issues, Sami laughs when asked whether he socializes with LGBTIQ+ groups in Istanbul. "I'm just trying to stay alive. I've given up my social life, and have nothing," he said, adding that he is not working at the moment because migrants are put to work for long hours and often without receiving their wages. He is paying his rent and bills with the 750 TL he receives monthly from the UN and occasionally gets by with money from friends.

Dreams of freedom, realities of discrimination
Nefertiti, who has lived with Sami for a short time, is exhausted from living in a crowded house. Emphasizing she needs a private space, Nefertiti asks to meet in a café. Unlike Sami, she leads quite a social life. She hangs out in Istanbul's LGBTIQ+ circles and attends their parties. Despite that, she says she is not received well wherever she goes. 20 years of age, Nefertiti came to Turkey from Morocco last year.

"My family did not accept that I am trans. I was 15-years-old. They said I was sick and brought me to a doctor. They forced me to take medication," Nefertiti said, explaining that at this point she dreamed of going to another country and that Istanbul seemed like a city of freedom. "I did some research on the Internet, and asked my friends. Not everything seemed easy but photographs of city were so beautiful, and it was appealing that it is both secular and close to Morocco," Nefertiti said, adding that her feelings changed upon arrival.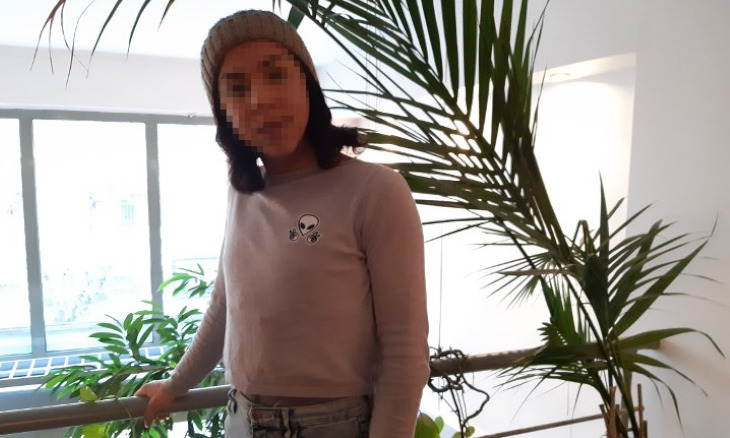 "It is tough to find a job. Sometimes when I go to a café, even before push the door, the waiters signal 'no' with their hands, or when I order, they do not pay attention to me and wait for me to leave. A few months ago, I went to a cafe in Beyoğlu run by Arabs. I thought I would be safer in a place where people who speak Arabic like me hang out. But shortly after I sat down, the waiter came and said that my presence made a woman wearing a headscarf at a nearby table uncomfortable. Essentially, they politely requested that I leave," Nefertiti said.

As she does not have to put up with odd stares, Nefertiti is pleased with the cafe at which we met. As she sips her coffee, she explains the story behind her name. At one point when she was living in a shelter, her friends would refer to her as "queen" and eventually added "Nefertiti." While describing herself as both social and an activist, she mentions her Youtube account Queen Nefertiti, which has 11,000 subscribers and where she elaborates on the problems of trans people, shares her troubles and provides recommendations.

Though Nefertiti has received great responses from her videos, she has also received her share of insults. "These types of comments will always be made, and I won't act in accordance with them," she said. Nefertiti no longer wants to live in Istanbul. Like Sami, she dreams of a future where she is can live freely and safely. For this reason, she wants to go to either Belgium or the Netherlands.

'They said I will be fixed if I get married'

A report published on Dec. 4 by the KAOS Gay and Lesbian Cultural Research and Solidarity Association details the experiences of 320 people that have been exposed to discrimination in Turkey. According to the report, though LGBTIQ+ migrants may have come to Turkey due to the discrimination they faced because of their sexual identities, as in their home countries they conceal their identities in order to live here. What is more, they also have to struggle with the exclusion resulting from being a migrant. Another important point that the report emphasizes is that not all queer people are able to hide their identities. Because of their appearances, trans women are the targets of different types of violence in every aspect of their daily lives.
"I was 17-years-old when I realized I was different. However my identity could not be accepted in the society in which I lived. For this reason I kept my identity a secret," said 27-year-old Nabi, who came to Istanbul two years ago from Iraq. He left behind a very successful life in his country and came to Turkey. "If I wasn't forced to do so, I wouldn't have left my country and my family," he says sadly. Nabi, who won championships in the TakeoneJetsu sport (a combination of judo, taekwondo and wrestling) in both his country and abroad, left everything he loved behind because of the possibility of forced marriage.
"My family was aware that I was different. They said if I got married, I would be fixed. If I got married, I would have ruined my life and the life of my wife," said Nabi, who escaped from his home and came to Istanbul. Though he was sad while explaining his former life, he discusses his new life with a smile, mentioning his boyfriend with excitement. He has been with a Syrian man he met on the Internet for a year. The unemployed Nabi is working on his Turkish and English so he can find work. He wants to continue with TakeoneJetsu, but like the others, his priority is staying alive. Still has not given up on his dreams. "One day I want to go to Europe and study and continue with sports. Isn't it clear?"
Landlords don't respond to potential migrant tenants
Whilst preparing this article, in order to help Sami and his friends with their house-hunting, I looked at listings on the Internet. I focused on listings in the Beyoğlu and Kurtuluş areas, where there is a much higher presence of LGBTIQ+ people compared to other Istanbul neighborhoods. Based on my communication with a landlord in Kurtuluş looking to rent out their home, it became clear just how difficult it is to be an LGBTIQ+ migrant in Turkey. While the landlord looked favorably upon renting their home to LGBTIQ+ people, when they learned that these people were also migrants, they stopped getting back to me.