Eight years on, Roboski village continues to carry traces of massacre
As eight years have passed since the massacre that killed 34 people, of whom 19 were children, in the Roboski village of the southeastern province of Şırnak, the village continues to carry traces of the massacre, with no suspects brought to justice and wounds kept unhealed. "Life goes on under a constant state of mourning," Ferhat Encü, who lost 11 of his relatives in the Turkish army airstrikes, said.
Duvar English
Villagers in the southeastern province of Şırnak commemorated on Dec. 28 those killed in an airstrike, as the village continues to exhibit pain and suffering eight years on.
A total of 34 people, mostly children, were killed in an airstrike by the Turkish Armed Forces (TSK) in Şırnak's border village of Roboski on Dec. 28, 2011 - a massacre that authorities insist on turning a blind eye to.
Following the airstrikes, Turkish authorities said that they thought those near the Iraqi border were militants of the Kurdistan Workers' Party (PKK), when in fact they were only smuggling goods - a widely-known means of living of the people in the area.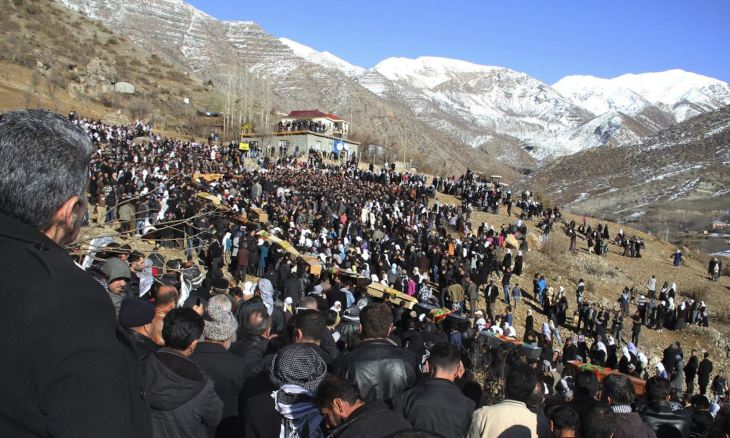 "It's a group of 30 to 40 people. There are mules and people. How can we know who is who from that height? It's impossible. The TSK fulfilled its duty sincerely. We announced the compensation, but someone abuses this issue," President Recep Tayyip Erdoğan, who was then-Prime Minister, said after the massacre, as he also thanked then-Chief of General Staff Gen. Necdet Özel and the force command for their "sensitivity despite the media."
Another government figure to comment on the massacre was Hüseyin Çelik, then-deputy leader of the ruling Justice and Development Party (AKP), who said that the airstrikes were "an operational accident."
Then-government spokesperson Bülent Arınç said that "it would be wrong to expect an official apology."
While government officials repeatedly said that compensations will be paid, Roboski families refused the money.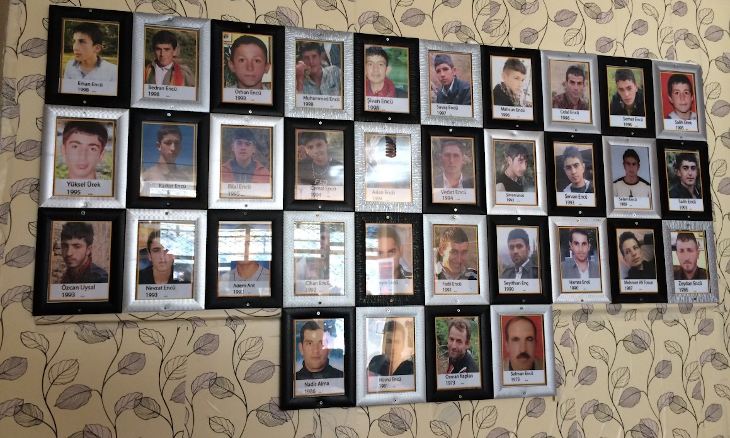 Ferhat Encü, who lost 11 members of his family in the airstrikes and who was arrested when he was a deputy from the pro-Kurdish Peoples' Democratic Party (HDP), said that no wedding ceremonies are held in the village and that women still wear black.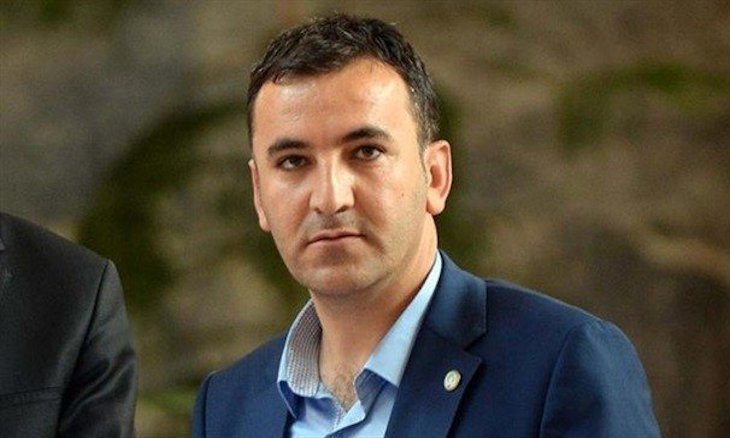 "People used to love life and had the joy of living before the Roboski massacre. There were wedding celebrations every week. Now, no one holds wedding receptions anymore. Women are wearing black. Life goes on under a constant state of mourning," Encü, who spent months in jail, told Duvar.
Adding to their immense suffering, members of the Encü family have either been detained or arrested in the past eight years in their search for justice, with Ferhat Encü's brother Veli Encü still in jail.
The families took the massacre to the Constitutional Court in July 2014, but to no avail.
28 Aralık 2011, Roboski. İktidarın en büyük katliamlarından biri. 8 yıldır yüreğimiz 34 parça. 8 yıldır sorumlular cezasız. Bizler ise çocuklarımızı koruyamamanın yüküyle yaşıyoruz. Bu katliamı, karar verenlerini asla unutmayacağız. Hesabını soruncaya dek. #Roboski8YılOldu pic.twitter.com/wnLDwkyZFx

— HDP (@HDPgenelmerkezi) December 28, 2019
The latest blow to Roboski families was dealt by the European Court of Human Rights (ECHR) when it dismissed an appeal, terming it "inadmissible."
The European Court ruled the applicants had failed to submit essential documents for the examination of the appeal in time, while saying that they failed to give a reason to justify their late and missing submission of the documents.
"Roboski families' expectation of justice was exhausted following the ECHR decision," Ferhat Encü said.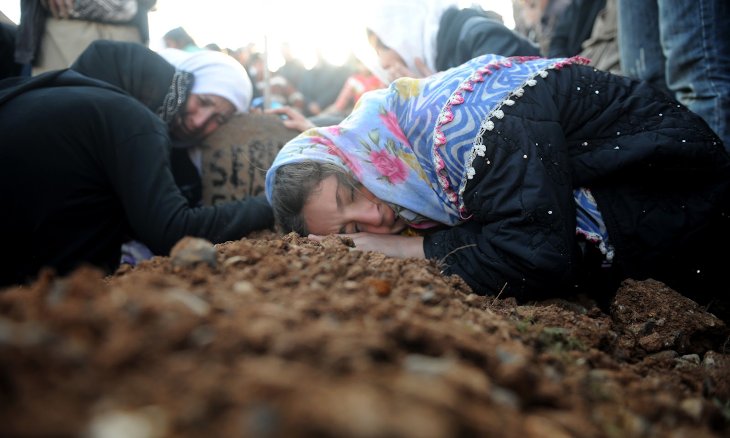 'This is a massacre and the perpetrators are clear'
Those killed in the airstrikes were commemorated in Roboski on Dec. 28, with families of the victims calling for justice as they wore black clothes.
Speaking during the commemoration, HDP co-chair Sezai Temelli said that all massacres will be brought to account, while HDP deputy Gülistan Kılıç Koçyiğit said that the struggle for justice will continue even if it takes 80 years.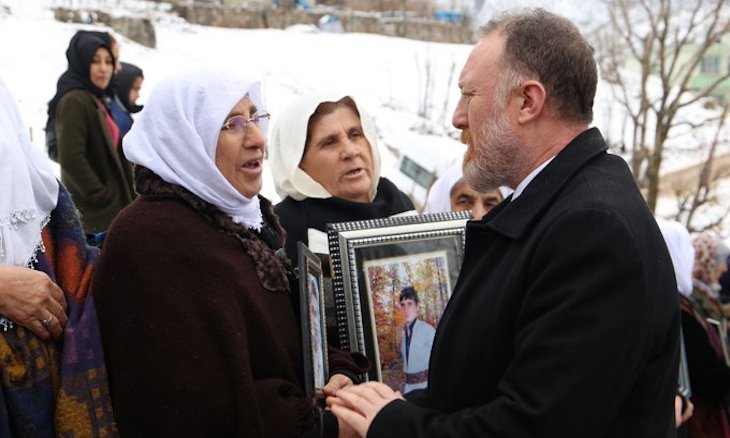 Democratic Society Congress (DTK) co-chair Leyla Güven said that the AKP insists on calling the massacre "an accident."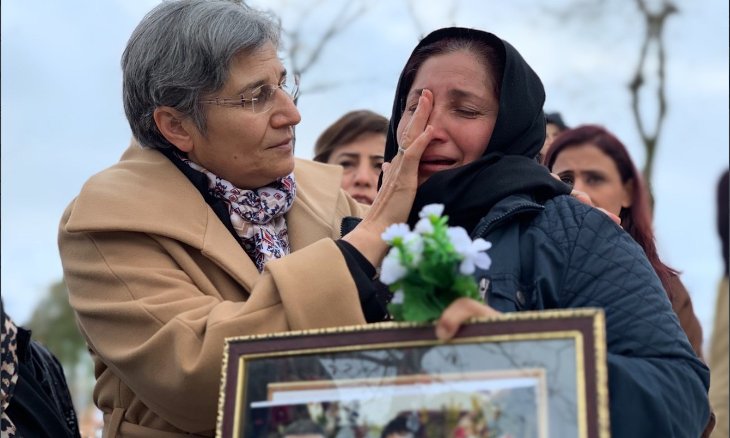 "This is a massacre and the perpetrators are clear. We are apologizing from Roboski families. We haven't been able to pursue the case very well," Güven said.
Bu gün günlerde Roboski. Soğuk, kar, acı ve direniş... pic.twitter.com/JWKCKXwyrT

— Roboski Aileleri (@RoboskiAileleri) December 28, 2019