Osman Kavala re-arrested hours after acquittal ruling
An Istanbul court has ruled for the imprisonment of Osman Kavala once again, just hours after another one acquitted him in the 2013 Gezi Park case. Kavala's continued arrest stems from a separate case pertaining to his supposed involvement in the failed 2016 coup attempt.
Duvar English
Philanthropist and human rights activist Osman Kavala was re-arrested late on Feb. 19 over charges related to a failed 2016 military coup, just hours after being acquitted for his alleged role in the 2013 Gezi Park protests.
Kavala and eight other defendants were on Feb. 18 acquitted by a court outside Istanbul in the Gezi Park trial. Applause erupted in the courtroom and some people cried in disbelief when the decision was announced. But their joy was short lived.
Within hours, a new warrant from the Istanbul prosecutor's office called for detention of Kavala as part of the investigation into the failed 2016 coup attempt. The prosecutors accuse him of "attempting to overthrow the constitutional order" in this case.
Late on Feb. 18, police detained Kavala immediately after his release from a Silivri Prison, west of Istanbul, and took him to police headquarters after routine health checks.
On Feb. 19, Kavala was referred to the prosecutor's office, where his testimony was taken in relation to the new investigation. Afterwards, he appeared before the court, which ruled for Kavala's re-arrest.
Elaborating on its decision, the court said Kavala had been in contact with one of the organizers of the coup attempt, and added that they had met with people with links to the Kurdistan Workers' Party (PKK).
Kavala is cited by the court as stating that assertions he supported the coup attempt are "baseless."
Some opposition lawmakers -- including Sezgin Tanrıkulu, Ahmet Şık and Hüda Kaya were -- were at Istanbul's Çağlayan courthouse to show their support for Kavala.
Along with a photo of himself, Kaya and Kavala, Tanrıkulu posted on Twitter: "Despite yesterday's acquittal and release decision, Osman Kavala has been re-arrested 24 hours later on the same charges. There could not be a better explanation than this that there is no judiciary in Turkey. But, of course this oppression will end."
#OsmanKavala dünkü beraat ve tahliye kararına rağmen, 24 saat sonra aynı iddialarla yeniden tutuklandı.
Türkiye'de yargının olmadığının daha açık anlatımı olamazdı.
Ama bu zulüm elbet bitecek... pic.twitter.com/obEBVVF4xE

— Sezgin Tanrıkulu (@MSTanrikulu) February 19, 2020
In its December ruling, the European Court of Human Rights (ECHR) said evidence was insufficient to justify the accusation that Kavala had been involved in the abortive 2016 coup.
Ankara says the coup attempt was carried out by supporters of the Gülen network, officially known as the Fethullahist Terrorist Organization (FETÖ).
Several European politicians criticized Turkey's move to re-arrest Kavala. European Parliament rapporteur on Turkey, Nacho Sanchez Amor, told Euronews that they were "very disappointed, deceived and sad" with the decision to keep Kavala in jail.
The European Parliament former Rapporteur for Turkey Kati Piri said it is "infuriating to see the torture" inflicted upon Kavala, and the case against him is a "politically motivated one."
Sergey Lagodinsky, the chair of the Turkey delegation of the European Parliament, said that the decision to re-arrest shows the Turkish judiciary system is "out of balance." "Until comprehensive judicial and legal reforms will take place, we cannot talk about common European values and rules of law," Lagodinsky said.
"Türkiye'nin mesajı açık ve net" @NachoSAmor

"Kararın siyasi olduğundan şüphe duyanlar Erdoğan'ın açıklamasını okusun" @KatiPiri

"Bu tek bir karar değil, sistematik bir bozukluk" @SLagodinsky

AP vekillerinden Osman Kavala tepkisi

▶️ https://t.co/gz4GegneQ2

✍️ @Gulsum_ALAN pic.twitter.com/6mtDCXzlVd

— euronews Türkçe (@euronews_tr) February 19, 2020
Kerem Altıparmak, a lawyer and deputy head of Turkey's Human Rights Association, said similar actions by the Turkish judiciary had prevented several others, including Kurdish opposition figure Selahattin Demirtaş - who has been in jail for more than three years on terrorism-related charges - from being released.
Altıparmak pointed to coordination between different courts, judges and prosecutors who "on paper have nothing to do with each other" but whose actions keep defendants in jail.
"This naturally makes you think that this is very organized," he said, noting that judges and prosecutors were effectively appointed by the ruling Justice and Development Party (AKP).
Court acquits nine defendants, including Kavala, in Gezi trial
On Feb. 18, the Istanbul 30th Heavy Penal Court acquitted nine of the 16 suspects, including Kavala, in the case into the Gezi Park protests of 2013.
The case of seven defendants - Can Dündar, Mehmet Ali Alabora, Ayşe Pınar Alabora, Gökçe Yılmaz Handan, Handan Meltem Arıkan, İnanç Ekmekçi and Hanzade Hikmet Germiyanoğlu - who are abroad and were being tried in absentia, was separated but arrest warrants for them were lifted.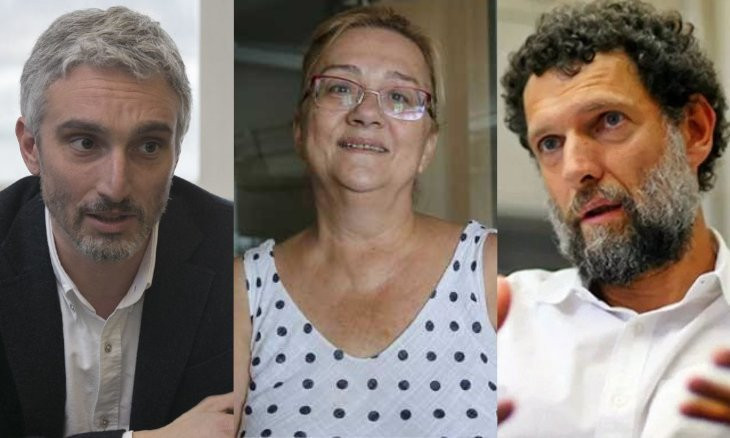 Amnesty International urges freedom for Osman Kavala, rights defenders in Gezi case
The suspects were being tried in the case into the Gezi Park protests, which took place in Istanbul's Taksim following harsh government response to a group of protesters trying to prevent the cutting down of trees for a large development project planned by the government. Eight protesters and a police officer was killed during the demonstrations.
Prosecutors launch legal process for appeal of Gezi verdict
Just hours after the court's ruling, the Istanbul Chief Public Prosecutor's Office initiated the legal process for the appeal of the Gezi verdict. The prosecutors gave a petition of appeal to the court, saying that they retain the right to appeal the acquittals until the court issues its reasoned judgement.
"Following the issuance of the reasoned judgement [of the court], our Prosecutor's Office will resort to the appeal process," said the prosecutors.
Kavala, who was accused of being one of the "managers and organizers" of the protests, was arrested in November 2017 on suspicion of attempting to overthrow the government and the constitutional order through force and violence.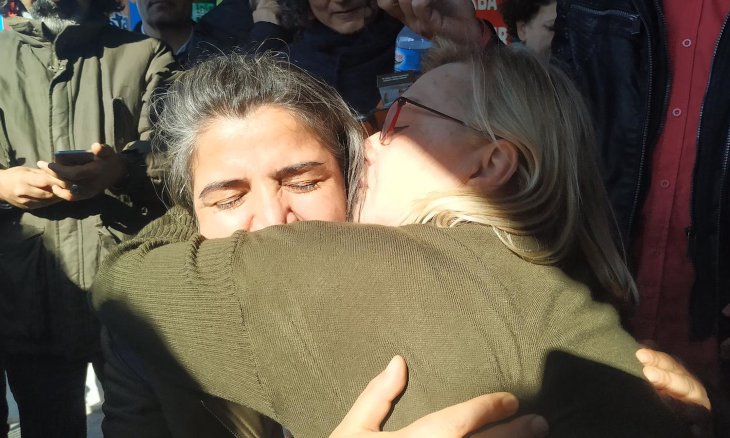 The European Court of Human Rights (ECHR) ruled on Dec. 10, 2019 that Turkey violated Kavala's rights, citing the violation of Article 18 of the European Convention on Human Rights, finding that his imprisonment involves a restriction on rights for an improper purpose, while also calling for his immediate release.
On Feb. 6, Istanbul Chief Public Prosecutor's Office announced its final opinion, seeking aggravated life sentences for Kavala, who was the only one in jail, Mücella Yapıcı and Yiğit Aksakoğlu, who was arrested in November 2018 and was freed on June 25, 2019 on probation, over "attempting to overthrow the government."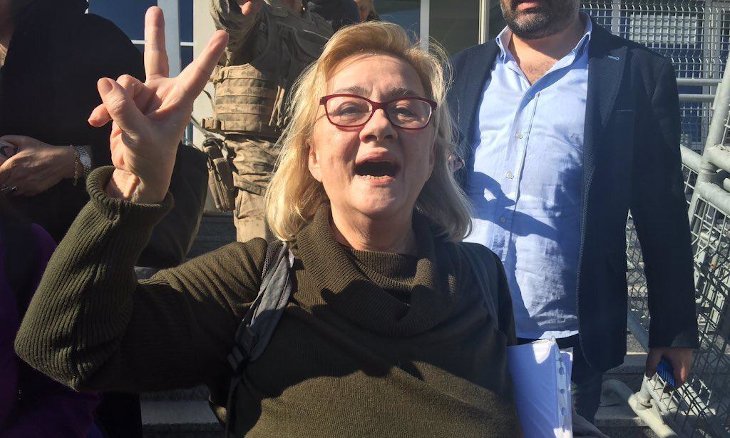 Between 15 and 20 years in jail was sought for six others, Çiğdem Mater Utku, Ali Hakan Altınay, Mine Özerden, Şerafettin Can Atalay, Tayfun Kahraman and Yiğit Ali Ekmekçi, over "aiding attempted overthrow of the government."
During the sixth hearing of the case on Feb. 18 that was attended by nearly 20 lawmakers from the main opposition Republican People's Party (CHP), lawyer Bahri Belen said that the case would be crushed under the weight of "the glorious Gezi protests."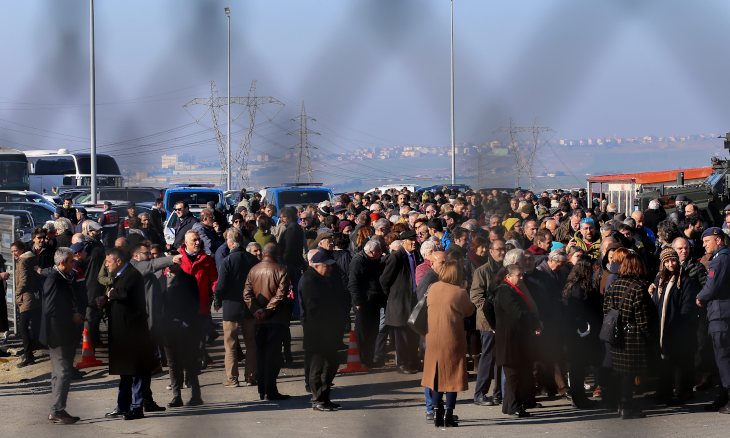 The defendants and lawyers pointed to the lack of evidence in the case, as well as the trial being a political one.
Speaking at the court, Yapıcı said that she will not defend herself.
"The Gezi resistance can't be tried. It doesn't have an organization or a leader. I respectfully bow in front of the eight people who were killed during Gezi," Yapıcı said.
Consul generals of Sweden, Switzerland, Canada, Denmark, Germany and the Netherlands attended the hearing, as well as the envoys and envoy representatives of the Britain, Luxembourg, Belgium, Ireland and the United States.