Opposition parties express solidarity with Hrant Dink Foundation after death threat
Turkey's opposition parties have expressed their concern at the death threats issued against slain Turkish-Armenian journalist Hrant Dink's wife Rakel Dink and the lawyer of the Hrant Dink Foundation. They have said that the threats were a result of the current political climate which encourages discrimination and polarizing language.
Duvar English
Turkey's opposition parties have expressed their concern at the death threat the Hrant Dink Foundation has received and strongly condemned it.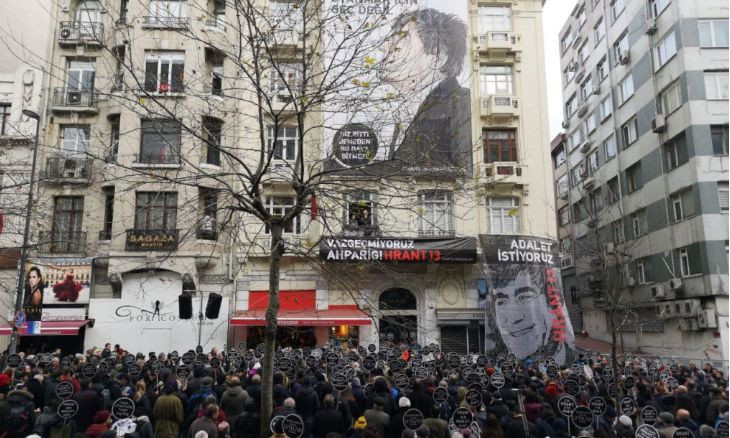 Hrant Dink Foundation receives death threat
They said that death threat was a result of hate speech as well as racist and discriminatory discourse used in Turkey.
Their statements came after the foundation announced earlier on May 29 that it received an e-mail threatening Turkish-Armenian journalist Hrant Dink's wife Rakel Dink and the foundation's lawyer with death.
Main opposition People's Republican Party's (CHP) Malatya MP and Deputy Chairperson Veli Ağbaba has said that racism has an unappeasable hunger for destroying "pigeon-like" lives," referring to a phrase Dink used in his last article published the day he was gunned down.
"I am just like a pigeon. I am as obsessed as a pigeon about what is happening around me. I keep turning my head like a pigeon," the slain journalist had written in the article published in weekly Turkish-Armenian weekly newspaper Agos on Jan. 19, 2007.
Ağbaba said racism gets its power "from the ruling government's polarizing and marginalizing hatred discourse." "I severely condemn the despicable death threats against Hrant Dink Foundation," he wrote on Twitter.
Güvercin tedirginliğinde yok edilen hayatlara doymayan, kana susamış, nefretten beslenen ırkçılık, meşru temelini iktidarın kutuplaştırıcı ve ötekileştirici nefret dilinden alıyor.

Hrant Dink Vakfı'na yönelik aşağılık ölüm tehditlerini şiddetle kınıyorum. pic.twitter.com/VMHSydJc3K

— Veli AĞBABA (@veliagbaba) May 29, 2020
Peoples' Democratic Party (HDP) co-chair Mithat Sancar similarly said that such death threats stem from the widespread hate speech and the mentality "that normalizes racism."
"Those who massacred dear Hrant 13 years ago are now sending death threats to Hrant Dink Foundation! We stand by Hrant Dink Foundation against these evil groups which feed on and are encouraged by the mentality spreading hate speech and normalizing racism," Sancar wrote on Twitter.
Sevgili Hrant'ı 13 yıl önce katledenler, şimdi de Hrant Dink Vakfı'na ölüm tehditleri gönderiyor! Nefret söylemini yayan, ırkçılığı normalleştiren zihniyetin besleyip cesaretlendirdiği bu kötülük odaklarına karşı Hrant Dink Vakfı'nın yanındayız. #HrantDinkVakfıYalnızDeğildir

— Mithat Sancar (@mithatsancarr) May 29, 2020
Former Turkish Deputy Prime Minister Ali Babacan, who heads the opposition Democracy and Progress Party (DEVA), also showed his solidarity for Rakel Dink and the foundation's lawyer in the face of the death threats.
"The threats against Hrant Dink Foundation are a product of a political climate that encourages discrimination. We will defend every fraction against discrimination and racism and will not leave Rakel Dink and her friends at the foundation alone," Babacan wrote on Twitter.
Hrant Dink Vakfı'na yönelik tehditler, ayrımcılığı teşvik eden bir siyasi iklimin ürünüdür.

Ayrımcılığa ve ırkçılığa karşı her kesimi savunacak, Rakel Dink'i ve vakıftaki arkadaşlarını yalnız bırakmayacağız. ?

— Ali Babacan (@alibabacan) May 29, 2020
The Hrant Dink Foundation, founded after Dink's foundation, said in a press release on May 29 that it has notified the Istanbul governors's office and the Şişli police department regarding the death threat.
"The email included the phrase 'We may turn up one night, when you least expect it', a slogan used boastfully in certain circles, and the very same slogan we were well used to hearing before Hrant Dink was so publicly assassinated, and with the knowledge of official bodies, on 19 January 2007. The threat accuses the Hrant Dink Foundation of telling 'tales of fraternity', demands us to leave the country and threatens Rakel Dink [Hrant Dink's wife] and the foundation's lawyer with death," the foundation said.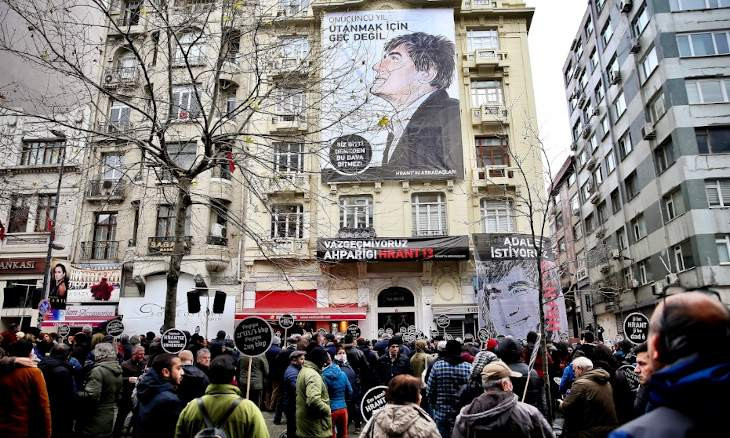 13 years on, impunity lingers in Armenian-Turkish journalist murder case
Dink was shot dead on Jan. 19, 2007 in front of the apartment where Agos's main office was located on the Halaskargazi Street of the Şişli district in Istanbul.
Ogün Samast, then a 17-year-old jobless high-school dropout, confessed to the killing and was sentenced to almost 23 years in jail back in 2011.
The case grew into a wider scandal after it emerged that security forces had been aware of a plot to kill Dink but failed to act.
Relatives and followers of the case have long claimed government officials, police, military personnel and members of the National Intelligence Agency (MİT) played a role in Dink's murder by neglecting their duty to protect the journalist.
Dink was outspoken on the Armenian genocide and prosecuted a number of times under the Turkish penal code for "denigrating Turkey" and "insulting Turkish identity."
His murder quickly came to symbolize the rising wave of nationalism in Turkey.