Turkey's transportation workers' march 'against unlawful layoffs' arrives at Ankara train terminal
Turkey's transportation workers marching to the Turkish State Railways (TCDD) headquarters in the capital Ankara to criticize the "unlawful layoffs" in the institution arrived on June 4. Condemning the layoffs of dozens of TCDD workers and dozens more have been assigned to remote locations in an unprecedented practice. After a confrontation with police, the workers held a press conference and met with the TCDD general manager.
Duvar English
Members of Turkey's United Transportation Workers Union (BTS) from Istanbul, İzmir, Adana and Diyarbakır arrived in the capital Ankara on June 4 as they concluded their march to condemn the layoffs of their coworkers by the Turkish State Railways (TCDD).
Police blocked BTS members as they attempted to march to the TCDD headquarters, telling the group that they would not be allowed to walk together.
BTS Chairman Hasan Bektaş told the police that they wanted to speak to "those in charge of the exile" of their coworkers, as he said these would be the reason for any train accidents that could occur.
"Do I not have the right to ask the general manager why they're conducting these exiles? Is that a crime? If it is, go ahead take me. Take me into custody if it's a crime to look out for my union's members," Bektaş said.
The BTS members started their march to the TCDD headquarters on June 2, condemning the unlawful dismissal of 29 TCDD employees, 13 of whom were union members, and the assignment of dozens more to remote locations.
When said employees protested their new location assignments, the TCDD claimed that it was a standard rotation, BTS said, although no precedent exists for such a practice.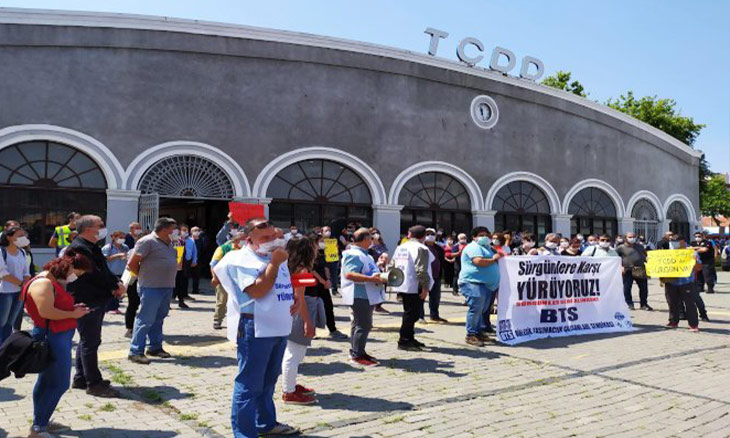 "Consequently, the TCDD signed off on unprecedented political staffing, unmerited hirings and discrimination that deteriorated peace within the institution," the press release said.
No march, small press conference
As the confrontation between police and protesters continued, deputies from main opposition Republican People's Party (CHP) and pro-Kurdish Democratic Peoples' Party (HDP) joined.
After negotiations between with BTS members, police said they wouldn't allow a march, but would allow a press conference with 20 members at most.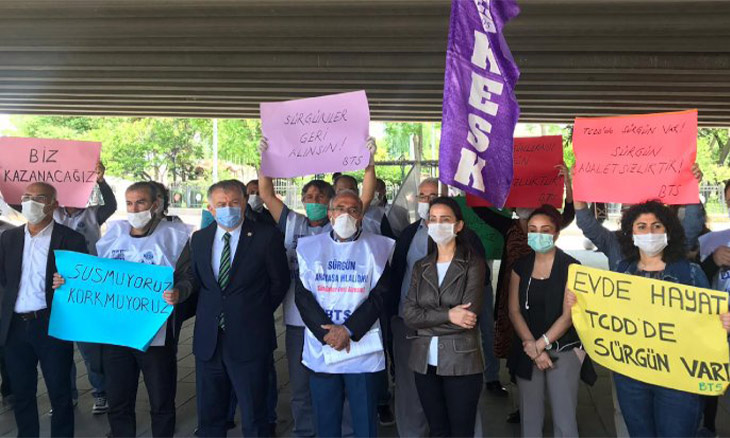 BTS Secretary General Ramazan Gürbüz said that years of hardworking TCDD workers had been exiled because of their union memberships and viewpoints.
"Laying people off during the pandemic is a crime of humanity. Our friends work with their dignity and aren't afraid of your pressures. People who work for their bread and dignity aren't afraid," Gürbüz said.
Meanwhile, CHP deputy Gökan Zeybek called on the TCDD to go back on the layoffs they've conducted.
TCDD General Manager Ali İhsan Uygun met with three BTS officials after the press release.
A reunion in Eskişehir
While the group who started their march in İzmir reached the western province of Eskişehir on June 4, they met with the group who had left from Istanbul.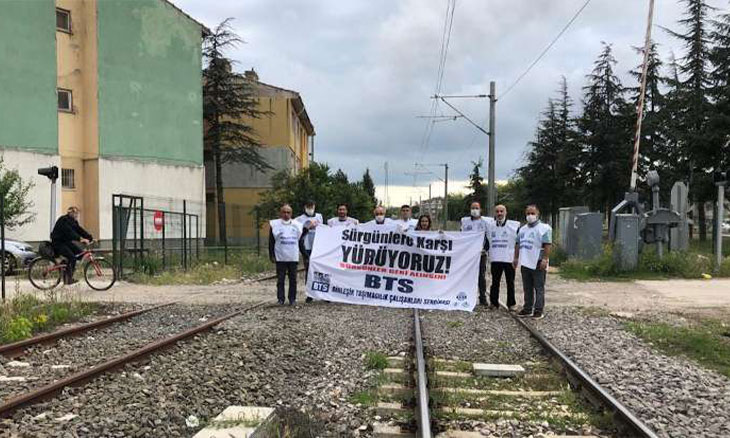 Joined by members of the Bureau Workers Union (BES) and education union Eğitim-Sen, the workers held up a banner that reads "We march against exiles!"
While BTS Chair Bektaş and BTS İzmir Chair Erdal Akyol made press statements, workers chanted "We will not be silenced by oppression or exiles!"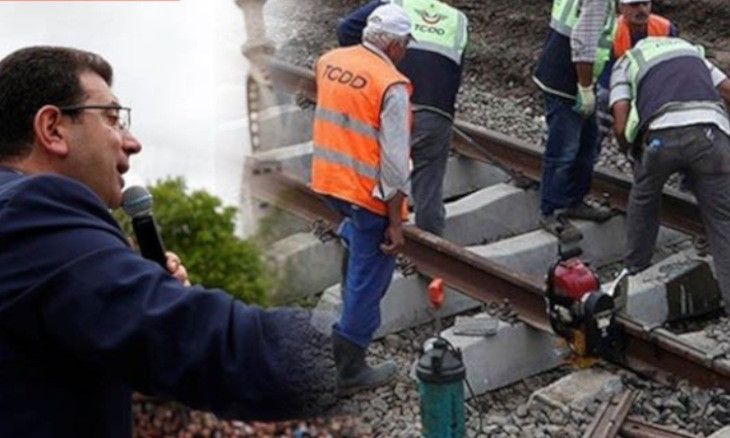 'AKP government taking revenge against railroad workers for Istanbul election victory'