Students in Turkey suffer from access to online education
Students in Turkey are struggling with access to education materials during the online make-up period leading up to the first day of school on Sept. 21. Students report limited access to internet and poor efficiency on TV broadcasts, often restricting their access to classes.
Burcu Özkaya Günaydın / DUVAR
As Turkey's school started online make-up classes amid a surge of COVID-19 cases in the country, many students struggle to keep up with the preparatory work before the first day of school on Sept. 21, as many lack the resources needed to access the virtual education materials.
Ada İklim Yeral, a resident of southernmost Hatay province, is a seventh grader who was only able to sit through three class periods during the past two weeks of make-up broadcasts.
"I get bored during online education anyways, but whenever I actually want to participate, we have internet issues or the system won't let me in. I don't know why," Yeral said.
Yeral also struggles with her internet connection during class, as it usually gets cut off, but doesn't find the national TV broadcasts to be an effective method of learning either.
"I can't rewind [on the TV] if I miss something and the teacher is way too fast. Online, at least I can see my teacher and understand a bit better."
The 12-year-old student also needs to help her family's cattle business, she said, noting that she went to town to distribute milk just that morning.
"My parents do most of the work but we still need to help. There's always more work to be done in the village," Yeral said.
The seventh grader said that she was able to focus better in class, as she didn't have distractions of chores and family.
Yeral's cousin Doğa Yeral said that they don't have enough phones in the house to watch classes on, as the four sisters share their mother's smart phone.
"We play musical chairs with the phone. There's always someone who has to miss classes because the times don't work out," Yeral said.
Doğa Yeral was only able to watch two classes at home, so she comes over to her cousin Ada's house, she said.
Meanwhile, Doğa Yeral's mother Özcan Yeral that coordinating her four kids' online classes was "the hardest thing" she's ever had to do.
UNICEF recently released a report that noted 465 million students worldwide don't have access to education during the COVID-19 pandemic.
Some students in Hatay are still working in the fields, Hatay Chair for the Union of Education Workers (Eğitim-Sen) Özgür Tıraş said.
The chairman noted that Syrian students suffer even more from a lack of access to virtual education, and that the union suggested schools reopen in person under strict precautions.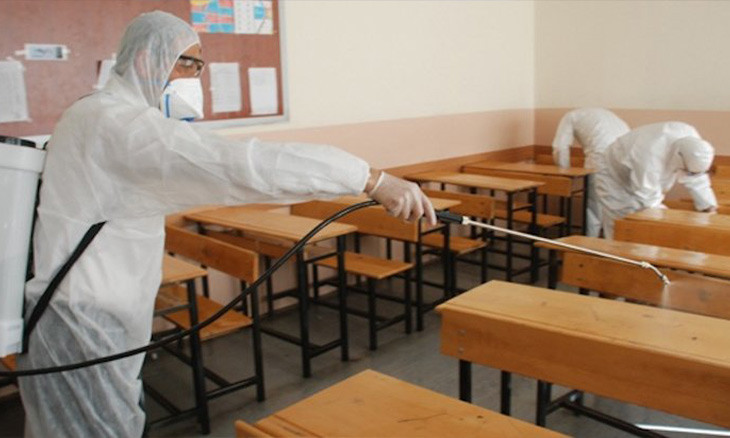 Turkish schools 'not ready' to open for classes on Sept 21, says Eğitim-Sen