In new video, Kılıçdaroğlu criticizes rising cost of living
Main opposition CHP leader and Nation Alliance's presidential candidate Kemal Kılıçdaroğlu has criticized the Turkish government's economic policies and shot a video by holding an onion in the kitchen of his house. "Now, one kilogram of onion is 30 liras, if (Erdoğan) stays it will be 100 liras," Kılıçdaroğlu said.
Duvar English
Turkish opposition Nation Alliance's presidential candidate and main opposition Republican People's Party (CHP) leader Kemal Kılıçdaroğlu once again shared a video from his kitchen, criticizing the government's economic policies on April 9.
In a video titled "Onion," Kılıçdaroğlu said that the real agenda is the economic turmoil of Turkey. "They know that when I assume power, democracy will come, money will flow to the country, currencies will fall, and your purchasing power will increase. It's that simple. Now, one kilogram of onion is 30 liras, if (Erdoğan) stays it will be 100 liras. This is just onion," he said.
According to the Union of Chambers of Agriculture of Turkey data, the highest price increase was seen in onion with an annual rate of 314.6 percent in the food category in 2022. This was followed by lemon with 202.8 percent and granulated sugar with 164.5 percent.
In the past weeks, social media users posted photos showing one kilogram of onion cost 30 liras.
The government-run Turkish Statistical Institute (TÜİK) reported an annual inflation rate of 50.51 percent in March, whereas the independent inflation group ENAG put the figure at 112.51 percent.
"What they described as their 'mastery period' in the last election dragged our country into collapse in every field," Kılıçdaroğlu said.
"The government started a terrible propaganda of slander, lies and fraud. In order to cover up the facts, they are trying to deceive you, with all kinds of strange and artificial agendas such as the Kurdistan Workers' Party (PKK) (connections), religious abuse over prayer rugs, and analogy to the martenitsa bracelet," he added.
Kılıçdaroğlu have been using a martenitsa bracelet symbol as part of his election campaign in reference to the coming of spring. It is a special red and white bracelet which is popular in the Balkans as a symbol for welcoming spring. The person who wears it makes a wish and keeps it until they see a stork during March.
Some ruling Justice and Development Party (AKP) executives, including spokesperson Ömer Çelik, likened Kılıçdaroğlu's symbol to a gallow, claiming that it referred to the military regime that executed then-PM Adnan Menderes in 1961 following a coup.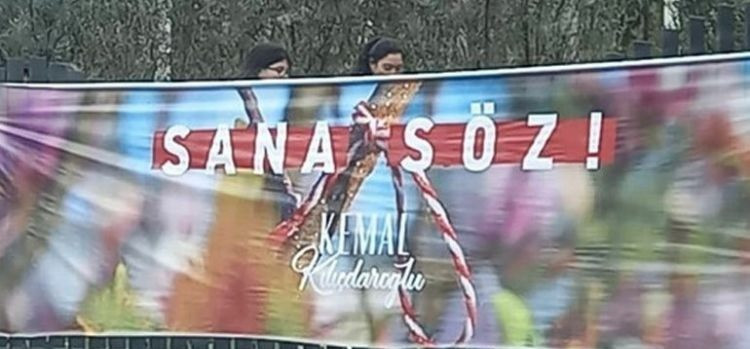 The parliamentary and presidential elections will be held on May 14 in a historic year as 2023 marks the 100th anniversary of the Republic of Turkey.