Istanbul police bar women from holding Feminist Night March on İstiklal Avenue
Istanbul police blocked hundreds of women who gathered in central Istanbul on March 8 for a march to celebrate International Women's Day. The police formed a blockade and stopped them from entering İstiklal Avenue, the district's main pedestrian street. The women held their demonstration on the nearby Sıraselviler Street.
Duvar English
Hundreds of women took to the streets in Istanbul to participate in the March 8 Feminist Night March in order to mark International Women's Day. However, the police barricaded all the streets leading to Taksim Square and İstiklal Avenue, where the march is traditionally held.
The women, therefore, gathered on the nearby Sıraselviler Street, where they chanted slogans of "We are not going to stay silent, we are not scared, we will not obey," "Women, life, freedom" and "There is no such thing as a trustee, but lesbians exist."
The march was also attended by lawmakers of the Peoples' Democratic Party (HDP) and Republican People's Party (CHP), including HDP co-chair Pervin Buldan.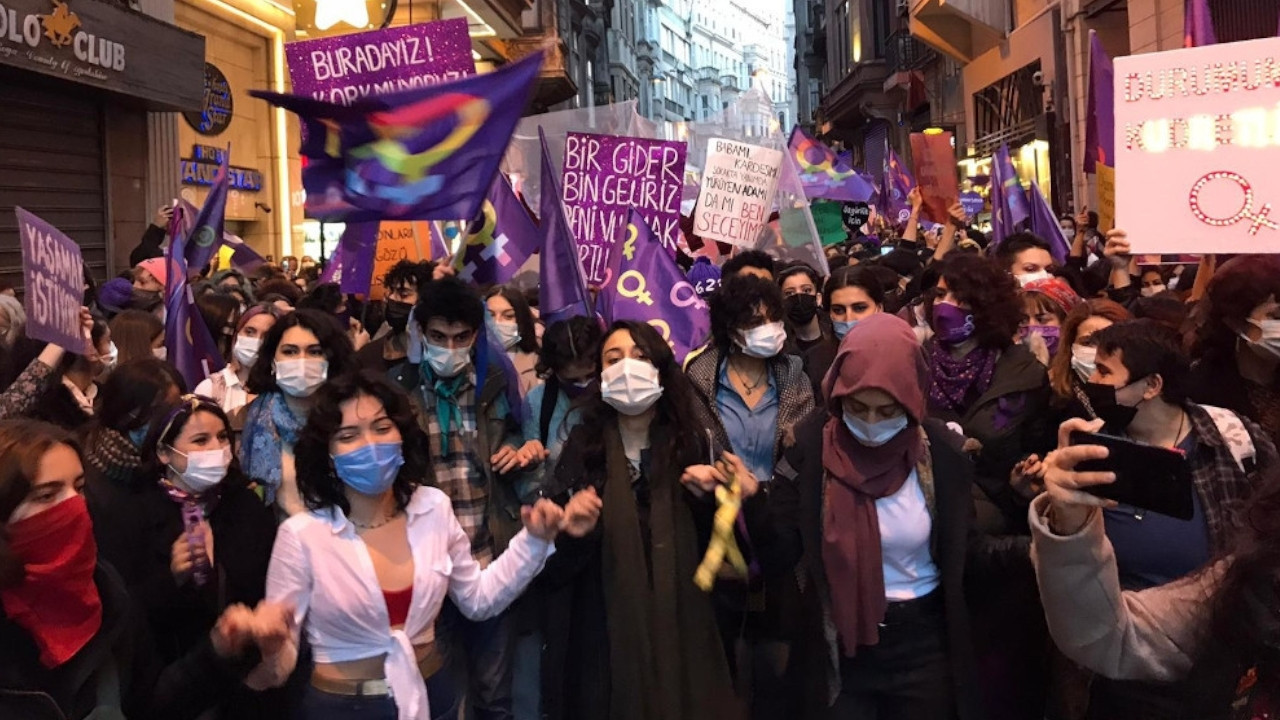 A press release was read aloud in the languages of Turkish, Kurdish, Arabic and Armenian which addressed the issues of gender inequality and male violence.
"Feminist rebellion stands against sexist and insulting treatment, hatred, homophobic and transphobic attacks, those who are scared of social gender and say 'There is no LGBT' and is everywhere! Feminist rebellion is in the future against patriarchy, capitalism, racism and religious oppressions! We want peace, democracy as well as an equal and free country!" the press release said.
"Feminist rebellion is in the streets in solidarity [with women], against those who show us as targets with the language of hatred to have us obey and prevent us from seeking our rights," the statement said.
International Women's Day is celebrated each year on March 8 to push forward women's right and to highlight inequalities in between men and women. Feminist Night marches are organized in Istanbul since 2003 to celebrate this event.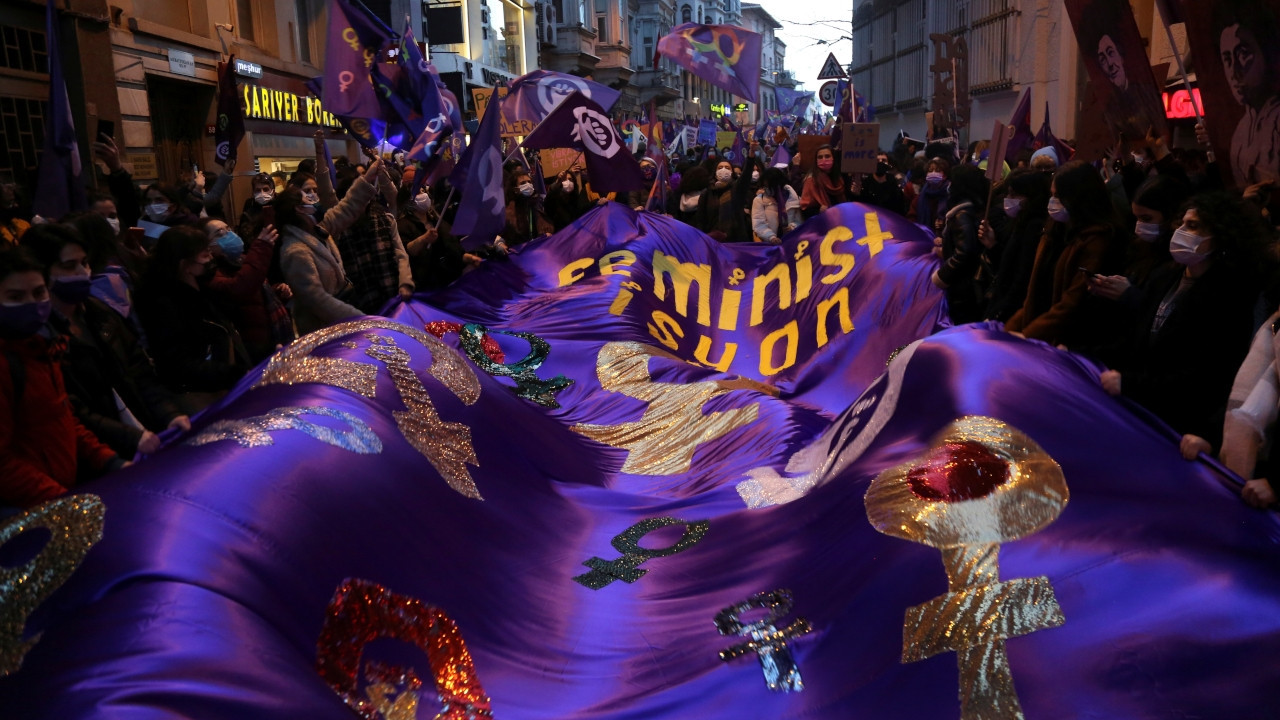 Women in other cities also held demonstrations to mark the day. In the capital Ankara, women gathered on the Sakarya Street in the Kızılay district.
Women chanted "We have not come through appointments, but with love," "Manhood is deadlier than coronavirus," "Femicides are political," "Get used to it, we are here," "Nights are ours" and "I will not be confined anywhere, my heart is in feminist rebellion."
In the Aegean province of İzmir, women gathered in the Alsancak district and said they "will not look down," which is a slogan for the Boğaziçi University resistance, after a police officer was filmed at yelling protesting students to "look down" in an attempt to intimidate them.
Hundreds of İzmir women demanded that jailed Boğaziçi students be released.
In the southeastern Diyarbakır province, women gathered at the İstasyon Square with the slogan of "We are defending life against the slaughter of women and freedom against isolation."
Women held banners reading "Femicides, assaults and rapes are political," "We are holding onto our lives for an equal and free life" and "Istanbul Convention keeps alive."
Main opposition Republican People's Party (CHP) deputy Sezgin Tanrıkulu has released a report to mark March 8 International Women's Day, revealing the gravity of femicides in Turkey.
According to the report, some 6,732 women were killed by men in the past 18 years that the ruling Justice and Development Party (AKP) has been in power. These are only the reported cases.