Jailed Demirtaş participates in election rally via audio record: 'My heart is with you'
Başak Demirtaş, the wife of jailed former HDP co-chair Selahattin Demirtaş, has shared her husband's audio record during an election rally in which he urged citizens to go to the ballot box to transform Turkey.
Pelin Akdemir / Gazete Duvar
The Green Left Party on May 7 conducted an election rally in the western province of Bursa during which party parliamentarian candidates Necdet İpekyüz and Ceylan Erol Erdoğan, Peoples' Democratic Party (HDP) deputy co-chair Tayip Temel and former HDP co-chair Selahattin Demirtaş's wife Başak Demirtaş held speeches.
The HDP is entering the elections under the Green Left Party, due to the risk of being closed prior to the May 14 elections.
Green Left Party's İpekyüz said that the rulership has been "exploiting everything for the last 21 years," including religion. "They have ignored people's freedoms, Kurds' mother tongue. We will on May 14 send away those who have not been able to solve the Kurdish issue for several years," she said.
Başak Demirtaş urged citizens to unite against the rulership and vote in favor of the opposition. "It is time to withdraw your support from the (ruling Justice and Development Party) AKP that tried to use religion for its own purposes by trampling on Islam and all of its values, that is scared of peace and brotherhood."
Demirtaş also surprised the rally participants by sharing with them her husband's audio record. In the recording, the renowned Kurdish politician deemed the May 14 elections "historical" and urged citizens to vote, "not to kneel before the lies of" the rulership, and "not to leave the ballot boxes" for election security.
"The country has now decided for change. Be assured that we will win. For this, go to the ballot boxes on May 14. One of our votes is for Green Left Party, the other is for Kılıçdaroğlu. My valuable people, I am here but my heart is there with you. I believe in you. I trust you. We will meet in free days. I hug you yearningly. I send my full-hearted regards and love," he says in the audio.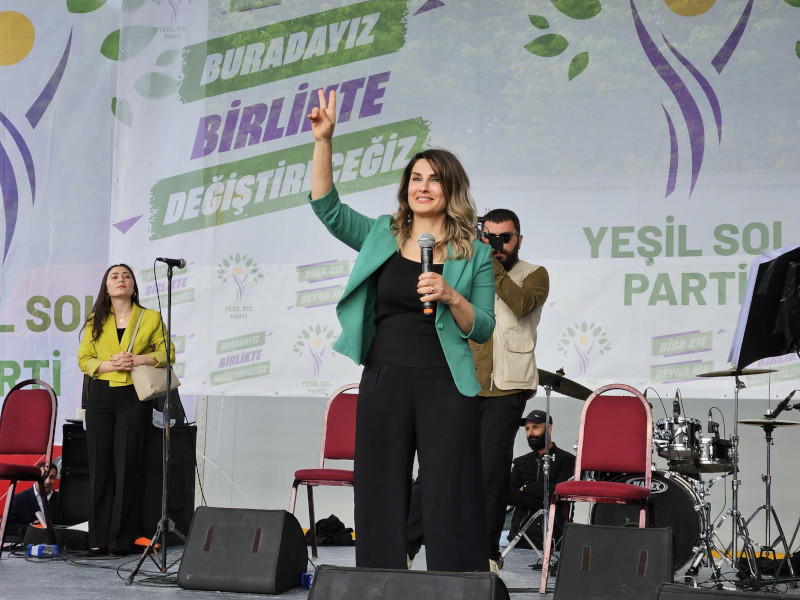 (English version by Didem Atakan)