Lawyers march to Turkey's top appeals court amid judicial crisis
Union of Turkish Bar Associations and Ankara Bar Association marched to the Court of Cassation amid the judicial crisis among top courts after Turkey's top court of appeals had filed a criminal complaint against Constitutional Court justices. Speaking in front of the AYM building, CHP leader Özel deemed the judicial crisis as a "coup attempt by Erdoğan."
Duvar English
Hundreds of lawyers on Nov. 10 marched from the capital Ankar's courthouse to the Court of Cassation with the Turkish Constitution booklets in their hands and their robes to react against the criminal complaint filed by the 3rd Criminal Chamber of the Court of Cassation against the members of the Constitutional Court (AYM).
A judicial crisis outbroke after Court of Cassation's refusal to refusal to comply with the AYM ruling regarding the release of jailed Workers' Party of Turkey (TİP) lawmaker Can Atalay. According to the constitution, the AYM rulings are final and have to be abided by the all courts.
Ankara Bar Association organized the march and many other provincial bar associations participated it along with Union of Turkish Bar Associations. Ankara Bar Association President Mustafa Köroğlu described the "strife" among courts as "a black stain on the law by the judiciary" in his statement.
Lawyers often chanted "Law cannot be the plaything of politics," during the march.
Köroğlu stated, "One cannot talk about law in a place where the decisions of the AYM are not implemented. One cannot talk about a social order where there are no rules of law. What they want to create is an unlawful order, perhaps a regime change and they want to create it through the constitution (change). We do not allow them to prepare an environment for this."
Turkish President Recep Tayyip Erdoğan on nov. 10 made his first comment on the crisis and threw his support behind the Court of Cassation. He added that the dispute between the two top courts showed the need for a new constitution.
Erinç Sağkan, President of the Union of Turkish Bar Associations, announced that they have applied to the Council of Judges and Prosecutors (HSK) for disciplinary proceedings against the president and members of the Istanbul 13th High Criminal Court who did not implement the AYM's decision and to the Supreme Disciplinary Board of the Court of Cassation for the members who signed the decision of the 3rd Criminal Chamber of the Court of Cassation.
Main opposition leader deems judicial crisis as 'coup attempt by Erdoğan'
The main opposition Republican People's Party (CHP) new leader Özgür Özel and party cadre gathered in front of the AYM building and he stated that the judicial crisis was "understood to be an coup attempt under Erdoğan's leadership."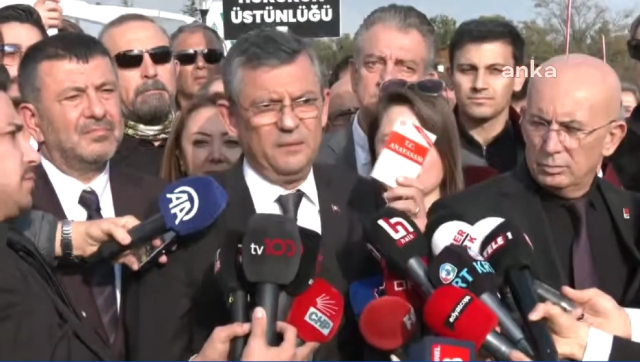 Özel hold a constitution booklet in his hand while talking and underscored, "The statements made by the President on the plane Nov. 9, which were not announced until 10.00 am Nov. 10, were a judicial crisis. But after hearing the President's statements today, it is understood that we are facing an croup attempt and the elimination of the constitutional regime under the leadership of Erdoğan."
Addressing President Erdoğan, Özel said: "The nation voted for you. You are in office thanks to this Constitution. However, you refuse to except the existence of another article of the nation's constitution. If you don not want to be recognized as null and void, protect this constitution. If you do not protect it then, we do not recognize the article that gives you authority and responsibility."