Magnitude 7.7 earthquake strikes southeastern Turkey, at least 5434 killed
A major earthquake with a magnitude of 7.7 struck Turkey's southeastern province of Maraş early on Feb. 6, leading to at least 3,432 deaths. Authorities declared a "level 4 alarm" that calls for international assistance.
Reuters - Duvar English
A major earthquake of magnitude 7.7 struck southeastern Turkey on Feb. 6 at 4:17 a.m. local time, triggering searches for survivors in the rubble.
As of Feb. 7 evening, at least 5,434 people were killed and more than 31,000 people were injured due to quakes, Health Minister Fahrettin Koca announced.
Emergency Management Presidency (AFAD) announced on late Feb. 6 that at least 5,775 buildings collapsed as a result.
President Recep Tayyip Erdoğan said it was the country's largest disaster since 1939.
AFAD (Turkish search and rescue team) initially announced the magnitude of the quake as 7.4 but later revised it to 7.7.
📢 Deprem Revize

📌 Bu sabah 04:17'de Pazarcık (Kahramanmaraş) da meydana gelen depremin büyüklüğü yapılan ayrıntılı sismolojik çalışmalarla Mw 7.7 olarak revize edilmiştir.

📌 Kamuoyunun bilgilerine sunarız.#Kahramanmaras #deprem

— AFAD Deprem (@DepremDairesi) February 6, 2023
The quake, which hit in the early darkness of a winter morning, was also felt in northern Syria, Cyprus and Lebanon.
"I have never felt anything like it in the 40 years I've lived," said Erdem, a resident of the Turkish city of Gaziantep, near the quake's epicentre.
"We were shaken at least three times very strongly, like a baby in a crib."
Authorities scrambled rescue teams and supply aircraft to the affected area, while declaring a "level 4 alarm" that calls for international assistance.
State broadcaster TRT showed rescue workers in Osmaniye province using a blanket to carry an injured man out of a collapsed four-storey building and putting him in an ambulance. He was the fifth to be pulled from the rubble, it said.
Footage on broadcaster CNNTürk showed the historic Gaziantep Castle was severely damaged.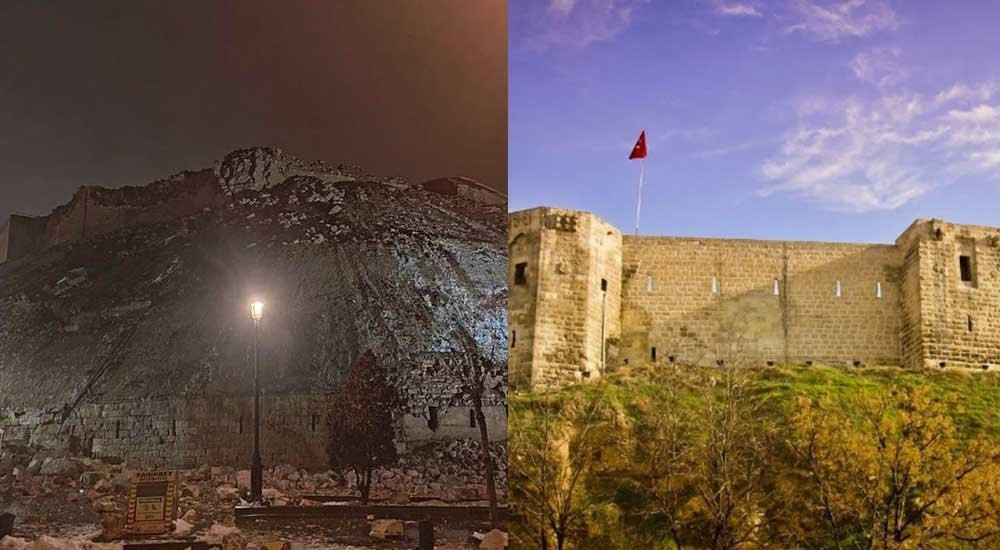 President Erdoğan spoke by telephone with the governors of eight affected provinces to gather information on the situation and rescue efforts, his office said in a statement.
"We hope that we will overcome this disaster together as soon as possible and with the least damage," Erdoğan said on Twitter.
Biz de yaşanan deprem sonrası başlatılan çalışmaları koordine ediyoruz. Yaşadığımız bu felaketi inşallah hep birlikte en kısa sürede ve en az hasarla atlatmayı temenni ediyor, çalışmalarımızı sürdürüyoruz.

— Recep Tayyip Erdoğan (@RTErdogan) February 6, 2023
The United States was "profoundly concerned" about the quake in Turkey and Syria and was monitoring events closely, White House national security adviser Jake Sullivan said on Twitter.
"I have been in touch with Turkish officials to relay that we stand ready to provide any and all needed assistance," he said.
The U.S. is profoundly concerned by today's destructive earthquake in Turkiye & Syria. I have been in touch with Turkish officials to relay that we stand ready to provide any & all needed assistance. We will continue to closely monitor the situation in coordination with Turkiye.

— Jake Sullivan (@JakeSullivan46) February 6, 2023
The U.S. Geological Survey said the magnitude 7.8 quake struck at a depth of 17.9 km. It reported a series of earthquakes, one of 6.7 magnitude.
The region straddles seismic fault lines.
The tremor lasted about a minute and shattered windows, according to a Reuters witness in Diyarbakır, 350 km to the east, where a security official said at least 17 buildings collapsed.
Authorities said 16 structures collapsed in Şanlıurfa and 34 in Osmaniye.
Broadcasters TRT and Habertürk showed footage of people picking through building wreckage, moving stretchers and seeking survivors in the city of Kahramanmaraş, where it was still dark.
"Our primary job is to carry out the search and rescue work and to do that all our teams are on alert," Turkish Interior Minister Süleyman Soylu told reporters.
Tremors were also felt in the Turkish capital of Ankara, 460 km northwest of the epicentre, and in Cyprus, where police reported no damage.
"The earthquake struck in a region that we feared. There is serious widespread damage," Kerem Kınık, the chief of the Turkish Red Crescent relief agency, told Habertürk, issuing an appeal for blood donations.
Turkey is among the most earthquake-prone countries in the world. More than 17,000 people were killed in 1999 when a 7.6-magnitude quake struck İzmit, a city southeast of Istanbul. In 2011, a quake in the eastern city of Van killed more than 500.