Main opposition leader likens presidential aide to Goebbels over 'PR' quake video
Turkey's main opposition CHP leader Kemal Kılıçdaroğlu has likened Presidential Communications Director Fahrettin Altun to Nazi propagandist Goebbels over a video believed to be state-funded and deeming the Feb. 6 earthquakes "disaster of the century."
Duvar English
Main opposition Republican People's Party (CHP) leader Kemal Kılıçdaroğlu on Feb. 15 likened Presidential Communications Director Fahrettin Altun to Nazi propagandist Joseph Goebbels, calling him "vitamin deficient Goebbels."
Kılıçdaroğlu's remarks came after a video posted on social media, which is believed to be the Directorate of Communications funded, deeming the Feb. 6 earthquakes "disaster of the century."
Following the mounting criticisms of the government's response to two major earthquakes, state institutions and officials, including President Recep Tayyip Erdoğan, have expressed on many occasions that the quakes were "disaster of the century," claiming that "it was not possible to be prepared for such an earthquake."
Then a Twitter account with the name of "Disaster of the Century" ("Asrın Felaketi" in Turkish) on Feb. 11 posted a video, deeming the quakes "one of the biggest disasters in the history of the world," once again meaning that the government is not responsible for its "late" response.
The account, which appeared out of nowhere and had 70,000 followers, was converted to "Disaster of the Century" from another account as its previous likes were not deleted.
After huge backlash on social media, the account was closed.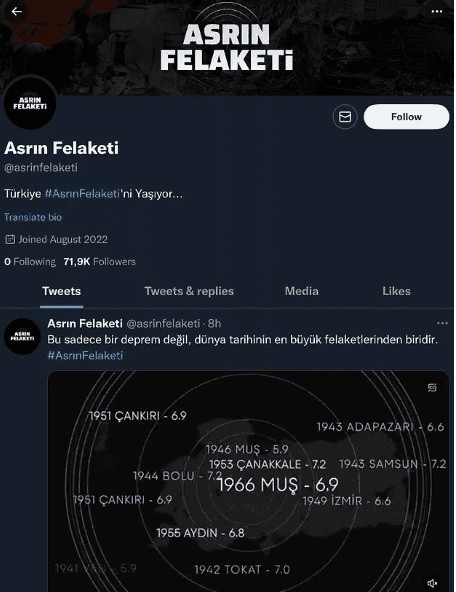 "Unable to coordinate search and rescue activities (after the quakes), Erdoğan put an emphasis on the coordination of his own communications. They prepared a video. When people were under the rubble, (the government) began to serve up videos with documentary-like effects. May God give them wisdom. They really have lost their minds. They spent a lot of money, but they made mistakes after mistakes. They immediately deleted the video," Kılıçdaroğlu said in a press conference held in the CHP headquarter in capital Ankara, referring to the video of the "Disaster of the Century" account.
"This vitamin deficient Goebbels (Fahrettin Altun) didn't do it for the first time. They said 'new economy model', unemployment skyrocketed. They said 'total fight against inflation', inflation skyrocketed. They said 'the century of Turkey', now they are talking about the disaster of the century. Their PR is an effort to normalize their helplessness and disgrace," he added.
Kılıçdaroğlu said it is Erdoğan and the "one-man regime" who are "the disaster of the century."
"The one-man regime cannot make decisions. They never coordinated in rescue efforts, they were late. The blood of our citizens is on the hands of this government," he added.
Similarly, The Workers' Party of Turkey (TİP) on Feb. 15 shared a photo on Twitter, deeming Erdoğan "disaster of the century."
Responding to Kılıçdaroğlu, Fahrettin Altun said "It is regrettable that in such an apocalyptic environment, the analogies with a primary school humour could be created by an opposition leader."
Saying that Kılıçdaroğlu is "legitimizing the disinformation," Altun claimed the Directorate of Communications "is the guardian of Turkey's communication."
Böylesine mahşeri bir ortamda, ilkokul çağı sokak mizahı ile üretilmiş yakıştırmaların bir muhalefet lideri tarafından üretilebilmiş olması esef vericidir. Zira bugün ülkemizin derdi ile dertlenen kimsenin böylesi işlerle uğraşmasını mümkün kılacak ne keyfi ne de zamanı vardır.

— Fahrettin Altun (@fahrettinaltun) February 15, 2023
On the other hand, Kılıçdaroğlu once again criticised the move to switch to online education in universities to house earthquake victims in university dormitories.
"Their incompetence in rescue work was not enough. Now they are trying to ruin our universities and dormitories. Open universities immediately. Students should stay in their dormitories. I promise that we will solve the settlement problem if victims come to opposition-run metropolitan cities," Kılıçdaroğlu stated.