Bahçeli suggests 'cacabey' as Turkish alternative to 'astronaut' title
Ruling alliance partner Devlet Bahçeli suggested using the name of a 13th-century astronomer, "cacabey," to replace the word "astronaut" in Turkey's mission to space, revealed on Feb. 9 by the president, who prompted criticism for saying that "maybe, just maybe, even a lady" could go to space.
Duvar English
Nationalist Movement Party (MHP) leader Devlet Bahçeli suggested the word "cacabey" to serve as a Turkish alternative to the word "astronaut" in Turkey's new National Space Program that President Recep Tayyip Erdoğan announced on Feb. 9.
A reference to 13th-century Seljuki government official and astronomer Nurettin Cibril Bin Cacabey, Bahçeli suggested that the word "cacabey" replace the word astronaut in the Turkish language, a response to the president's prompt to the public to come up with such an alternative.
"If one of our citizens is going to go to space, it's necessary to find a Turkish word for the words astronaut and cosmonaut. I call out to our linguists here, let's find a Turkish name for Turkish space travelers," the president said after revealing the new initiative that aims to reach space by 2023.
The president noted that Turkey wants to send a Turkish citizen to space in the announcement, but prompted outrage with a sexist twist on the promise.
"I'm sure many people grew up dreaming of going to space. Maybe some of you still have that dream. And maybe, just maybe, there could even be ladies who present as a candidate," Erdoğan said.
Industry and Technology Minister Mustafa Varank offset the president's presentation of a female astronaut as a far-fetched idea on Feb. 10, saying that Erdoğan was hoping for a woman to be selected for the mission.
"Our president's wish is for a woman astronaut to go to space. We will make sure our most suitable citizen will go," Varank said.
"People who have aviation experience are usually elected [to go to space]. We will be selective in sending [citizens] to space," the minister added.
Turkey's travels into space will not be a "touristic trip," but instead a "scientific mission," Varank also said.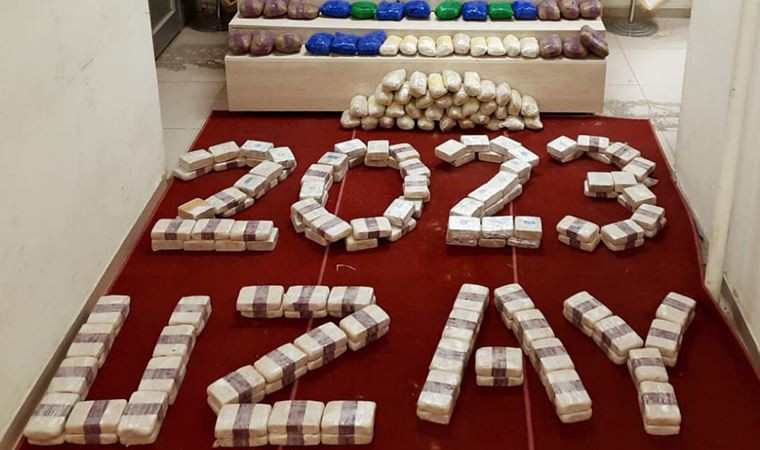 Meanwhile, a group of narcotics police celebrated Turkey's latest initiative by spelling out the words "space 2023" with bricks of heroin they confiscated in a raid.