Montenegrin ambassador to Turkey: 'One third of foreign companies in Montenegro are owned by Turks'
In an interview with Duvar English, Ambassador Periša Kastratović said that around 3,200 Turkish companies are registered in Montenegro and they make one third of all foreign companies registered in the country. "Turkish construction companies are involved in the construction of the first highway in Montenegro and also in the construction of tourist resorts," he said.
Menekşe Tokyay – ANKARA
Duvar English has launched a new series of interviews with the ambassadors in Ankara.
The interviews will be reachable both from our Turkish and English websites.
The political, economic, commercial, social aspects of bilateral relations as well as challenges and opportunities ahead will be elaborated in each interview.
The first interview is conducted with the ambassador of Montenegro, Periša Kastratović, who is in charge since September 2019.
As a country where thousands of Turkish companies have invested over years, Montenegro carries a significant economic advantage for Turkey, while it also poses a reference in terms of its candidacy process to the EU.
Dear Mr Ambassador, Turkey is among the top 10 investors in your country. But there is still an untapped potential for bilateral trade. How do you assess the current economic relations between Turkey and Montenegro?
Montenegro is oriented to attracting foreign investments and priority of our diplomatic network is promotion of economic potentials of Montenegro. We register a growing interest of Turkish investors to do business in Montenegro and we see the Republic of Turkey as a significant economic partner.
It is important to use excellent political relations between our two countries to build even stronger economic ties. In the area of trade, there is a significant space for improvement. During the historic visit of President Recep Tayyip Erdogan to Montenegro in August 2021, the objective to reach 250 million USD trade volume annually, by the end of 2022, was reiterated. We are sure that together we can achieve this goal.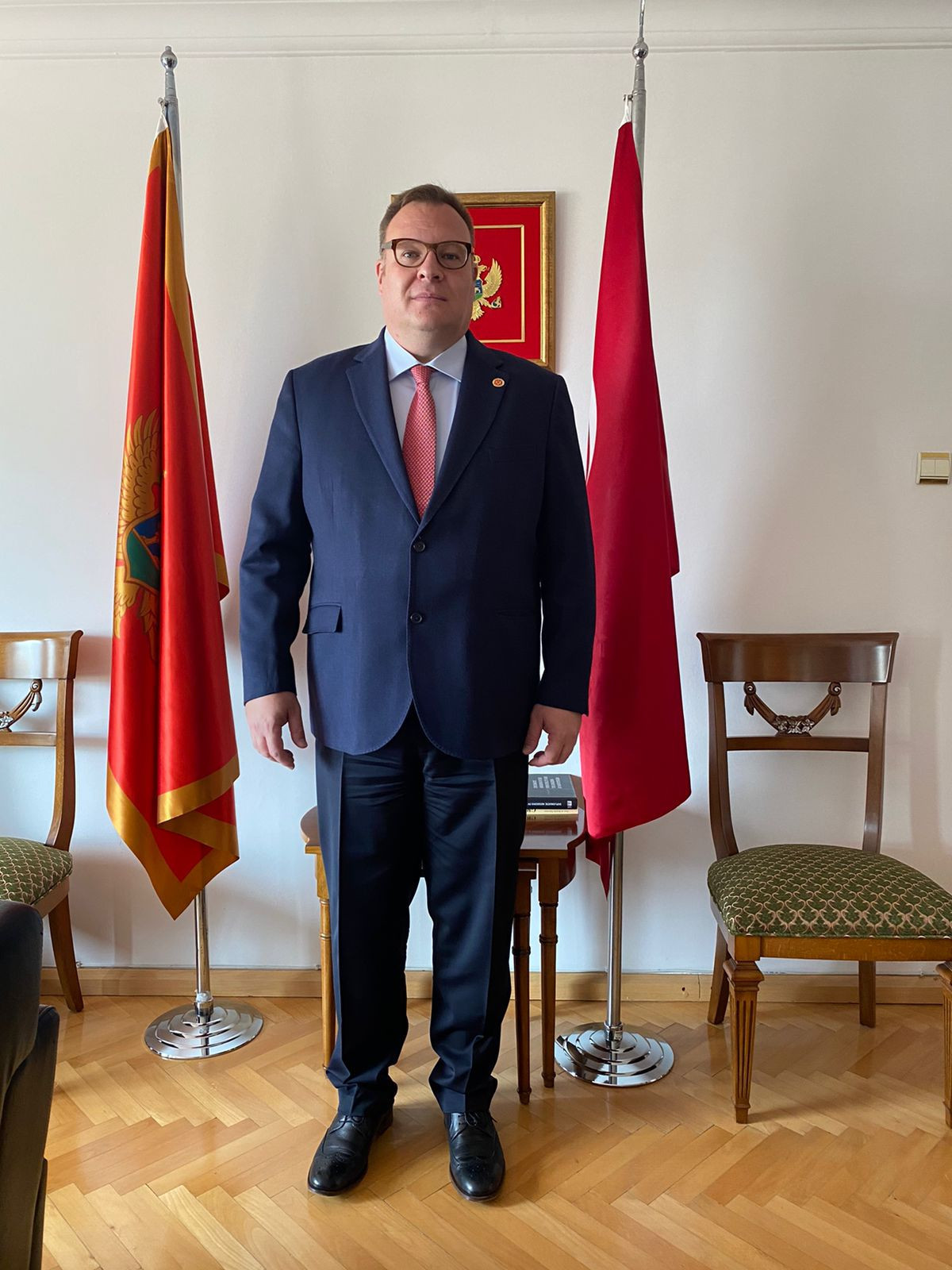 Around 3200 Turkish companies are registered in Montenegro and they make one third of all foreign companies registered in Montenegro. Between 300 and 400 of them are active.
Large Turkish investors are also present in Montenegro - Toscelik, Net holding, Gintas, Turkish Airlines, Ziraat Bank, Global Ports Holding. Turkish construction companies are involved in the construction of the first highway in Montenegro and also in construction of tourist resorts. One of the biggest shareholders of the Montenegro Stock Exchange is Istanbul Stock Exchange.
Considering that both countries are tourist hotspots especially in summer time, does Montenegro have some tourism projects with Turkey on the horizon?
Tourism contributes around 25 % to our GDP and Montenegro has been ranked as the world's 5th fastest-growing tourism destination in 2019 by the UNWTO. We are happy to say that 2021 was a rebound year compared to 2019, which was a record year with 2,6 million arrivals and 14,4 million overnight stays of tourists. This year we reached 70% of that success and that is very important for the recovery of our economy.
Tourism sector in Montenegro is characterized by the successful implementation of new infrastructure projects, as evidenced by the presence of some of the world's leading hotel brands such as "One and Only", "Regent", "Four Points by Sheraton", "Chedi", "Hilton", "Falkenstainer", "Melia", "Iberostar", while the building of "Ritz Carlton" is announced.
After establishing direct flights from Istanbul to Podgorica and Tivat there is a potential to increase the number of tourists from Turkey. In the previous five – year period we registered a trend of growing number of visits and overnight stays of Turkish tourists. More and more people from Turkey is deciding to buy a property in Montenegro, and in 2019 buyers from Turkey were on the third place of foreign buyers of real estate.
Although at this moment there are no big ongoing projects in sector of tourism between our countries, we are interested in the cooperation of national tourist organizations and in exchange of knowledge and experiences in the tourism sector. Montenegro's vision is to become one of the leading Mediterranean destinations with a diverse offer throughout the year. Our tourist offer also includes health tourism which is becoming increasingly important. It can contribute to extending the tourist season, and we believe there is a room for cooperation in this area.
There is a trend in your country to push for pitching Montenegro as a good investment destination for Turkish investors. Currently, about one third of foreign companies in Montenegro are owned by Turkish investors. In which areas do they invest and which other areas are seen as promising and still unexploited?
Turkish companies show special interest in the tourism, agriculture, energy, infrastructure and banking sectors. The interest of Turkish companies in investing in Montenegro is growing and Turkish companies, in addition to above-mentioned sectors, are also interested in investments in agriculture and agro-industry, wood processing and textile industry. Most of these investments are related to the less developed, and very rich in natural resources, northern region of Montenegro.
Besides tourism, which is the driving sector of our economy, other key sectors are: energy, where Montenegro has substantial potential for new projects in the area of renewable energy (wind farms, small hydro plants, solar energy, biomass, oil and gas, etc); wood processing and furniture manufacturing where local raw material resources and capacities represent a good basis for much higher level of production, export and employment; ICT sector that has been recognized as one of the up and coming sectors in the country. Montenegro is also becoming a next-wave location for delivery of IT and business process service. Metal processing industry is the most important sector of the Montenegrin manufacturing. It includes production of primary metals and metal products (non-ferrous metals, steel and iron) and the aluminum sector alone represents the largest export sector by value within Montenegro. Availability of a raw material, skilled labor, potential locations, support programs and a supply chain may be a great foundation for the development of automotive sector in Montenegro.
Do you think there are enough flights between the two countries?
We now have everyday flights with Turkey, which certainly contributes to larger tourist exchange between Turkey and Montenegro. Of course, we would very much like to have even more flights to Turkey - not just to Istanbul, but also to other Turkish cities. Currently, "Turkish airlines" is flying to the capital Podgorica and "Air Montenegro" is flying from our seaside town Tivat to Istanbul. In that context, it would be beneficial to consider the possibility to connect Podgorica and Ankara. For example, "Anadolu Jet" could connect Ankara and Podgorica via Tirana or Zagreb.
From the eyes of Turkish investors, what are the factors that facilitate investing in Montenegro?
Montenegro is an economically stable, democratic, multicultural, multi-religious society, that actively promotes good neighborly relations and regional cooperation. We are member of NATO since June 2017 and the most advanced candidate for EU membership. Free trade agreements with the EU (Stabilization and Association Agreement), Russia, Turkey and Ukraine, as well as membership in CEFTA and EFTA enable investors to access to a market of around 800 million consumers.
Furthermore, favorable geographical location on the Adriatic/ Mediterranean Sea is convenient for trade via the Port of Bar and provides significant air accessibility, as well as railway and road connection to Eastern and Central Europe. This is why Montenegro is seen as "The Gateway to the Balkans."
What is also very favorable for doing business in Montenegro is that foreign companies enjoy the same treatment as national; foreign investors may invest in any industry and are free to transfer funds, assets and other goods, including profit or dividend; we have competitive tax system (general corporate profit tax and personal income tax is 9%); incentives and tax reliefs for investment on both national and local levels, including in purposefully established Business and Free-Trade Zones.
Procedure for creating a company is very simple and it takes only four days and founding capital of 1 EUR. We have quality banking sector, with 12 private banks and no commercial state-owned banks. Our workforce is qualified and affordable and English is widely spoken across professions and trades.
As I said before, Montenegro is becoming increasingly popular tourism and lifestyle destination. In that context I will mention favorable climate with annual average of 240 sunny days.
Very important information for Turkish citizens is that they do not need a visa for entering and staying in Montenegro for up to 90 days with a valid passport.
What have been the concrete results of the meetings of the economic commission between Turkey and Montenegro so far? Do businesspeople from Montenegro also target investments in Turkey?
Agreement on Economic Cooperation between the Government of Montenegro and the Government of the Republic of Turkey was signed on 11 December 2009 in Podgorica. Persuant to this Agreement, a Joint Commission was formed to identify new opportunities for further development of future economic cooperation and to make proposals for improving the conditions for economic cooperation between enterprises of both countries. The Joint Commission, on the last meeting in 2019, recognized as mutually beneficial areas: trade and investment, industry and entrepreneurship, transport, energy, agriculture, fisheries, rural development, forestry and water management, tourism, environmental protection, education, health and sports. The importance of further improving cooperation in the field of small and medium enterprise development was also noted.
Meetings of the Joint Commission were an opportunity to explore possibilites of improving cooperation between the two countries in all sectors, chance for ministers to meet with their counterparts and they also provided possibilites to sign different agreements, for example agreements on cooperation in the area of defense industry and cooperation in the area of youth and sports. The 6th meeting of the Joint Comission is planned for February 2022. We are certain it will result with concrete plans for improvement of our economic relations.
Both Montenegro and Turkey are aiming at EU accession. Do you see some similarities between the candidacy processes of both countries?
We can say that we have a common goal of becoming members of the EU. We believe that we will be next member country. Montenegro opened all negotiation chapters and provisionally closed three of them. What is most important, public support for joining the EU is enormous - 84% of population is in favour of Montenegro becoming part of European Union.
Different challenges and circumstances that our countries are facing, make our paths to EU different too. The most obvious difference between Montenegro and Turkey is the size: Montenegro has less than 700 000 citizens, while Turkey has 84 million.
I am pleased to say that during our negotiation process, we've always had support from Turkey, as well as Turkey has always had ours. EU integration process is also one more opportunity for our countries to cooperate and share experiences and "know-how."
What would be the benefits of having Turkey and Montenegro as EU members in the same accession wave for the wider neighborhood?
We hope that all candidate countries will join EU in the future, based on the individual merit or the so - called "regatta principle". I previously said that we have reasonable expectations that Montenegro will be the first country to achieve this goal. It would be very beneficial for stability and economic development of candidate countries to join EU, and, of course, enlargement is an asset for the EU itself. EU membership would mean greater cooperation between Montenegro and Turkey, although I must say that cooperation and political relations between Montenegro and Turkey are already very good.
Could you also elaborate how TIKA projects in your country receive and in which areas do you need further cooperation?
TIKA is one of the most important development partners of Montenegro with 399 projects implemented, worth more than 20 million EUR. The projects cover education, health, cultural cooperation, agriculture, infrastructure and technical support. The most financially significant projects are: construction and equipping of an oil mill in the Municipality of Ulcinj; restoration of the Clock Tower in Podgorica; adaptation and equipping of the Ministry of Foreign Affairs building; adaptation of Clinical Center of Montenegro - Emergency Block.
There is not one municipality where TIKA did not implement at least one project and citizens of Montenegro recognize and very much appreciate what TIKA is doing in Montenegro. We truly hope that TIKA will continue to support and implement development projects in the future as well.
As an ambassador in Ankara, do you come together with NGO representatives frequently? If yes, which areas does your country mostly focus on?
As an ambassador I try to keep contact with all relevant interlocutors in Turkey. I had the opportunity to meet with the representatives of the think-tank community, which is very vibrant. In future I will certainly continue contacts with the NGOs, considering the important role they have in every society.
Will officials from Montenegro and Turkey come together soon under the auspices of bilateral or multilateral meetings in early 2022?
We are very glad to say that we had intensive political dialogue on the highest level in 2021. This June President of Montenegro and Minister of Foreign Affairs participated in SECEEP Summit and Ministerial SECEEP meeting, as well as in Antalya Diplomacy Forum. In June, Speaker of the Parliament of Montenegro participated in the Parliamentary Assembly of SECEEP and in December he attended 5th Economic Summit in Istanbul.
In August we had the historic visit of President Erdogan to Montenegro, which I mentioned in my first answer and in December Mr. Mustafa Şentop, Speaker of the Grand National Assembly visited Montenegro.
During this year our Deputy Prime Minister, Minister of Health, Minister of Economic Development and Minister of Agriculture, Forestry and Water Management visited Turkey and met with their counterparts. Two Ministers of Foreign Affairs also met on the margins of NATO Ministerial meeting in March.
We hope that this good level of state visits and political dialogue will continue in 2022. At the moment, there are plans for Joint Commission meeting in February 2022, and bilateral political consultations between Ministries of Foreign Affairs in Podgorica. We are also expecting that Montenegro will have representatives in the next edition of the Antalya Diplomacy Forum as well. In 2022, we hope and expect Turkish ministers will pay return visit to Montenegro.