Nominee Öykü Didem Aydın says Constitutional Court should include female, LGBTQI+ members
One of the ten women nominated to fill an open seat on the Constitutional Court, Öykü Didem Aydın, is openly calling for the court to include more female and LGBTQI+ members.
Serkan Alan / DUVAR
Öykü Didem Aydın, a longtime women's and LGBTQI+ rights advocate and candidate for a seat on Turkey's Constitutional Court (AYM), is calling for more female and LGBTQI+ representation in the judicial body.
A single seat is up for grabs on the AYM after Celal Mümtaz Akıncı, a longtime lawyer and member of the court since 2010, announced his retirement effective January 31, 2021. The first round of voting for nominees to the position will occur within a secret panel of three members determined by the 83 heads of Turkish bar associations - these presidents will be elected on January 15, and will then determine the candidates for the AYM seat.
In the bar elections, gender has also played a role. The former head of the Diyarbakır Bar Association, lawyer Cihan Aydın, stepped down from his role so that a woman, Zülal Erdoğan Bilal, could run in his place.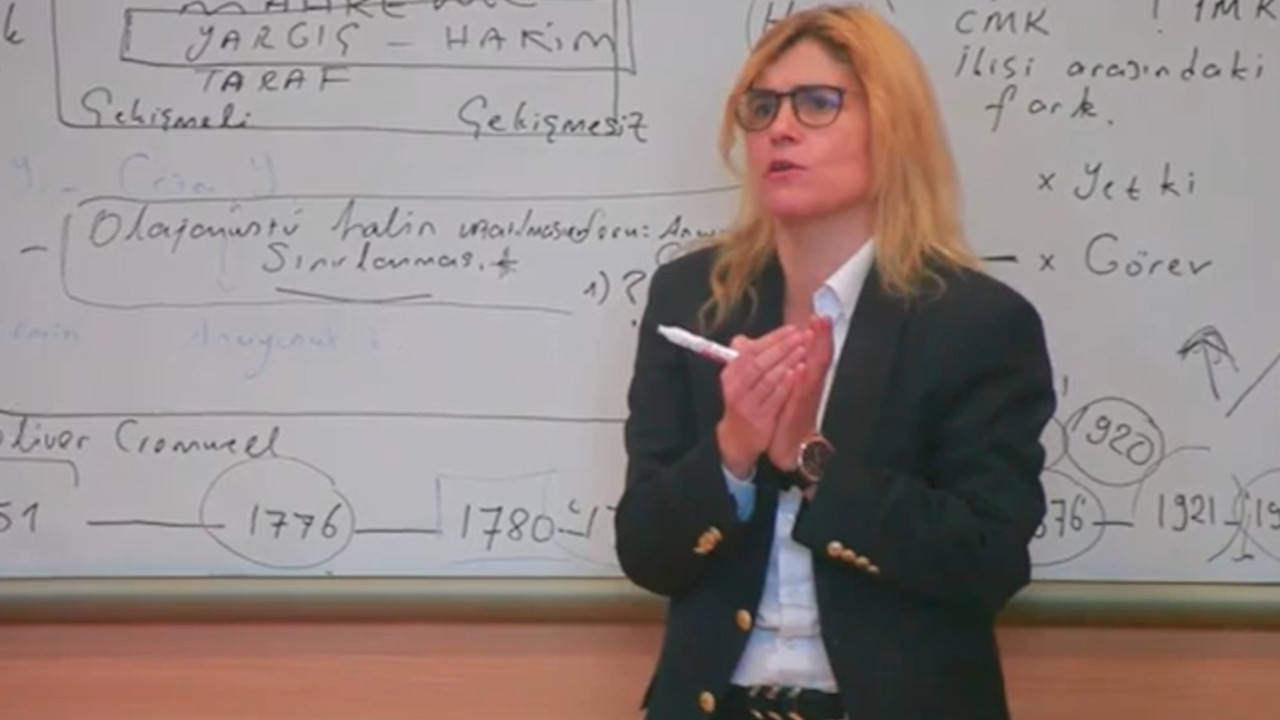 Thirty-two lawyer candidates are running for the AYM seat, ten of whom are women. Aydın, a lawyer who has taught constitutional law at Hacettepe University Faculty of Law for years, and who has pioneered the struggle for human rights, is one of them. She founded the Ankara Bar Association LGBTQ+ center and has also been a pioneer for women's rights. She says all three candidates determined by the bar association should be female or female-identifying individuals.
Further, she says that the court - comprised entirely of men - should better reflect the Turkish population. It should include more women and queer individuals.
"This court renders decisions 'on behalf of the Turkish nation,' should reflect the diversity of the nation, with which many different segments can identify," Aydın said.
Aydın further said that it's necessary that those picked by the presidents of the bar association be picked on "merit" - not based on politics or affiliation. The person appointed should know constitutional law in and out - as Aydın herself does - and should also have mastery of a diversity of perspectives. Aydın herself, she says, would make a good candidate because of her years of constitutional law practice and running the Ankara Bar LGBTQ+ center.
Aydın highlighted that the appointment of this new member is critical, especially in a moment when judicial independence, rule of law, and human rights are all under threat in Turkey. It is the role of the Constitutional Court to uphold fundamental rights and freedoms in Turkey.
"The Constitutional Court is an assurance that our democracy and our state of law can survive and survive," she said. "You are not going there for a political fight, but to enforce the Constitution, fundamental rights and freedoms."
In a world where courts are increasingly used to carry out "political fights" - both in Turkey and around the world – she said, this opportunity needs to be taken to re-establish trust in the court by appointing qualified, diverse candidates.
"Those who implement the decisions must have loyalty to the Constitution and the Constitutional Court, and the rule of law needs to be reestablished in this society," she said.
(English version by Erin O'Brien)