Number of Turkish children dragged into crime doubles in 10 years
The number of children dragged into crime increased by 148 percent between 2010 and 2022 in Turkey, according to the government's statistical institute. Children were brought into security units in nearly 602,000 cases in 2022.
Duvar English
According to the Turkish Statistical Institute's Juvenile Statistics Received Into Security Unit for 2022, the number of incidents involving juveniles received into security units was 601,754 in 2022 with an increase of 20.5% as compared to 2021.
In these incidents, nearly 259,000 juveniles were identified as victims. Additionally, approximately 207,000 juveniles were involved in criminal activities as alleged perpetrators of acts defined as crimes by the law.
Furthermore, 100,490 juveniles acted as witnesses to these incidents, while 16,499 were reported missing and later found. Another 12,684 juveniles faced allegations of committing misdemeanors. Lastly, 6,122 juveniles were taken into security units for reasons unrelated to the previous categories.
Among 207,000 incidents due to being pushed into crime, 37.8% of juveniles were charged with assault whereas 25.2% was charged with theft. While other 4.5% was brought to security units due to the use, sale, and purchase of drugs, 4.2% with opposition to passport law, and 4.1% with threat.
In the 12 years between 2010 and 2022, the number of children pushed into crime increased by 148 percent. The number of children dragged into crime increased from 83,000 in 2010 to 101,000 in 2012.
The upward trend continued until 2020 when the Covid-19 pandemic prevailed. The number of 168,000 in 2019 decreased to 114,000 in 2020. While 133,000 children were dragged into crime in 2021, this number increased by 56 percent to 207,000 in 2022.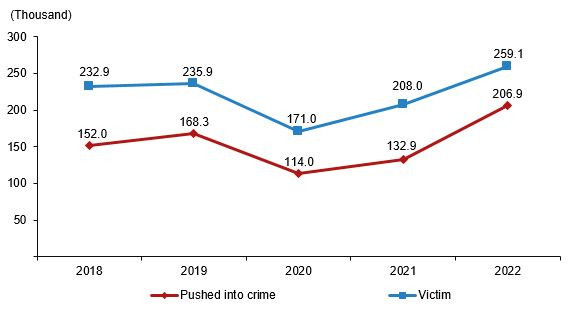 On the other hand, 58.5 percent of 232,739 children who came or were brought to security units as victims of crime were victimized due to injuries while 13.7 percent were due to sexual crimes and 8.7 percent due to crimes against "family order."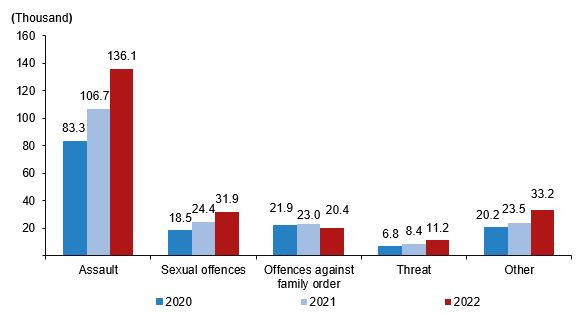 According to Justice Ministry's data from 2022, there are 670 convicted and 1406 arrested children in Turkish prisons.