Police brutality again marks Boğaziçi University protests in Istanbul's Kadıköy
Turkish police detained dozens of protesters on Feb. 4 in Istanbul's Kadıköy district during a demonstration against Turkish President Tayyip Erdoğan's appointment of a new rector to Boğaziçi University. Images also showed HDP MP Gülistan Koçyiğit being assaulted by police officers.
Duvar English
Istanbul's Kadıköy district was again placed under police siege on Feb. 4 evening over a fresh protest against the detention of Boğaziçi University students.
Reports said several people were detained for attempting to read out a press statement in support of the detained students.
The protest came upon a call of the "United Struggle Powers" ("Birleşik Mücadele Güçleri" in Turkish), which consists of several leftist organizations and platforms.
Kadıköy'de Boğaziçi dayanışma eyleminde yeni gözaltılar var.

Meslektaşlarımızı Kadıköy'de gözaltı takibi için dayanışmaya çağırıyoruz. #AşağıBakmayacağız

— ÇHD İstanbul Şube (@CHDistanbul) February 4, 2021
Hundreds of people who gathered in front of the Peoples' Democratic Party (HDP) Kadıköy office attempted to walk towards the pier, shouting slogans of "Oppressions cannot demoralize us," "Shoulder to shoulder to fascism" and "Long live our united struggle."
The demonstrators however faced harsh police resistance, with HDP MP Gülistan Kılıç Koçyiğit having been assaulted by police officers.
#Kadıköy'de Rıhtım'a çıkan tüm yolları kapatan polis açıklama yapmamızı bu görüntülerde göründüğü haliyle engellemek istedi.

Bizler açıklamamızı tüm zorbalıklara rağmen gerçekleştirdik.

Yaşasın mücadelemiz! pic.twitter.com/1x4xKCX5DV

— Gülistan Kılıç Koçyiğit (@glstnkocyigit) February 4, 2021
For the past month, Boğaziçi University students have been demonstrating against the appointment of the new rector, Melih Bulu, who was given the post by President Recep Tayyip Erdoğan. They demand that Bulu resigns and a fair election is held to choose the new rector, which received widespread support among the public.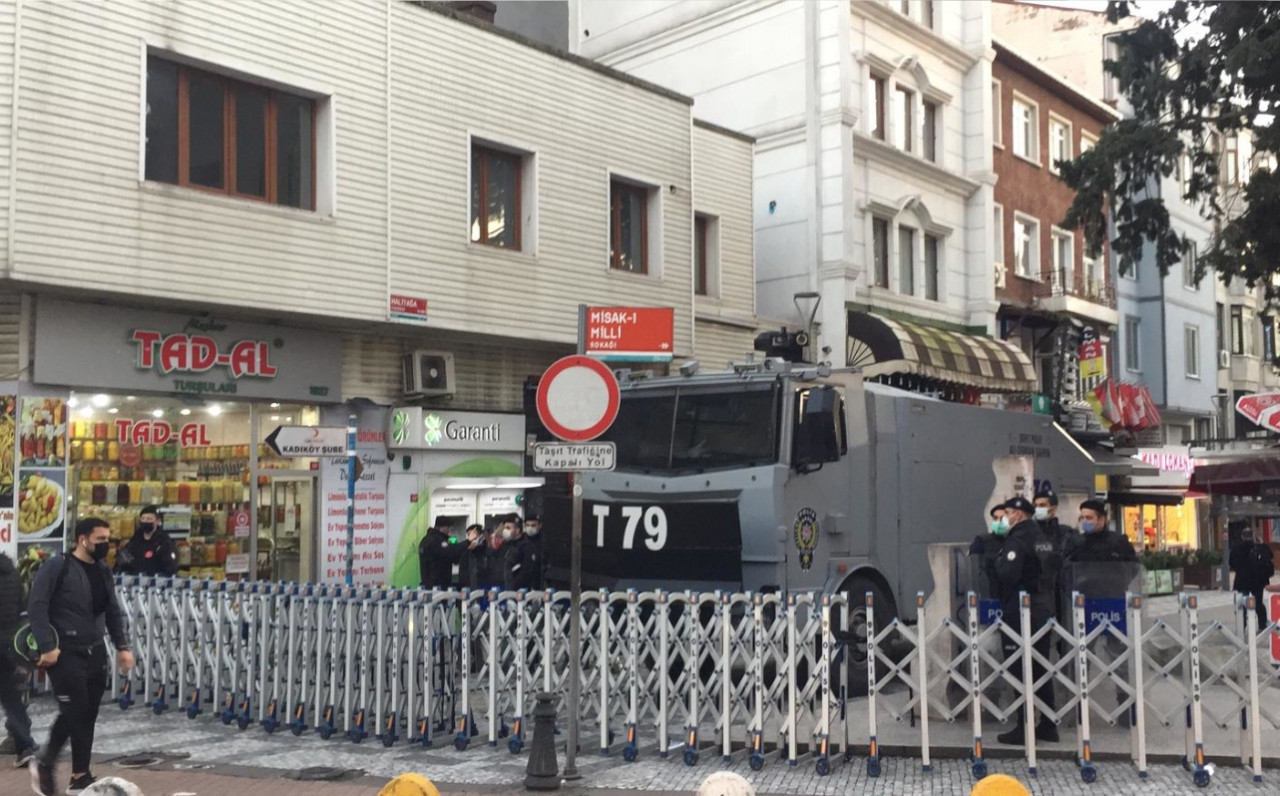 More than 250 people were detained in Istanbul this week and 69 others in Ankara during protests.