Interior Minister Soylu gets nosebleed on live TV
Interior Minister Soylu got a nosebleed on live television reportedly because of the cold he was exposed to on Jan. 12 in Kastamonu, where, in a speech, he slammed a play based on former HDP co-chair Selahattin Demirtaş's book. Soylu said that Demirtaş was responsible for the violent protests of Oct. 6-8, 2014 that resulted in the deaths of over 30 people. "You can't wash the blood off your hands with theater," he said.
Duvar English
Turkish Interior Minister Süleyman Soylu's nose started bleeding while he was speaking on live television today, bringing the broadcast to an abrupt end.
Soylu was speaking during the Idlib Help Campaign press conference by the Disaster and Emergency Management Presidency (AFAD) when he started to have a nosebleed.
Soylu's nosebleed was due to the cold he was exposed to during the opening of a new ski facility in the Black Sea province of Kastamonu on Jan. 12, Interior Ministry sources reported.
Soylu is in good health and will carry out his schedule as planned, sources noted.
Soylu slams Demirtaş's play
A day earlier, Soylu criticized the performance of a play based on jailed former Peoples' Democratic Party (HDP) co-chair Selahattin Demirtaş's book "Devran."
Demirtaş's wife Başak Demirtaş, as well as HDP deputies and main opposition Republican People's Party (CHP) members including Istanbul Mayor Ekrem İmamoğlu's wife Dilek İmamoğlu and Istanbul Chair Canan Kaftancıoğlu, watched the play together, prompting Soylu to criticize the move.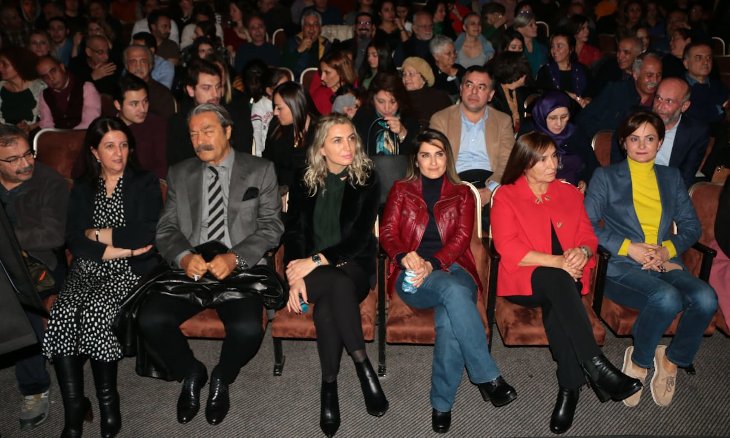 "The play they saw was created by those who hurt this country's people, by those who don't want us to succeed," Soylu said about the play, adding that seeing a play is "not a fault," and that everyone should go to the theater more often.
Demirtaş was arrested on Nov. 4, 2016 on charges related to the Kurdistan Workers' Party (PKK) - a group designated as a terrorist organization by Turkey, the United States and the European Union.
Turkish authorities accuse HDP lawmakers and members of having links to the PKK, with a number of its former deputies and dozens of local officials being in jail.
Soylu, who is known with his harsh statements against Demirtaş and the HDP, said that the former co-chair was responsible for the protests of Oct. 6-8, 2014 that stemmed from Turkey's ban on weapons transfers to People's Protection Units (YPG) militants, PKK's Syrian affiliate, during the ISIS siege on northern Syrian town of Kobani.
Masses flooded the streets of major cities and the majority-Kurdish southeast during the protests, resulting in the deaths of over 30 people.
"The PKK gave the order. Then-HDP co-chair Selahattin Demirtaş and their board members relayed the order to Turkey," Soylu said.
"You can't wash the blood off your hands with theater."
"Devran" is a concept in Turkish that means earth, time and fate. It is the second book Demirtaş penned during his over three years of imprisonment, Devran contains 14 stories and was adapted to stage by artists Jülide Kural and Ömer Şahin.