Education Ministry launches probe into cartoon showing execution of former Turkish PM Menderes
Children in Turkey were on March 23 shown an animated cartoon depicting the execution of former Prime Minister Adnan Menderes as part of their home schooling during the coronavirus outbreak. Following widespread criticism, the Education Ministry has launched an investigation into the incident.
Duvar English
Turkey's Education Ministry has launched an investigation into an animated cartoon depicting the execution of former Prime Minister Adnan Menderes. Children were made to watch this clip during remote education that began on March 23 to prevent coronavirus from spreading.
The ministry's move came after the cartoon images were widely criticized in the public and Turkish Education Minister Ziya Selçuk announced that he did not either approve of such an education material.
The cartoon on the Democrat Party showed Menderes taken to the gallows in white clothing to be executed, prompting criticism on social media over the disregard for children's psychology.
Bu hangi kafanın eseri?
Bu kafaya çocukları nasıl emanet edeceğiz? https://t.co/1deasvHbmG

— İsmail Saymaz (@ismailsaymaz) March 23, 2020
The cartoon was aired on EBA TV (Education Informatics Network) as part of a documentary on the party during a break from classes.
Religious hymns were also aired during the breaks.
Çocuk ve gençlerimizin "uzaktan öğrenme" ile sınavı... TRT'de başlayan derslerde öğrencilere sunulan müzik arası...

İsmi, 'Ara Nağme'pic.twitter.com/s4nbur7sEZ

— can gurses (@canitti) March 23, 2020
Menderes, a name frequently commemorated by President Recep Tayyip Erdoğan and his ruling Justice and Development Party (AKP) was executed by hanging following a coup in 1960 after serving as prime minister for 10 years.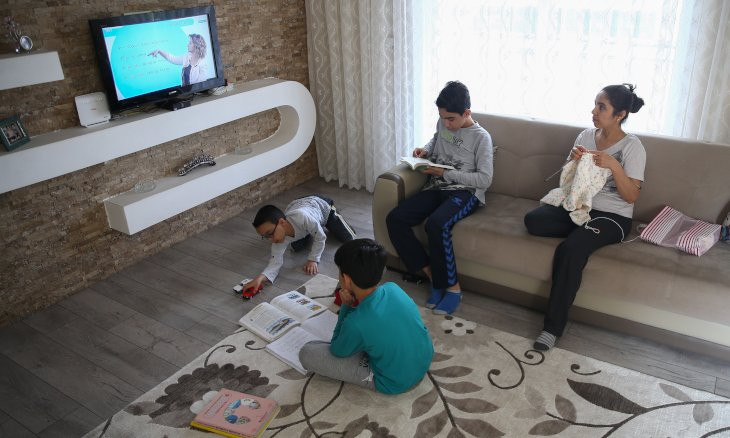 Turkish students begin remote classes in second week of coronavirus cancellation
Following backlash on social media, Education Minister Selçuk wrote on Twitter: "I and my team worked very hard to set up three new channels and prepare their contents in a week. We entirely checked hundreds of footage. I don't approve of the footage prepared by the team, which I trusted and didn't feel the need to check."
"I don't find them appropriate for children. We will show sensitivity towards our broadcasts just like we do to the content at schools. This is a new and difficult process for all of us. I kindly request your understanding on this issue," he also said.
"I can't tell you how disturbing it is for me to be talking about the harm done to the system I care so much about by a couple of minutes of footage that I overlooked," Selçuk added.
March 23, 2020