Sacked HDP mayor, CHP MP sing Kurdish folk song on web broadcast
Ahmet Türk, the sacked mayor of the southeastern province of Mardin from pro-Kurdish Peoples' Democratic Party (HDP), sang a Kurdish folk song on an online broadcast, along with main opposition deputy Orhan Sarıbal. Sarıbal said that as long as folk songs live on, so does heritage, and that will eventually lead to the victory of minorities' struggles.
Duvar English
A sacked mayor from the Peoples' Democratic Party (HDP) and a deputy from the main opposition Republican People's Party (CHP) sang a Kurdish-Turkish folk song on an online news program May 6.
Ahmet Türk, who was the mayor of the southeastern province of Mardin when he was removed from his duty to be replaced by a trustee as part of the government's crackdown on the HDP, and CHP lawmaker Orhan Sarıbal sang the song titled "Hinê Bînin" or "Kınayı Getir Aney," which roughly translates as "bring the henna, mother."
Televizyonda bir ilk: Ahmet Türk ve Orhan Sarıbal karantinatv'de katıldıkları "Barış çok mu uzak" başlıklı bir programda kardeşlik türküleri söylediler...@AhmetTurkHDP @orhansaribalchp @gulerbugday @necdetsarac

Daha fazlası için programın tamamı:https://t.co/gMWNSAjqVp pic.twitter.com/hhRxtfFguh

— Karantina TV (@karantinatv) May 6, 2020
Deputy Sarıbal explained that the song is a mother's words to her mother, asking her to paint her hands with henna and telling her mother that she would like to sleep with her that night.
The song is a reference to the tradition of "henna night" in Turkey, which is theoretically the last night a new bride spends in her mother and father's house before getting married.
Sarıbal later referred to 20th century traditional folk singers Aşık Mahsuni Şerif and Aşık Daimi, 15th century folk singer and Alevi folk symbol Pir Sultan Abdal and 20th century Kurdish singer Ahmet Kaya who had to flee Turkey and died in exile.
"This is why Mahsuni Şerif doesn't die, why Pir Sultan doesn't die, why Daimi doesn't die, why Ahmet Kaya doesn't die," Sarıbal said.
"As long as folk songs live on, so will the resistance; and surely one day, good of heart, friendship, democracy will win."
The two were joined by author Güler Buğday on Alevi political expert Necdet Saraç's program "Is peace too far?" on YouTube channel KarantinaTV.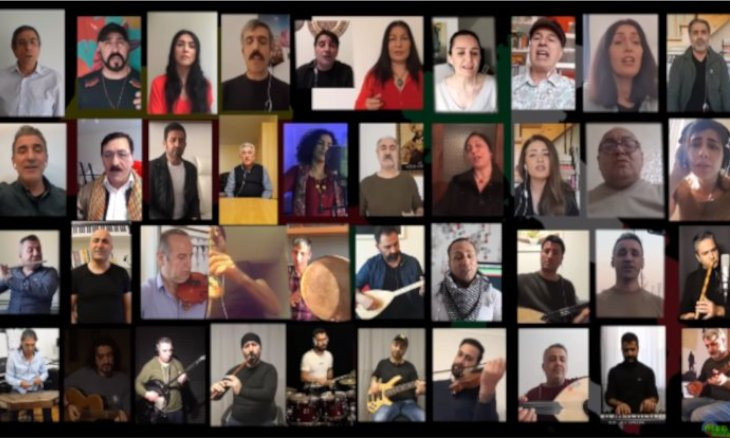 Kurdish musicians sing 'Bella Ciao' for Italians to show solidarity amid coronavirus