Former HDP co-chair Demirtaş says Gezi 'spirit' is not over on 7th year anniversary of protests
Former HDP co-chair Selahattin Demirtaş released a message on the seventh year anniversary of the Gezi Park protests, saying: "Gezi Resistance is not over, is continuing and we will definitely win it."
Duvar English
Selahattin Demirtaş, the jailed former co-chair of the pro-Kurdish Peoples' Democratic Party (HDP), has released a message to mark the anniversary of the Gezi Park protests, saying that the "spirit" and "energy" of the Gezi resistance are still very alive and the government is very "scared" of this.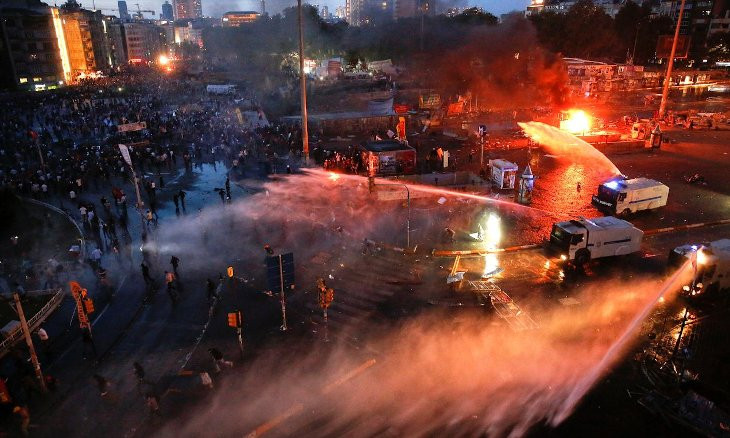 Thousands mark Gezi Park protests on seventh anniversary
"Gezi Resistance is a very clear sign that different fractions of the society can accomplish to struggle together. And it is because of this very reason that the ruling government is very scared of Gezi spirit and Gezi energy, and they are right to fear," Demirtaş said in his message, which was shared by his wife Başak Demirtaş in a video.
"Maybe it can seem that the resistance is not currently continuing, but it is never over. And the government's fear stems from this. I salute everyone who joined the Gezi Resistance, whose hearts beat for Gezi and I remember with respect those who lost their lives [at Gezi Park protest] on its anniversary. Gezi Resistance is not over, is continuing and we will definitely win it," Demirtaş said in his message.
Demirtaş, one of Turkey's best-known politicians, has been jailed for more than three years while on trial for a series of terrorism-related charges. He faces a total of up to 142 years in prison if convicted.
Thousands of Twitter users on May 31 marked the seventh anniversary of 2013 Gezi Park protestsvia sharing pictures and quotes from the landmark demonstrations, while also commemorating those killed by police.
Initially centered in Istanbul, the protests spread to all over Turkey starting from June 1, as millions took to the streets to raise their voices against police brutality and government policies. It turned into the largest wave of protests against the government in Turkey's history.