Opposition deputies jailed after losing parliamentary seats
Turkish authorities early on June 5 arrested three opposition deputies after they were stripped of their parliamentary status. The legislators are Enis Berberoğlu of the main opposition CHP who went on trial on espionage charges and Leyla Güven and Musa Farisoğulları of the pro-Kurdish HDP who were convicted of terrorism charges.
Duvar English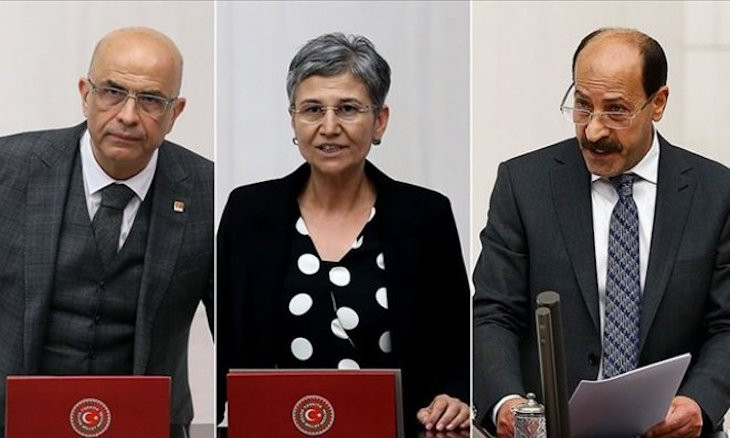 Three opposition deputies stripped of MP statuses in Turkey
Turkish authorities have arrested three opposition deputies after the parliament stripped them of their parliamentary status on June 4.
The prosecutor's office in southeastern province of Diyarbakır late on June 4 ordered the arrest of Leyla Güven and Musa Farisoğulları from the pro-Kurdish People's Party (HDP) following the decision for the lawmakers.
Shortly after the arrest warrant, Farisoğulları announced on Twitter that he was taken into police custody in Diyarbakır while on his way to the capital Ankara to visit the HDP headquarters.
Genel Merkezimize gitmek üzere Diyarbakır'dan Ankara'ya giderken, az önce gözaltına alındım.

— Musa Farisoğulları (@m_farisogullari) June 4, 2020
About an hour after Farisoğulları's post, Güven also announced on Twitter that she was detained by the police at her residence.
Gözaltına alınıyorum. #BerxwedanJiyane

— Leyla Güven (@LeylaGuvenkcd) June 4, 2020
The HDP slammed the authorities' move in a Twitter post and released a video that showed Güven while being detained.
"DTK [Democratic Society Congress] Co-chair and our Hakkari MP Leyla Güven, who has been stripped of her parliamentary status with the [Presidential] Palace Coup, has been also detained. This is what a coup is. It is undertaking a police raid against the house of a politician who is the representative of the voters' will. It is vengefulness. You will not be able to intimidate those who say Berxwedan Jiyan," the HDP wrote, referring to the Kurdish phrase of "Resistance is Life."
Saray Darbesiyle vekilliği düşürülen DTK Eşbaşkanı ve Hakkari Milletvekilimiz Leyla Güven de gözaltına alındı. İşte darbe budur. Seçmen iradesinin temsilcisi bir siyasetçinin evine onlarca polisle baskın yapmaktır. İntikamcılıktır Berxwedan Jiyan e diyenleri yıldıramayacaksınız! pic.twitter.com/NYs1rqthJJ

— HDP (@HDPgenelmerkezi) June 4, 2020
State-run Anadolu Agency said early on June 5 that both Güven and Farisoğulları were referred to the Diyarbakır courthouse and were formally arrested by a court order.
The third deputy to be taken in police custody was Enis Berberoğlu from the main opposition Republican People's Party (CHP).
Berberoğlu's detention was made public by CHP deputy chair Tuncay Özkan. "Enis Berberoğlu is now under detention in Istanbul. He is being taken to the police station on Vatan Avenue. Why? Why so much cruelty? Why such cruelty to someone who was himself going to the prosecutor's office tomorrow?" Özkan wrote on Twitter.
Berberoğlu had earlier announced that he would hand himself to authorities early on June 5 for his remaining sentence, which is 18 months in jail.
Enis Berberoğlu İstanbul'da şu an gözaltında. Vatan emniyete götürülüyor. Neden? Bunca zulm neden? Yarın savcıya kendisi gidecek bir insana bunca zalimlik neden? https://t.co/xMeDhGelRx

— Tuncay ÖZKAN (@ATuncayOzkan) June 4, 2020
Anadolu Agency later reported that Berberoğu was arrested by a court order and sent to prison.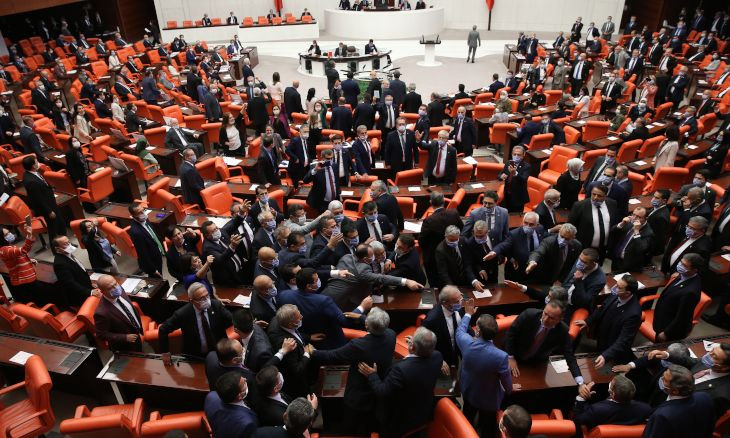 Opposition deputies' expulsion is 'unconstitutional as re-election renewed their immunity'
Berberoğlu was sentenced to five years and 10 months in jail in the case into a story on National Intelligence Agency (MİT) trucks filled with weapons bound for Syria in early 2014. He was accused of providing footage of the trucks to journalist Can Dündar and was arrested.
Turkey's Court of Cassation approved the conviction of Berberoğlu in 2018, while postponing the execution of the five-year jail sentence due to his status as a member of parliament.
While the final court rulings were issued way earlier, no steps were taken by the government to strip them of their statuses until June 4.
Güven and Farisoğulları were tried in the main Kurdistan Communities Union (KCK) case and were handed six and nine years in prison, respectively.
HDP deputies are often accused of having links to the Kurdistan Workers' Party (PKK). A number of its deputies were stripped of their statuses in the past and scores of HDP members, including former lawmakers, are currently imprisoned.