A pitch-dark day for democracy: Main opposition slams police intervention against lawyers
Turkey's main opposition CHP has said that June 22 will go down in history as a "pitch-dark" one for Turkish democracy and judiciary after sixty bar association heads were not let in Ankara to complete their Defense March. Police officers were on caught camera battering and dragging some of the senior lawyers during a scuffle.
Duvar English
Turkey's main opposition Republican People's Party (CHP) has slammed the police intervention against senior lawyers marching to the capital Ankara and said that the day will go down in history as a "pitch-dark" one for Turkish democracy and judiciary.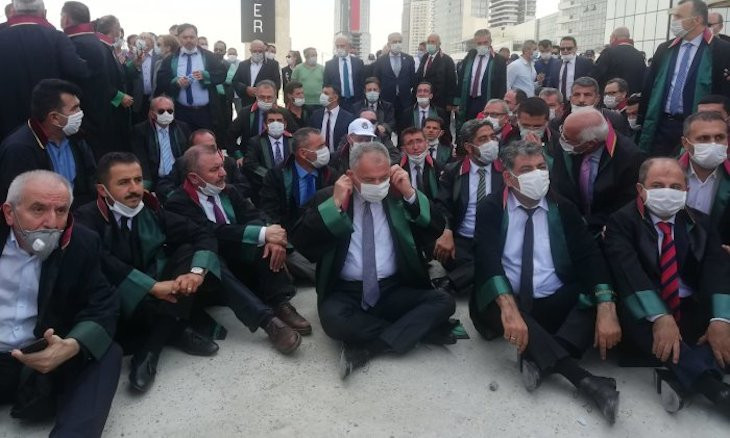 Bar heads launch sit-in after police prevent them from entering Ankara to end their Defense March
"Bar associations' heads have initiated a march to voice their criticism [of the draft bill governing the organisation of bar associations]. They wanted to go to Anıtkabir but they have been stopped by the police barricade at the entrance of the capital. A scuffle took place between lawyers and police abiding by the unlawful commands. It is a pitch-dark day in Turkey's history of both democracy and judiciary," CHP spokesperson Faik Öztrak said on June 22 during a press meeting.
Sixty bar association heads on June 19 started their Democracy March against a bill which they say is aimed at silencing those critical of the government.
The move came after President Recep Tayyip Erdoğan's ruling Justice and Development Party (AKP) intensified its efforts to amend the law on changing bar associations' election systems in what critics say an effort to increase the number of pro-government figures in bars.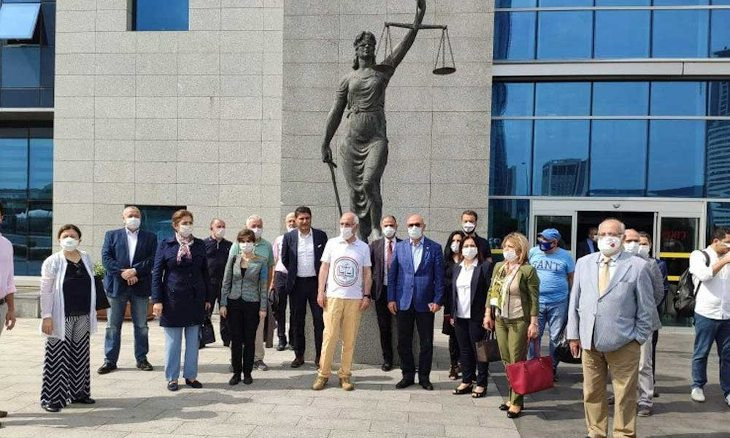 Bar associations begin Defense March to Ankara to protest government's increasing pressure
Most bar associations in Turkey are highly critical of the government and its human rights record and say the judicial system has descended into chaos with lawyers jailed, defenses muzzled and confidence in judges and prosecutors destroyed.
On June. 22, Ankara police stopped the march by barricading a highway leading to the city, and footage showed the heads of bar associations being pushed and jostled by police.
The lawyers started a sit-in protest following the blockade.
The police said that the march was not granted a permission from the Ankara governor's office and was in violation of social distancing rules due to the novel coronavirus.
"The reason [to prevent the march] is said to be 'The governor's office did not give a permission.' But, according to the Ankara bar association head's statement, the governor's office has been in writing notified. And no rejection has been given," Öztrak said, emphasizing that the right to hold demonstrations and marches is secured the laws.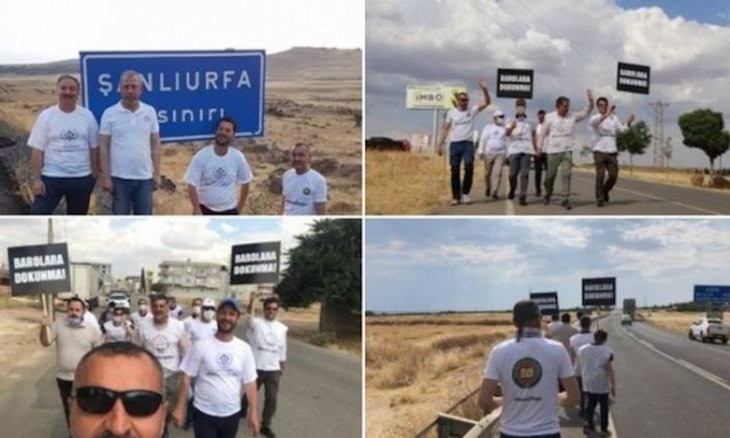 Bar associations say their march to Ankara is 'against darkness'
TTB president Feyzioğlu says lawyers should be allowed to march
Meanwhile, the head of the Union of Turkish Bar Associations (TTB), Metin Feyzioğlu, said on June 22 that he will not himself partake in the march but authorities should let lawyers do so.
"Marching is a basic right. Our demand is that bar association heads who are there should be let go. They will walk for 150 meters and after 150 meters, they want to go to Anıtkabir. This does not disrupt public order," he told reporters.
Feyzioğlu had however last week questioned whether the marching lawyers were motivated by the legislation or were instead targeting the judiciary. "Is this march being held to solve the problems of lawyers, judiciary? Or is it for something else?" Feyzioğlu had asked insinuating that the march had an ulterior motive.