Special coins minted for first Friday prayers in Istanbul's Hagia Sophia
Turkey minted a special coin to mark the first mass Muslim prayers held in Istanbul's iconic Hagia Sophia on July 24. Turkish President Recep Tayyip Erdoğan recently opened the ancient structure, formerly a museum, to worship after decades.
Duvar English - Reuters
Turkey's minted special coins to mark the first mass Muslim prayers in Istanbul's ancient Hagia Sophia after decades on July 24, recording the official opening of the former museum to Muslim worship.
"We are leaving a mark in history with the special [Hagia Sophia Mosque] coin that our mint produced," tweeted Finance Minister Berat Albayrak on July 23.
Darphanemiz tarafından basılan #AyasofyaCamii özel paramızla tarihe bir not daha düşüyoruz. ?? pic.twitter.com/65QFlDtEy0

— Berat Albayrak (@BeratAlbayrak) July 23, 2020
A top Turkish court announced this month it annulled Hagia Sophia's status as a museum.
Erdoğan immediately turned back into a mosque a building which was a Christian Byzantine cathedral for 900 years before being seized by Ottoman conquerors and serving as a mosque until 1934.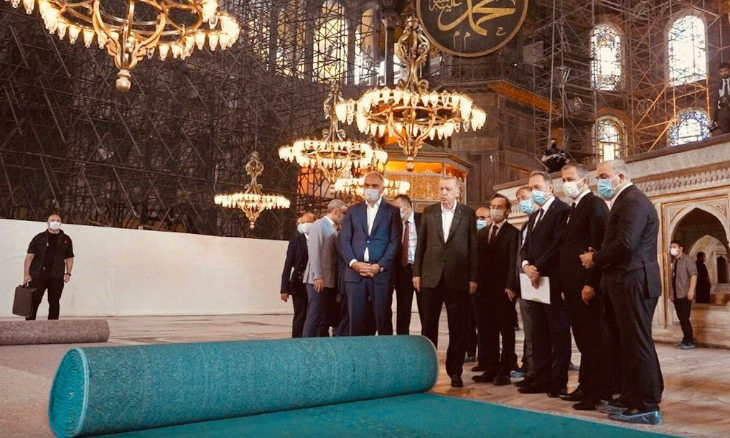 Hagia Sophia to be outfitted in turquoise carpeting, fibers pointing toward Mecca