Turkey's top religious body head under fire for 'damning' country's founding father Atatürk
Thousands of people have called on Diyanet head Ali Erbaş to resign after his remarks that "damned" the country's founding father, Atatürk. Erbaş, whose Islamist statements often draw ire, on July 24 caused outrage for giving a sermon at Hagia Sophia that included apparent damning of Atatürk.
Duvar English
The head of Turkey's Religious Affairs Directorate (Diyanet), Ali Erbaş, is under fire for "damning" the country's founding father, Mustafa Kemal Atatürk, in a sermon.
Erbaş, whose Islamist statements often draw ire, on July 24 caused outrage for giving a sermon at Hagia Sophia that included apparent damning of Atatürk.
"Sultan Mehmed the Conqueror endowed and entrusted this outstanding place of worship as the apple of his eye to believers on condition that it should remain a mosque until the last day," Erbaş said, while holding a sword in his hand as a continuation of the Ottoman tradition of conquest.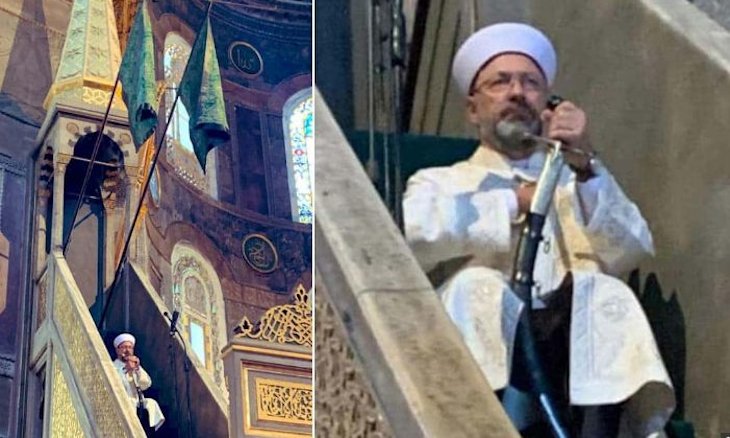 "Any property that is endowed is inviolable in our belief and burns whoever touches it; the charter of the endower is indispensable and whoever infringes upon it is cursed," he added.
His remarks drew ire since Hagia Sophia was turned into a museum by Atatürk in 1934.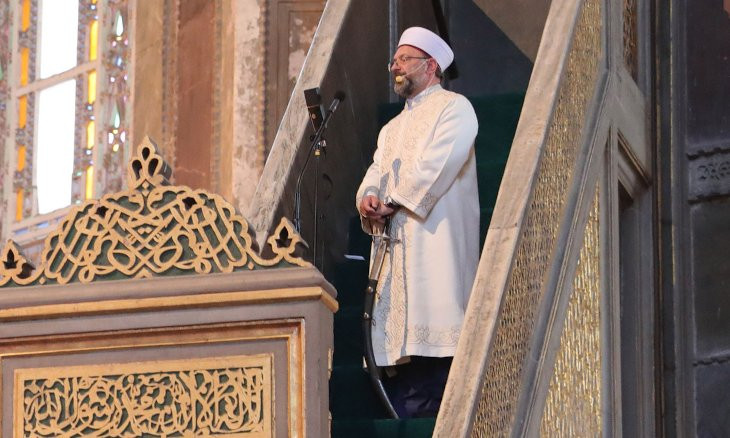 Turkey's top religious authority head delivers Friday sermon at Hagia Sophia with a sword in hand
Hagia Sophia was the largest cathedral in the world for 900 years until its capture by Ottoman Sultan Mehmet the Conqueror in 1453, after which it was one of Islam's most exalted mosques for nearly another 500 years.
On July 10, the Turkish Council of State invalidated Atatürk's 1934 decree and President Recep Tayyip Erdoğan immediately signed an order declaring Hagia Sophia a mosque.
Following the sermon, main opposition Republican People's Party (CHP) and Good (İYİ) Party slammed Erbaş, with CHP Group Deputy chair Özgür Özel saying that the Diyanet head will be held accountable for his actions.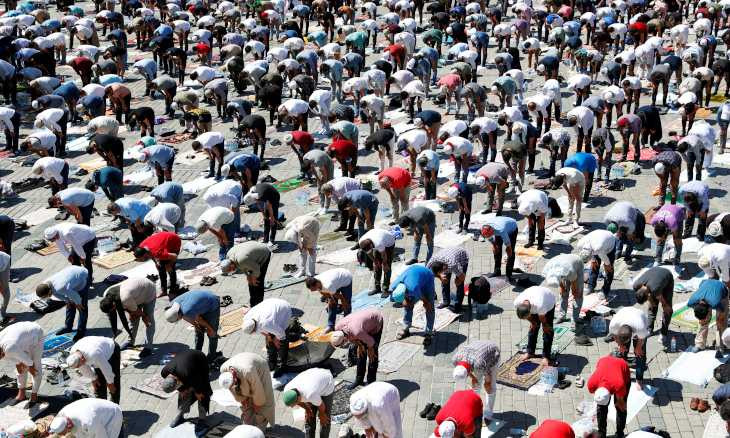 Thousands attend first Friday prayers at Hagia Sophia
"Those who made a habit of insulting the founding fathers are now protecting those who insulted. Ali Erbaş, you will pay the price of damning Atatürk while holding that post," Özel said.
Another CHP group deputy chair, Engin Altay, urged Erbaş to apologize, while Istanbul deputy Gürsel Tekin said that the Diyanet head won't be forgiven by history or the people.
"Doing this at Hagia Sophia that was saved from occupation thanks to Atatürk and the heroes of War of Independence shows mental disorder," Tekin tweeted, adding that no public servant in Turkey can insult Atatürk.
Türkiye'nin hiçbir memuru Atatürk'e hakaret edemez. Hele Atatürk ve Kurtuluş Savaşı kahramanları sayesinde işgalden kurtarılan Ayasofya'da bunu yapmak sadece ahlak değil akıl bozukluğudur. Tarih de millet de bunu affetmez. pic.twitter.com/nN3xnAQeaD

— Gürsel Tekin (@gurseltekin34) July 24, 2020
Another CHP deputy, Levent Gök, called on Erbaş to resign.
İYİ Party Group Deputy chair Lütfü Türkkan, meanwhile, said that Erbaş's remarks will have political and legal consequences, while deputy Aytun Çıray said that he will file a complaint.
Turkey's Union of Bar Associations also called on Erbaş to resign.
"Mustafa Kemal Atatürk is the founding father who turned our people into free citizens via his revolutions in a country that was accepted as the sultan's property. It's unacceptable for the Diyanet head to say these remarks that are based on his hidden agenda," the union said, while reminding Erbaş that he owes the post he currently occupies to Atatürk.
"We expect him to urgently apologize from the people and to resign," it added.
Ömer Çelik, the ruling Justice and Development Party (AKP) spokesperson, sent a series of tweets in an apparent move to decrease criticism.
"The Turkish Republic is a democratic, secular and social state of law. With these characteristics, the Republic is our common ground," Çelik said on July 27, adding that "it's wrong" to produce political polarization regarding Turkey's political regime.
Kurtuluş Savaşı'mızın başkomutanı, devletimizin kurucusu ve ilk Cumhurbaşkanımız Gazi Mustafa Kemal Atatürk ve İstiklal Savaşı kahramanlarını rahmetle ve saygıyla yad ediyoruz. Tarihten bugüne kesintisiz bir halka olarak devam eden mücadele azmimizi daha da kuvvetli kılıyoruz.

— Ömer Çelik (@omerrcelik) July 27, 2020
"The Republic is our dearest with all of its values. We remember Atatürk and the heroes of the War of Independence with respect," he also said.
Following criticism, Erbaş defended himself by saying that he didn't mean to damn Atatürk.
"Atatürk died 82 years ago. Prayers are bestowed upon a person who died, not curses," Erbaş told a pro-government columnist, adding that it's not certain that Atatürk had a role in turning the site into a museum.
"It's utterly normal for a Diyanet head to talk about these issues at a mosque. It's not well-intentioned to make these remarks a subject of debate," he said.
Although Erbaş defended himself, the part of the sermon that included the controversial remarks were removed from Diyanet's website on July 27.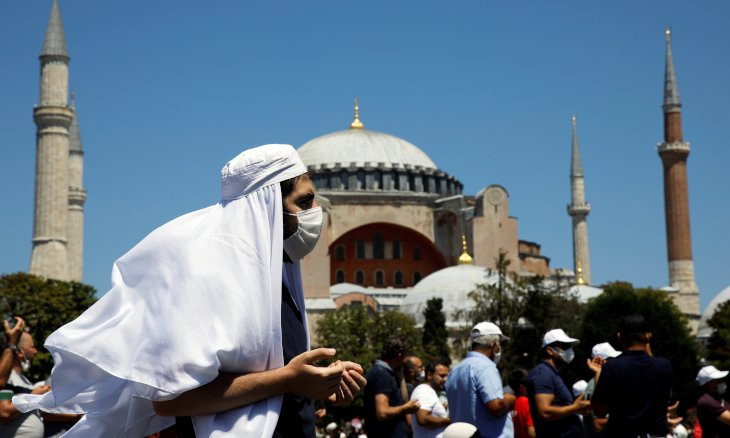 Fundamentalists march on Istanbul's streets after praying at Hagia Sophia