Ankara Bar Association files criminal complaint against Islamist magazine after its call to resurrect caliphate
The Ankara Bar Association has filed a criminal complaint against the pro-government Islamist magazine Gerçek Hayat over its call to resurrect the Islamic caliphate, following the conversion of Istanbul's iconic Hagia Sophia into a mosque. The bar association has accused the publication of "instigating people to undertake an armed rebellion against the Turkish Republic" and "instigating public into hatred and animosity."
Duvar English
The Ankara Bar Association has filed a criminal complaint against Gerçek Hayat, a magazine owned by the pro-government Albayrak Media Group, following its call to resurrect the Islamic caliphate.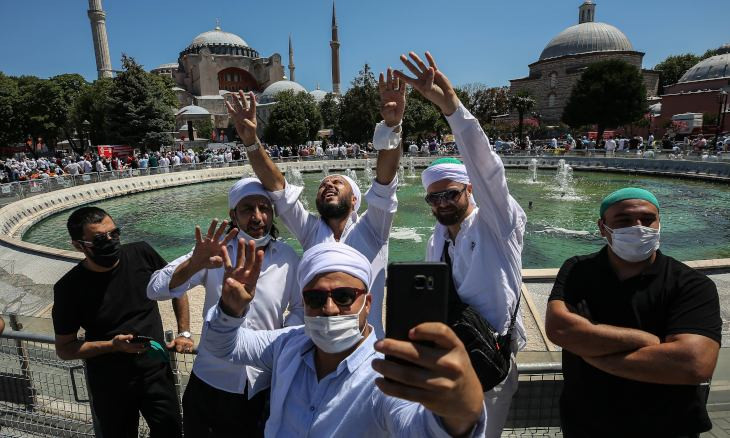 Magazine owned by pro-gov't media group calls for establishment of caliphate in Turkey
The bar association demanded that Islamist pro-government Yeni Akit columnist Abdurrahman Dilipak, who shared the magazine's cover on social media, and Gerçek Hayat editor-in-chief Kemal Özer face charges of "instigating people to undertake an armed rebellion against the Turkish Republic," "instigating public into hatred and animosity" and "instigating people to not abide by the laws."
"Considering that the call for the establishment of a caliphate cannot be realized within the law, with unarmed and peaceful ways, it is clear that the suspects' actions are instigating people to stage an armed rebellion," read the Ankara Bar Association's criminal complaint, which was submitted to the Istanbul Chief Public Prosecutor's Office.
Gerçek Hayat's call for a caliphate in its issue dated July 27 has prompted outrage on social media. The magazine also praised the decision to convert Istanbul's iconic Hagia Sophia into a mosque.
"Hagia Sophia and Turkey are free now," the cover page read.
"If not now, when? If not you, who? Get together for a caliphate," it added.