HDP slams abuse of Islam to justify violence as well as France's treatment of Islam
HDP co-chair Mithat Sancar has said that the party condemns extremists' abuse of Islam to justify their violent actions, but also slams France's treatment of Islam in a row about cartoons of the Prophet Mohammad published by satirical magazine Charlie Hebdo.
Duvar English
Peoples' Democratic Party (HDP) co-chair Mithat Sancar has joined a list of other Turkish political parties to condemn French President Emmanuel Macron over his remarks about Islam following the assassination of a French school teacher by an Islamist extremist.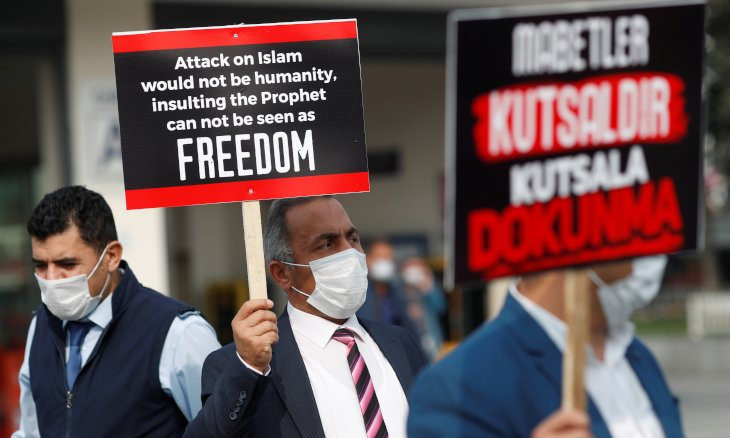 France warns citizens to be cautious in Turkey as anger seethes over cartoons
"In France, a middle school teacher was slaughtered brutally. Of course, this attack needs to be condemned in a very clear and harsh manner. But it is also imperative that the French government's attitude is condemned here which has insulted Islam using this attack, this brutal murder as an excuse," daily Birgün quoted Sancar as saying during his party's parliamentary group meeting on Oct. 27.
Sancar's remarks concern an attack outside a French school on Oct. 16 in which a man of Chechen origin beheaded Samuel Paty, a teacher who had shown pupils Prophet Mohammed's cartoons published by satirical magazine Charlie Hebdo.
The French government, backed by many citizens, saw the beheading as an attack on freedom of speech, and said they would defend the right to display the cartoons.
Macron called the teacher a hero, and he pledged to fight "Islamist separatism," saying it was threatening to take over some Muslim communities in France.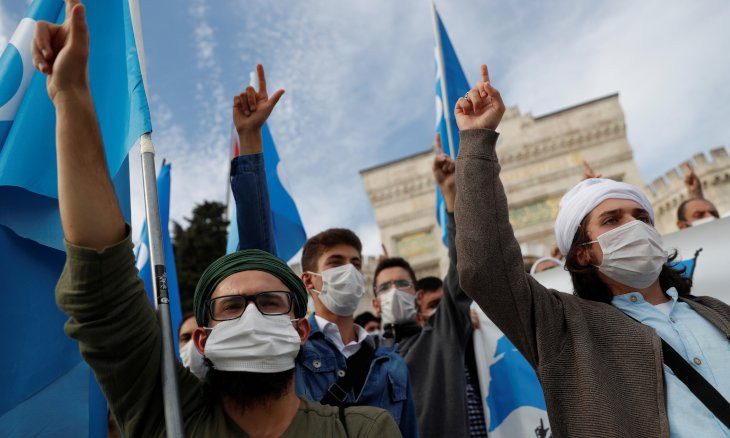 Erdoğan calls on Turks to boycott French goods following war of words with Macron
Sancar said that although the HDP condemns France's treatment of Islam, the party also does not in any way accept the mentality that commits violence using Islam as a pretense.
"Attacks or insults against a religion cannot be considered with the framework of freedom of speech. But also we do not in any way accept a religion to be used as a tool for violent policies. To be consistent in this issue, we need to stand against both attacks targeting beliefs and also the abuse of beliefs," he said.
Accordingly, Sancar said that the HDP severely condemns the mentality that "encourages the brutal murder of the teacher" as well as those who do not condemn the teacher's killing.
Turkish parliament condemns Macron's remarks in joint declaration
Meanwhile, Turkey's parliament showed rare unity on Oct. 27 in condemning Macron's remarks, calling his comments "sick rhetoric" with the potential to cause a global rupture.
Four parties including the ruling Justice and Development Party (AKP), its alliy the Nationalist Movement Party (MHP), the secularist main opposition Republican People's Party (CHP) and the İYİ (Good) Party, issued a joint declaration saying Macron's remarks could cause "destructive conflicts" among people of different beliefs.
"With his reckless actions under the pretence of 'supporting freedom of expression', (Macron) is triggering a conflict, rupture whose global repercussions can deeply and negatively impact people of all beliefs," the four parties said in their joint statement.
The HDP was the only parliamentary party not part of the declaration.
President Recep Tayyip Erdoğan sharply criticized Macron at the weekend, saying the French leader needed a mental health check, prompting France to recall its ambassador from Ankara. On Oct. 26, Erdoğan urged a boycott of French products.
Several of France's partners in the European Union rallied round the French leader. Italian Prime Minister Giuseppe Conte said Erdogan's remarks about Macron were unacceptable.
Turkey and France, NATO members, have been at odds over a host of issues, from Syria and Libya, maritime jurisdiction in the eastern Mediterranean, and the conflict in Nagorno-Karabakh.