Pro-gov't columnist claims Turkish First Lady's Hermes purse is fake in her defense amid French boycott call
Pro-gov't columnist from daily Hürriyet, Hande Fırat has defended First Lady Emine Erdoğan by claiming that her Hermes purse was in fact a knock-off. The first lady's luxury handbag has been at the center of a political debate after President Recep Tayyip Erdoğan called for a boycott of French goods. Main opposition leader Kemal Kılıçdaroğlu said that the First Lady should burn the purse from the French fashion house.
Duvar English
Hürriyet daily columnist Hande Fırat wrote on Oct. 30 that First Lady Emine Erdoğan's Hermes purse was in fact a knock-off, defending the First Lady against main opposition leader Kemal Kılıçdaroğlu who said that she should burn the purse as part of the president's call to boycott French goods.
Main opposition Republican People's Party (CHP) leader Kemal Kılıçdaroğlu had condemned the First Lady's luxury accessory as part of his criticism regarding President Recep Tayyip Erdoğan's call to boycott French goods as a move in his brawl with French President Emmanuel Macron.
The columnist said that the First Lady tried not to use brand name purses, and that she opted for domestic alternatives when possible.
"She does not purchase bags at expensive prices, contrary to claims. She buys knock-offs, meaning imitations, instead of the original," Fırat wrote in her column.
The First Lady also prefers bags and accessories made out of recyclable materials, Fırat wrote.
"My sources tell me that Emine Erdoğan, who leads the zero-waste project, shows the same sensitivity with her accessories, starting with purses."
Meanwhile, human rights attorney Kerem Altıparmak noted that the First Lady's Hermes bag had turned into a controversial issue back in 2019, and that journalist Ender İmrek was being prosecuted for his column titled "The Hermes purse was shining bright like a diamond."
"Ender İmrek who reported on the purse is being tried for his work. Nobody has pointed out in the past 1.5 years that the bag was a knock-off. When the boycott against French goods started, Hande Fırat discovered the purse was fake," Altıparmak wrote on Twitter.
Emine Erdoğan'ın Hemnes çantası 2019 haziranda gündeme geldi. Çantayı yazan gazeteci @enderimrek yazısı nedeniyle yargılanıyor. 1,5 sene boyunca ne Erdoğan ne de başkası bu çanta çakma demedi. Ne zamanki Fransız malları boykot edildi @handefrt çantanın çakma olduğunu keşfetti.

— Kerem ALTIPARMAK (@KeremALTIPARMAK) October 30, 2020
A comment on the attorney's Tweet pointed out that no statements were made about the bag being an imitation during the lawsuit's Oct. 8 trial.
Fırat's report that the First Lady's bag was a brand imitation also raised questions about whether her use of a knock-off product constituted a crime within trademark law.
Attorney Asiye Demirel said that purchasing imitation goods for profit was considered a trademark infringement, but that people could not be prosecuted for buying one or a few knock-off goods for personal use.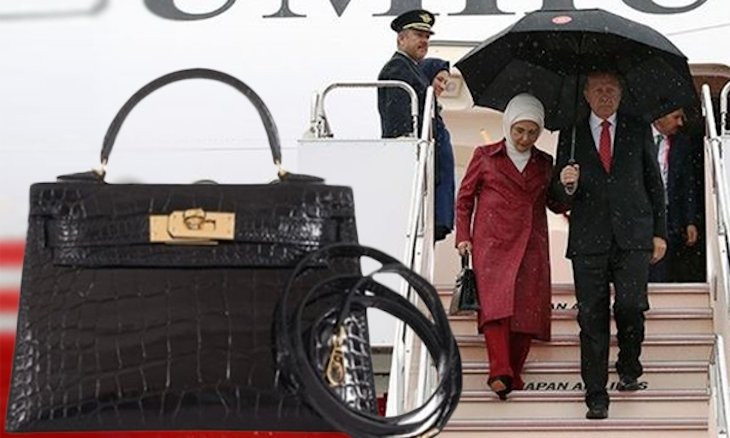 CHP leader urges First Lady to burn her Hermes bag following Erdoğan's call to boycott French goods