Erdoğan accepts son-in-law Albayrak's resignation as finance minister
Erdoğan has accepted the resignation of his finance minister and son-in-law Berat Albayrak, the Turkish Presidency said on Nov. 9, more than 24 hours after Albayrak's surprise announcement. The presidency's statement came shortly after ruling AKP spokesperson Ömer Çelik said Albayrak's resignation was not on the agenda of the AKP executive meeting and Erdoğan would announce his decision regarding the issue.
Duvar English
President Recep Tayyip Erdoğan has accepted his son-in-law Berat Albayrak's resignation as finance minister, the Turkish Presidency announced late on Nov. 9.
"As a result of the evaluation by our president, Finance and Treasury Minister Berat Albayrak's request to resign has been accepted," the Presidency's Communications Directorate said in a statement, adding that Erdoğan admired what it said were Albayrak's successes in his two-year tenure as finance minister.
HAZİNE VE MALİYE BAKANI BERAT ALBAYRAK'IN GÖREVDEN AF TALEBİNE İLİŞKİN KAMUOYU AÇIKLAMASI pic.twitter.com/tSta89S5DB

— T.C. İletişim Başkanlığı (@iletisim) November 9, 2020
The statement came shortly after ruling Justice and Development Party (AKP) spokesperson Ömer Çelik declined to comment on Albayrak's resignation, saying that the minister's move does not concern the AKP, but the Presidency.
In comments made to the press following a central executive board meeting of the AKP, Çelik said that Erdoğan will announce his decision on the issue.
Turkish opposition slams AKP's silence on resignation of Finance Minister Albayrak
"In the executive presidential system, responsibility for appointing and dismissing ministers lies exclusively with the president. Any announcement on this matter will be made by our president if he sees fit," Çelik said.
Erdoğan has not commented on Albayrak's resignation since the minister said in an Instagram post on Nov. 8 that he was stepping down because of health reasons and to spend more time with his family.
While all opposition parties stressed that the confusion that erupted following Albayrak's announcement stems from the presidential system, main opposition Republican People's Party (CHP) spokesperson Faik Öztrak deemed it a "fight within the family."
Erdoğan held a speech on Nov. 9 but did not address any concerns regarding the economy. In remarks made at the 12th Ambassador Conference in the capital Ankara, Erdoğan touched upon several issues such as the novel coronavirus, the Libyan crisis, the tension in the Eastern Mediterranean, the ongoing conflict in Nagorno-Karabakh, but refrained from making any remarks concerning the economy, including Albayrak's resignation.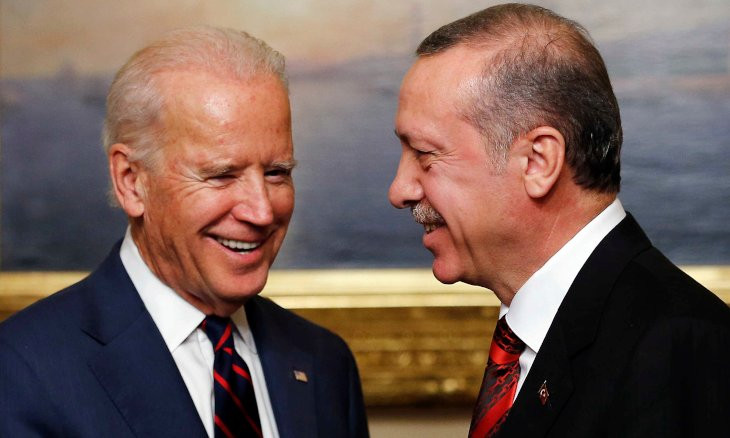 Erdoğan remains silent as world leaders convey congratulatory messages to Biden
The president has also yet to join a chorus of world leaders congratulating Joe Biden on his victory in the U.S. election, with Ankara's silence bringing to mind the rift between Biden and Turkey.
'Turkey to congratulate US election winner once result finalized'
Çelik said on Nov. 9 that Turkey will congratulate the winner of the U.S. election after the "official result" of the vote is finalized.
The AKP spokesman said Ankara would congratulate and call the next U.S. president once the result is set, "out of respect for the United States and the American people."
Biden's comments to New York Times editors, where he advocated a new U.S. approach to "autocrat" Erdoğan and support for opposition parties, resurfaced in a video that made him the most popular topic on Twitter in Turkey on Aug. 15.
Biden says in the video recorded on Dec. 16 2019 – before he emerged as the Democratic candidate – that he is "very concerned" about Erdoğan's approach to Kurds in Turkey, his partial military cooperation with Russia, and access to U.S. airfields in the country, a NATO ally.