Turkish gov't to withdraw controversial labor bill after unions' objection
Following the criticism of labor unions, the ruling AKP is planning to withdraw its draft bill that seeks to undermine the labor rights of employees. Turkey's top three labor unions had slammed the bill for robbing workers of essential rights under the guise of an "employment package."
Duvar English
The ruling Justice and Development Party (AKP) has recently submitted a draft legislation to Parliament that seeks to amend various laws with regards to workers' rights. The bill has drawn the criticism of Turkey's top labor unions for undermining the job security of workers.
According to the controversial bill, employees under the age of 25 and over the age of 50 can be employed on a fixed-term contract, therefore will not be able to benefit from certain rights such as notice pay or severance. The government said in its defense that this was an attempt to boost employment among these age groups, however labor unions argued that such a practice was discriminatory.
After the bill started to be discussed at the general assembly of Parliament, the Confederation of Turkish Trade Unions (Türk-İş), Hak-İş Trade Union (Hak-İş) and the Confederation of Progressive Trade Unions of Turkey (DİSK) released a joint statement, calling on the government to withdraw it.
Following this joint call, a series of meetings were held between the labor unions' executives and AKP officials.
"We had asked for an appointment from the AKP and [its junior coalition partner Nationalist Movement Party] MHP. Today, they said that they will bring this issue to Parliament's agenda and find a solution," Türk-İş head Ergün Atalay said on Nov. 10.
If there is no change at the last minute, the bill will be withdrawn with the AKP's new proposal.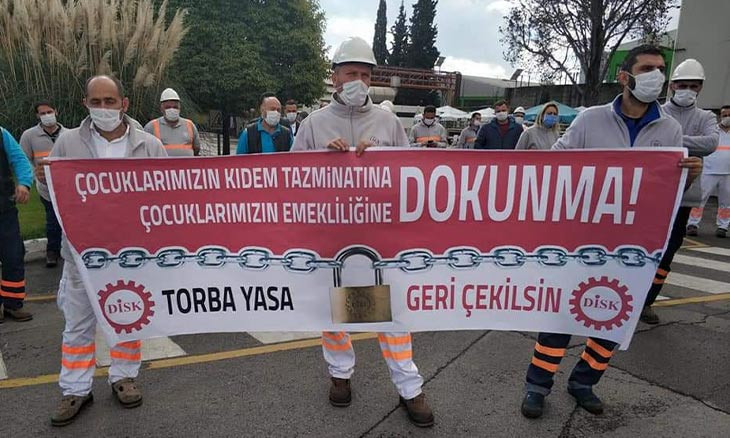 Turkey restricts Twitter account of workers union amid parliament debate on critical labor law