Sanctioned Turkish defense body head doesn't expect sanctions to affect US-Turkey relations 'too much'
Turkish Presidency of Defence Industries (SSB) head İsmail Demir said that he doesn't expect Washington's new sanctions on Turkey to affect the relationship between the U.S. and Turkey "too much." "These sanctions will be a flare and a warning," Demir told reporters on Dec. 15.
Duvar English
The head of Turkey's top defense procurement and development body Presidency of Defence Industries (SSB), İsmail Demir, said that he doesn't expect the relations between Turkey and the U.S. to be affected "too much" by the new sanctions imposed by Washington.
Demir, who was sanctioned, also said that the defense industry "will continue to develop."
"The development of the domestic industry will continue, perhaps even faster. In a sense, these sanctions will be a flare and a warning," Demir told reporters in parliament on Dec. 15.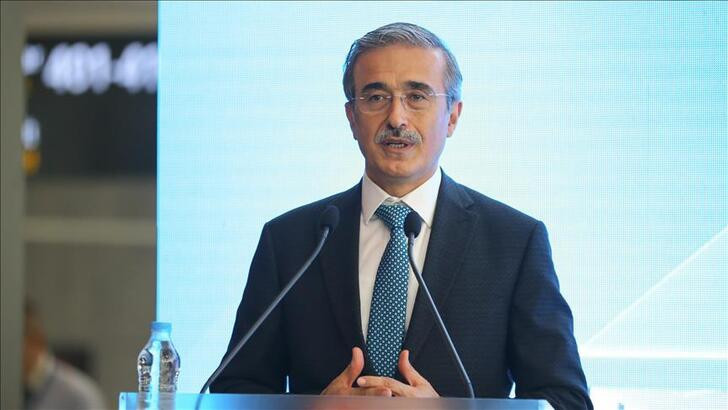 His remarks came a day after the U.S. imposed long-anticipated sanctions on Turkey over Ankara's acquisition of Russian S-400 air defense systems, further complicating already strained ties between the two NATO allies.
Senior U.S. officials said in a call with reporters that Ankara's purchase of the S-400s and its refusal to reverse its decision, despite repeated pleas from Washington, left the United States with no other choice.
The sanctions target the SSB, its chairman Demir and three other employees.
The measures, which received a bipartisan welcome from the U.S. Congress, were announced under the Countering America's Adversaries Through Sanctions Act (CAATSA) - the first time the act has been used against a fellow member of the NATO alliance.
Turkey condemned the sanctions as a "grave mistake" and urged Washington to revise its "unjust decision." It said sanctions would inevitably harm mutual relations and threatened unspecified retaliatory steps.
Demir on Dec. 15 said that Ankara has relations with the U.S. in several areas, adding that both sides aim to continue these relations.
Earlier, Demir said on Twitter that the U.S. sanctions will not be able to hinder the Turkish defense industry in any way.
"Any decision taken abroad towards me or our institution will not change my stance or that of my team," Demir said.
Cumhurbaşkanımız @RTErdogan'ın liderliğinde Tam Bağımsız Savunma Sanayii hedefimizde kararlılıyız.

Şahsım veya kurumumuza yönelik yurt dışında alınan her hangi bir karar, benim ve ekibimin duruşunu değiştirmeyecek; Türk savunma sanayiini hiç bir şekilde engelleyemeyecektir.

— Ismail Demir (@IsmailDemirSSB) December 14, 2020
Ankara acquired the Russian S-400 ground-to-air defenses in mid-2019 and says they pose no threat to NATO allies. But Washington has long threatened sanctions and last year removed Turkey from an F-35 jet program.
Ignoring the advice of aides, President Donald Trump had resisted imposing penalties on Turkey until giving the green light several days ago, sources familiar with the matter told Reuters.
"The United States made clear to Turkey at the highest levels and on numerous occasions that its purchase of the S-400 system would endanger the security of U.S. military technology and personnel and provide substantial funds to Russia's defense sector," U.S. Secretary of State Mike Pompeo said.
Briefing reporters, Christopher Ford, Assistant Secretary of State for International Security and Nonproliferation, said Washington had sought a solution but Ankara rejected all offers.
"This is not a step we've taken lightly or certainly quickly," he said.
CHP calls for making S-400s operational
Turkish main opposition Republican People's Party (CHP), meanwhile, has called for making the S-400s operational, while also condemning the sanctions.
"The purchase of the S-400s is Turkey's sovereign decision, so we strongly reject the sanctions," CHP deputy Ünal Çeviköz said on Dec. 15, adding that the acquisition of the systems should have been evaluated as an ally's measure to strengthen the alliance.
"Turkey was forced to purchase the S-400 systems and chose to do so. What needs to be done now is to make this system that 2.5 billion dollars were invested in operational as soon as possible," he said.
According to Çeviköz, the sanctions against the SSB will negatively affect NATO as a whole.
"As the CHP, we are ready to support all efforts to overcome this crisis," he added.