Somalian restaurant's co-owner detained in Turkey amid racist attacks
Muhammed İsa Abdullah, the co-owner of a Somalian restaurant in the Turkish capital Ankara, was detained following racist attacks. His lawyer said Abdullah might be transferred to a repatriation center.
Müzeyyen Yüce / DUVAR
The co-owner of Somalian restaurant SAAB Cafe in the capital Ankara's central Kızılay neighborhood, Muhammed İsa Abdullah, was detained, his lawyer Salih Efe said on Sept. 20.
Abdullah was first sent to the Ankara Police Department Smuggling Branch Directorate, then might be transferred to Akyurt Repatriation Center, his lawyer Salih Efe stated.
Efe said, "Currently, the proceedings are ongoing. I talked to the authorities. They said that if the proceedings are over, they will release him, even if he spends the evening at the Akyurt Repatriation Center."
"If Abdullah goes to Somalia, his life will not be safe. It is life threatening. He hasn't been to his hometown for years. Muhammad's residence permit expired and they did not extend it. However, the residence permit of his wife, who is a student, continues. They should not break the integrity of the marriage. We will do our best to ensure that this transaction does not happen," Efe added.
"SAAB Restaurant Owner Muhammed was taken into custody. They're going to transfer him to a repatriation center. But his Constitutional Court (AYM) application and administrative case continues! Release him immediately, you are violating his freedom, breaking the law!" Peoples' Democratic Party (HDP) lawmaker Ömer Gergerlioğlu tweeted on Sept. 20.
Previously, Somali businesses have been the target of a fascist attack in Ankara's central Kızılay neighborhood, following a Turkish newspaper's racist reporting on Somali nationals.
Due to the police's racist acts, SAAB Cafe had to previously change its signage many times.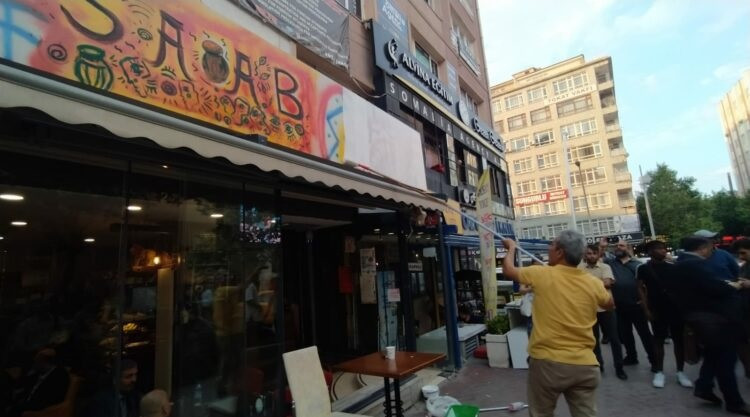 The cafe's signage was painted white on the grounds that the green, yellow and red colors "reminds a terrorist organization," the opposition DEVA (Future and Progress) Party lawmaker Mustafa Yeneroğlu had announced in June, saying "tyranny has won again…"
Yine zorbalık kazandı...

Yine ben güçlüyüm, kaba kuvvetle zayıfı ezer geçerim, hukuk arkadan gelsin diyenler kazandı...

Geçecek inşallah bu günler, bitecek bu güç sarhoşluğu, son bulacak bu zorbalıklar...

Ama unutmayın ki siz bu kötülüklerinizle anılacaksınız! pic.twitter.com/SBmLaw3mIP

— Mustafa Yeneroğlu (@myeneroglu) June 17, 2022
Gergerlioğlu had announced in July that a deportation order had been issued for Abdullah.
"His crime was to operate the Saab restaurant in compliance with the law! The police said, 'Shut down,' and he was subjected to all kinds of racist and discriminatory treatment. Today, a deportation order has been issued for Muhamed Abdullah from Somalia. There is a danger of death if he returns to his country!" he had said in a tweet.
(English version by Alperen Şen)