Politics in stadiums: Fenerbahçe fans urge minister Albayrak to keep hands off football
Fenerbahçe fans have protested Minister Berat Albayrak following controversial referee decisions in a Feb. 8 game. Thousands of Fenerbahçe fans shouted slogans after the game, calling on Albayrak to quit his post, while also demanding the removal of politics from sports. Albayrak is known for his public support for Trabzonspor. "Everyone knows how we're trying hard for Trabzonspor behind the scenes," he previously said.
Neşe İdil / Duvar English
The reflections of Turkey's tense political environment has become increasingly visible in stadiums, with one of the country's biggest clubs urging authorities to keep football strictly on the field.
Fenerbahçe fans have urged Treasury and Finance Minister Berat Albayrak to keep his hands off football - an area of sports that has long been marred by politics.
Controversial referee decisions in a Feb. 8 game between Fenerbahçe and Alanyaspor prompted fans of the former to protest Albayrak, who is a Trabzonspor fan and the son-in-law of President Recep Tayyip Erdoğan.
Thousands of Fenerbahçe fans shouted slogans after the game, calling on Albayrak to quit his post, while also demanding the removal of politics from sports.
Fenerbahçe taraftarından Albayrak'a: #Damatistifa

Fenerbahçe-Alanyaspor karşılaşmasında Fenerbahçe taraftarı Trabzonspor'u desteklediği ve TFF'yi etkilediği öne sürülen Berat Albayrak'ı işaret ederek "Damat istifa" sloganları attı?#FBvAAL pic.twitter.com/kq5KVAgpG5

— Yol TV (@YolTV) February 8, 2020
Disputable referee decisions are not strangers to Turkey's Süper Lig. Even though the video assistance referee (VAR) system is in place, referees are seen to be acting arbitrarily to check contested positions - a practice too familiar for millions of Fenerbahçe fans.
During the game on Feb. 8, Fenerbahçe fans were enraged when referee Ümit Öztürk awarded penalty to Alanyaspor in the first half for a handball, but didn't do so to Fenerbahçe in the second half in a highly similar incident. Fener crowd was stunned when he decided not to watch the position despite long talks with the VAR room.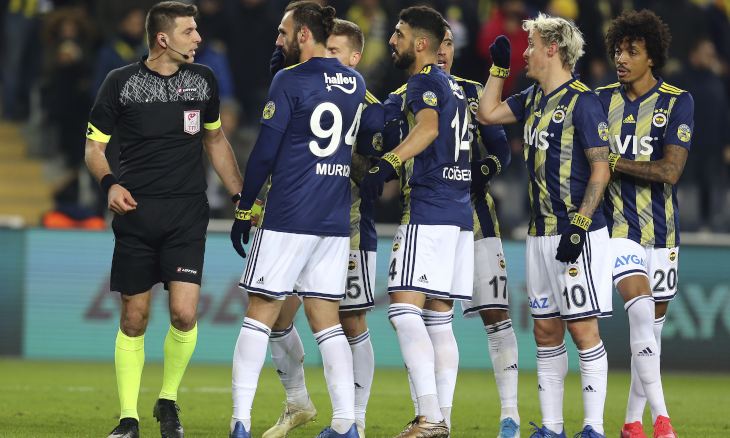 The referee also called for repeat of a penalty initially denied by Fenerbahçe goalkeeper Altay Bayındır, referring to a rule that has been applied rarely.
The game ended with a draw, prompting fury among Fenerbahçe's fans and management. Thousands of fans tweeted using the hashtag "#damatistifa," translating as "The son-in-law should quit."
Albayrak is known for his public support for Trabzonspor. A video circulating on social media and widely shared by Fenerbahçe fans shows the minister talking about his efforts for the benefit of Trabzonspor.
"Everyone knows how we're trying hard for Trabzonspor behind the scenes," Albayrak says in the footage, where he also says that there are five ministers in the government who support the Black Sea side.
Berat Albayrak: "Kabinede 5 bakanımız Trabzonsporlu. Trabzon'da doğmadık ama perdenin arkasında Trabzonspor için ne kadar uğraştığımızı herkes biliyor." pic.twitter.com/0sejRHinsF

— 1907 Media? (@1907Media) January 27, 2020
One of them, Transportation Minister Cahit Turhan, voiced his wish for Trabzonspor to clinch the league in the 2019-2020 season. A year earlier, Interior Minister Süleyman Soylu voiced the same wish for this season.
Match-fixing case
Albayrak was previously slammed for calling Trabzonspor "the champion of the 2010-2011 season" during a visit to the Black Sea province - when, in fact, Fenerbahçe has officially been named the winner both by the local football association, the TFF, and the European football's governing body, the UEFA, denying Trabzon's appeals.
Shortly after the end of the season, Aziz Yıldırım, then-Fenerbahçe chair, was detained on July 3, 2011 alongside dozens of suspects over match-fixing, prompting thousands of Fenerbahçe fans to take to the streets to protest.
Yıldırım was later arrested and spent a year behind bars.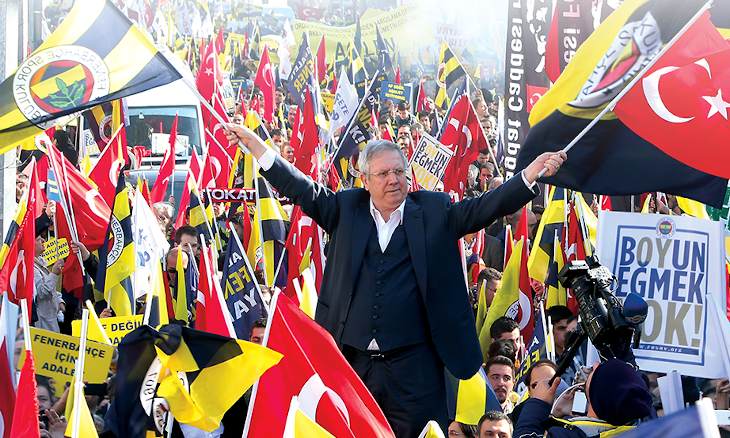 The investigation into the suspects was launched by Zekeriya Öz, now a fugitive former prosecutor known to be a staunch supporter of the U.S.-based Islamic preacher Fethullah Gülen - an ally-turned-foe of the ruling Justice and Development Party (AKP).
The close ties between the AKP and Gülenists were severed in 2013, when prosecutors close to the preacher launched graft probes that targeted senior government figures.
The Gülen movement is now officially called the Fethullahist Terrorist Organization (FETÖ), which is widely believed to have been behind the attempted takeover of July 15, 2016 after years-long infiltration into state institutions.
Yıldırım was acquitted in the following process, putting an end to the debate on the winner of the 2010-2011 title, a verdict that Albayrak and many other Trabzonspor apparently rule out.
Çağırdılar kıramadık. Çok sevdiğim Trabzonspor'umuzu yaz kış demeden gönülden destekleyen taraftar derneklerimizle de bayramlaştık.

Trabzon'un, Anadolu'nun yetenekleri ile yeni sezonda büyük başarılara hep birlikte kavuşacağız. pic.twitter.com/wszAP9hHPD

— Berat Albayrak (@BeratAlbayrak) June 6, 2019
Upon being awarded a Trabzonspor jersey by the team's fans in June 2019, Albayrak said, "This was the jersey of the season of 2010-2011. So, did they make the jersey of the season that the team became the champion?"
Shortly after Albayrak's comments that stirred social media, Fenerbahçe released a statement, saying that the trophy that was won with hard work is being exhibited in Fenerbahçe's museum.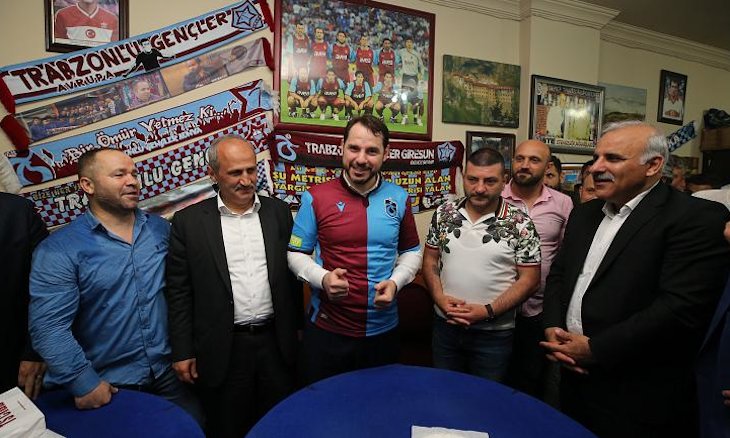 "The champion of the 2010-2011 season is Fenerbahçe. Denying it, putting it up for a debate and having an opinion contradicting it means the legitimization of FETÖ, which attempted to destroy the existence of the Turkish Republic," the June 7, 2019 statement read.
"The valuable trophy that we won was attempted to be smeared with a match-fixing plot that FETÖ set up against our Fenerbahçe," it said, as it also quoted Yıldırım's former remarks warning authorities about the danger posed by Gülenists.
Albayrak's ties to the media have also been under scrutiny by Fenerbahçe. The minister's brother Serhat Albayrak is the deputy chairman of Turkuvaz Media Group, which is known for its heavily pro-government and anti-Fenerbahçe stance.
A video dated 2017 that surfaced on social media recently showed Berat Albayrak's father Sadık Albayrak, who is a member of Trabzonspor's council board, saying that the team "would have drowned" without Turkuvaz Media's support.
The issue has been brought up repeatedly by Fenerbahçe chair Ali Koç and the team's management, who criticize ASpor, a sports channel under Turkuvaz Media, for not reporting objectively.
Fenerbahçe fans have also been protesting ASpor in football and basketball games.
Koç: There are efforts to clear the way for a team
Koç, a businessman from one of Turkey's wealthiest families that had strained ties with the government during Gezi Protests of 2013 when a hotel belonging to their Koç Group provided shelter to anti-government protesters escaping from police violence, slammed Trabzonspor last month for receiving support from the state.
"They are backed by Turkey's biggest media group. The state is providing serious help and they put it clearly," Koç said in a press conference in January, adding that the time to revive "the spirit of July 3" has come.
"Some politicians are not shy on revealing the things they did for Trabzonspor via using state resources," Koç said.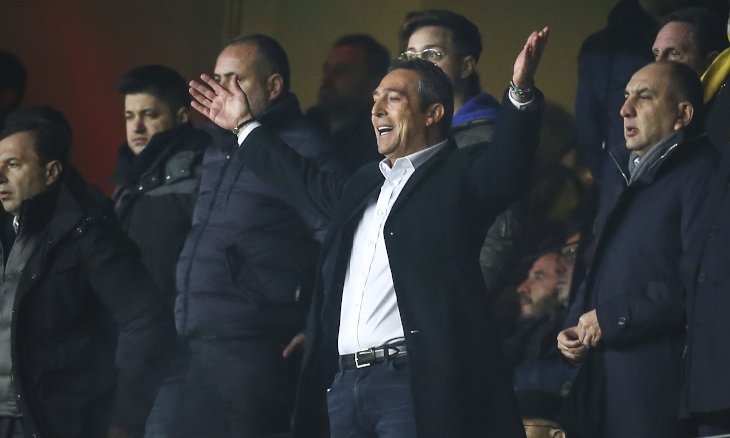 Koç's tone became harsher after the Feb. 8 game.
"There are efforts to clear the way for a team in Süper Lig, while close it for another. They play games on Fenerbahçe. It has come to a point that would cause immense social and societal problems. This is what I fear," he said.
"I hope that football will be played only on the field from now on," Koç added.
Fenerbahçe deputy chair Semih Özsoy implied that referee Öztürk received orders before the game.
"We shouldn't be so angry at the referee. He just fulfilled the orders and duties he was assigned," Özsoy told reporters.
Fenerbahçe coach Ersun Yanal also had a defiant tone.
Teknik Direktörümüz Ersun Yanal: "Bence bu iş Ümit Öztürk'lük değil bu iklimi yaratan kimlerse hepsi salkım salkım mutlaka bir gün dökülecek." pic.twitter.com/aeozVtJw82

— Fenerbahçe SK (@Fenerbahce) February 8, 2020
"Everyone should watch their step. The football environment is getting seriously tense," Yanal told reporters after the game, as he laid emphasis on the need for justice in football.
"If they don't want us, then we can withdraw from the league," Yanal said.
"Those who shouldn't be in sports need to withdraw immediately," he added.