Survey shows Meral Akşener, her İYİ Party rising in popularity
A recent survey by pollster Istanbul Economic Research has revealed that Turkey's opposition İYİ Party would come third in a potential election, receiving 15.3 percent of the votes. The same survey also placed İYİ Party leader Meral Akşener as the second most successful party leader in the country, following Erdoğan.
Duvar English
İYİ (Good) Party and its leader Meral Akşener have been climbing up in popularity, according to the results of a recent survey.
If an election were to be held today, İYİ Party would receive 15.3 percent of the votes, according to the survey that polling company Istanbul Economic Research conducted in April.
A total of 1,500 people in 15 provinces participated in the survey named "Türkiye Raporu."
The ruling Justice and Development Party (AKP) would garner 36.1 percent of the votes, followed by the main opposition Republican People's Party (CHP) at 23.3 percent, İYİ Party at 15.3 percent, and Peoples' Democratic Party (HDP) at 11.3 percent.
The Nationalist Movement Party (MHP), Democracy and Progress Party (DEVA), Future Party and Felicity Party on the other hand would stay below the 10 percent election threshold level, receiving respectively 8.6 percent, 2.7 percent, 1.1 percent, and 0.7 percent of the votes.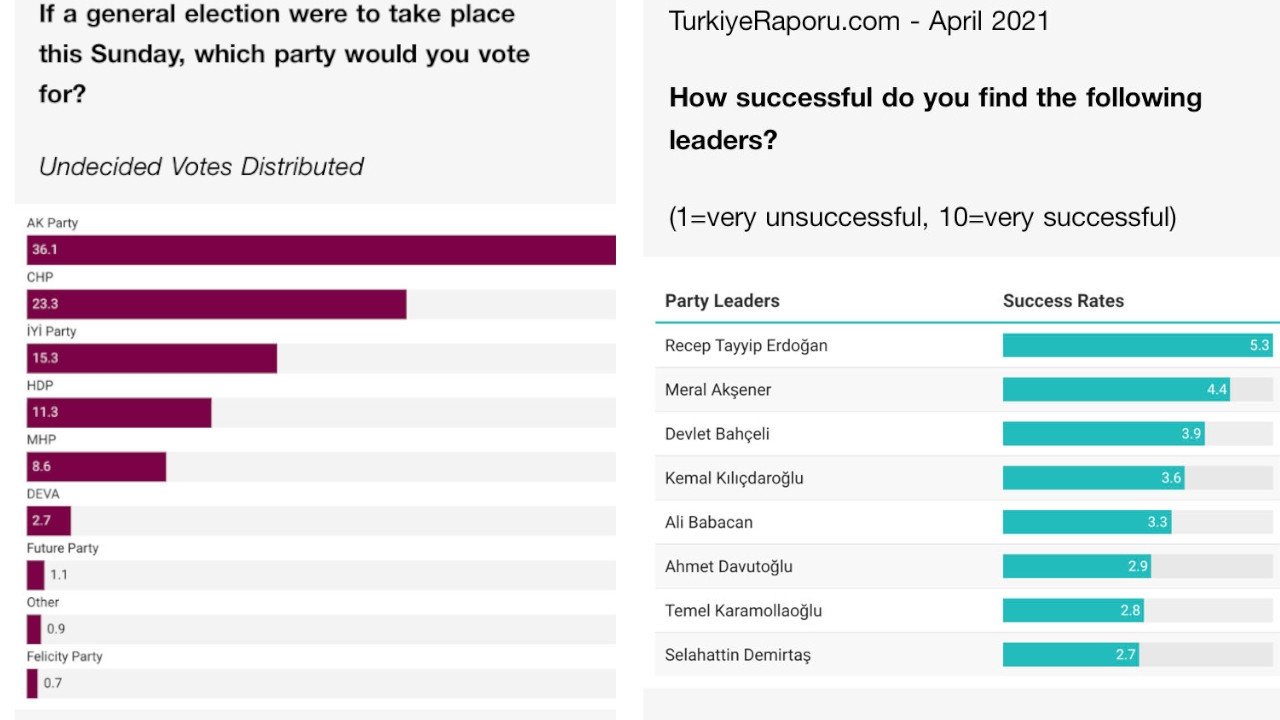 The survey also asked the participants how "successful" they find the party leaders, with 1 being "very unsuccessful" and 10 "being very successful."
AKP chair Recep Tayyip Erdoğan came up at the top of the list with an average of 5.3 success rate, followed by Akşener (4.4), MHP chair Devlet Bahçeli (3.9), CHP chair Kemal Kılıçdaroğlu (3.6), DEVA chair Ali Babacan (3.3), Future Party chair Ahmet Davutoğlu (2.9), Felicity Party chair Temel Karamollaoğlu and former HDP co-chair Selahattin Demirtaş (2.7).
Before founding İYİ Party in 2017, Akşener used to be a lawmaker from the MHP. She was expelled from the MHP on Sept. 8, 2016 for organizing an emergency convention that aimed to challenge the leadership of long-standing Bahçeli.
Once she announced the formation of the İYİ Party on Oct. 25, 2017, several other MHP members resigned from the party and joined İYİ Party.