The sea is dying: Turkish experts alarmed as 'sea snot' covers surface, coasts
Caused by the over-reproduction of microalgae, "sea snot" has been threatening the biodiversity in the Marmara Sea for weeks now, with experts most recently saying that the sea is dying.
Duvar English
Mucilage, also known as "sea snot" caused by an over-reproduction of microalgae, has been threatening the biodiversity of Turkey's Marmara Sea for weeks now, as experts have most recently spoken out to say that "Marmara is dying."
The Istanbul Municipality has been working on cleaning the mucilage for three months, the daily Sözcü reported on May 25, in attempts to clean up the slime-looking layer of pollution that plague the city, the straits and beaches along the coast of the Marmara Sea.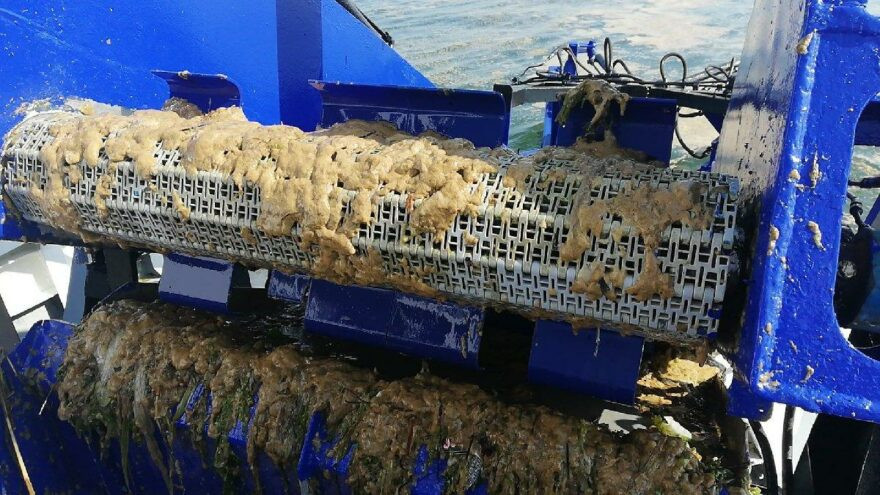 Boats that work on collecting floating waste pollution in waters have reportedly been attempting to break up the material to help it sink back to the bottom of the sea, although reports from the field show a grueling scene.
Diver Seyit Ali Aral shared a series of photos on his Twitter on May 30 to reveal the gravity of the situation. He said that the diving community was watching Marmara die "with pain, shame, anger and helplessness."
Images from a mid-April dive at noon in the Marmara showed a dark scene with little to no light coming through the surface, although Aral said that the depth at which the shots were snapped is normally a high-visibility region in the Marmara.
"It's pitch black below 30 meters deep," Aral said. "There used to be minimal visibility in April but now, it's like a city that's been under volcanic eruption for six months. Dust, sand and ash have covered everything, like a post-nuclear site."
Daha sonraki tüm dalışlarda mart, nisan ortası iyice azdı. Nisan ortasında öğle vakti yapılan bir dalıştan foto (niye öğle vakti, görüş için güneş ışıkları suya dik girer avantajdır.) derinlik sanıldığı gibi fazla değil 10 mt ki bu derinlikte Marmara'da görüş vardır. + pic.twitter.com/5glZx1GRK5

— Seyit Ali Aral (@seyitaliaral) May 30, 2021
Life in the depths of the Marmara is now restricted to small caves that living species have taken refuge in, Aral said, adding that mass fish deaths have been observed on shores around the Marmara.
"Perhaps the most dramatic scene is the mass fish deaths, all with their mouths open like they suffocated. Hundreds of crustaceans are almost liquified like acid was poured on them," Aral said.
"Minimal life is present in little nooks and crevices in the bottom of the sea. Those who survived helplessly took shelter."
Aral said that the state of the Marmara Sea was a representation of the state of the country, "drowning in filth" and "destroyed for the pleasure of a handful of scrubs."
Lastly, the diver added that President Recep Tayyip Erdoğan's "crazy project" of Kanal Istanbul would be the last nail in the coffin of the Marmara Sea.
Calls for help
Social media users have spoken out about the mucilage in search of help from local governments, notably Istanbul Mayor Ekrem İmamoğlu, who has actively fought against Kanal Istanbul.
"I know we come to your for everything but there's nothing else to do because of this lack of responsibility. Should you maybe start a collaboration with Marmara municipalities?" journalist Rahşan Gülşan asked the mayor.
Deniz salyası ile ilgili kimseden ses çıkmıyor. Biliyorum her konuda size dönüyoruz ama bu sahipsizlik yüzünden başka çaremiz yok. Acaba tüm Marmara belediyeleri ile artık ortak bir seferberlik mi başlatsanız? @ekrem_imamoglu

— Rahşan Gülşan (@rahsangulsan) May 30, 2021
One user noted that Istanbul Municipality recently completed a clean-up of Kurbağalıdere Stream in the city, asking for their plans for the Marmara Sea.
"I'm curious about your action plan to fight sea snot. We would appreciate it if you could share your plans and reference experts within," one social media user said.
@ekrem_imamoglu Kurbağalıdere temizlendi ellerinize sağlık tamam da Marmara Denizi gitti o sırada? Deniz salyası ile mücadele planınızı merak ediyorum. Bu konuda aşama aşama planlarınızı sunarsanız ve sunarken de uzmanlara referans verirseniz seviniriz.

— Cengiz Büyükuncu (@HCBuyukuncu) May 31, 2021
Meanwhile, the Union of Ege and Marmara Region Municipalities (EMARÇEB) released an official statement urging all authorities to start efforts to clean up the sea, noting that it's the youngest sea in Turkey.
Risk of spreading
Ineffective waste management and an uptick in water temperature have contributed to the abnormal increase in mucilage in the Marmara Sea, Prof. Neslihan Özdelice told the daily Sözcü.
"It ruined tourism, people can't swim [in the Marmara] anymore. Don't think it'll stay in Marmara, it'll affect the Aegean and the Mediterranean too," Özdelice said.
Prof. Mustafa Sarı also said that the mucilage was a result of human activity, adding that it won't "go away on its own."
"There's no need to play dead, no need to wait," Sarı added. "If we don't want to deal with mucilage in the long run, we need to start taking precautions."
Separately, industrial Black Sea province Samsun has also observed mucilage pop up in abnormal amounts in May, the daily BirGün reported on May 25.