Turkey mourns on 16th anniversary of Hrant Dink's assassination
Turkish-Armenian journalist Hrant Dink was commemorated on Jan. 19 on the 16th anniversary of his murder. A large crowd attended a ceremony held outside his former office in Istanbul, where the journalist was gunned down.
Duvar English
Turkish-Armenian journalist Hrant Dink, editor-in-chief of Agos Newspaper, was shot dead 16 years ago on Jan. 19, with a gunshot to the head in front of the newspaper building in Istanbul by then 17-year-old Ogün Samast.
On the 16th anniversary of his murder, people and politicians gathered in front of the Sebat Apartment where the journalist was killed. A huge banner reading "Your faith, hope and courage are with us. We are with you ahparig. We have been here for 16 years" has been hung on the Sebat Apartment building.
"Ahparig" means "my brother" in Armenian.
Dink has been commemorated in front of the same building on the same day every year since Jan. 19, 2007.
Participants of the ceremony hold banners reading "Justice for Hrant," "We are all Hrant, we are all Armenians," in Turkish, Kurdish and Armenian languages.
They left red carnations and Agos Newspaper at the spot where Dink was murdered and lit candles.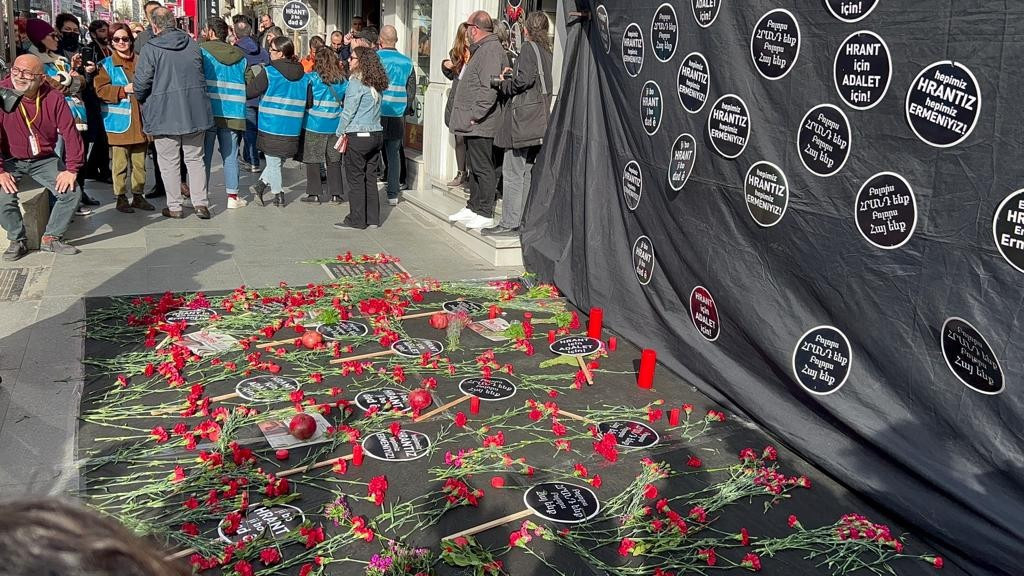 On the other hand, Dink's silhouette and pigeon images were projected onto the Sebat Apartment on Jan. 18 evening.
"From this evening [Jan. 18] on, don't forget to raise your head when passing in front of the Sebat Apartment. Pigeons will be accompanying the apartment this evening and after 6 p.m. on Jan. 19. We wish to be a society where no one has 'pigeon anxiety,'" Hrant Dink Foundation tweeted.
Bu akşamdan itibaren Sebat Apartmanı önünden geçerken kafanızı yukarı kaldırmayı unutmayın. Bu akşam ve 19 Ocak'ta saat 18.00 sonrası apartmana güvercinler eşlik edecek. Kimsenin "güvercin tedirginliği" yaşamadığı bir toplum olabilmeyi diliyoruz...#HrantDink pic.twitter.com/1vqQz0I0tZ

— Hrant Dink Vakfı (@HrantDinkVakfi) January 18, 2023
Dink was shot dead as he left his Istanbul office in January 2007. After the murder, tens of thousands gathered in central Istanbul to mourn.
Dink had worked for reconciliation between Christian Armenians and Muslim Turks and was repeatedly prosecuted for insulting "Turkishness" over his comments on Armenian identity and the massacres of Armenians by Ottoman Turks in 1915.
An Istanbul court ruled on March 2021 that the murder was carried out in line with the goals of the Gülen network, which the Turkish authorities refer to as the Fethullahist Terrorist Organization (FETÖ).