Turkey to send two firefighting planes to Greece
Greek FM Dendias on Aug. 9 said Turkish FM Çavuşoğlu had told him that Turkey would send two helicopters to help Greek fires as "wildfires in Turkey are now under control." Shortly after Dendias' comments, Turkish Forestry Minister Pakdemirli said that Turkey had prepared two firefighting planes with a water intake of 40 tons each to be dispatched to Greece. 
Duvar English
Greek Foreign Minister Nikos Dendias on Aug. 9 tweeted that Turkey will be sending two firefighting planes to Greece.
He said that he was told by his Turkish counterpart Mevlüt Çavuşoğlu in a phone conversation that the wildfires that have been raging for days through Turkey "are now under control."
Shortly after Dendias' statements, Turkish Agriculture and Forestry Minister Bekir Pakdemirli said that all the fires in Turkey had been brought under control except for three in the Aegean provinces of Muğla and Aydın.
"We have dealt with 270 forest fires, 267 of which are under control. Works are continuing for three forest fires," Pakdemirli said during a press conference on Aug. 9.
The Turkish minister also said that Turkey had prepared two firefighting planes with a water intake of 40 tons each to be dispatched to Greece.
"There is a request of Greece from us. We are looking at it positively. Two planes with a water intake of 40 tons, which have been used by the [Turkish] General Directorate of Forestry, have been prepared and will take off if their procedures are completed by the relevant country's [Greece's] Foreign Ministry," he said.
Pakdemirli's remarks prompted surprise since President Recep Tayyip Erdoğan's ruling Justice and Development Party (AKP) previously admitted that Turkey doesn't have any firefighting planes.
Although initially claiming that Turkey is strong and can tackle the fires, the government finally admitted the gravity of the situation and asked for help from foreign countries.
A day earlier, Pakdemirli said that Ankara can send Greece firefighting planes if the fires in Turkey are extinguished.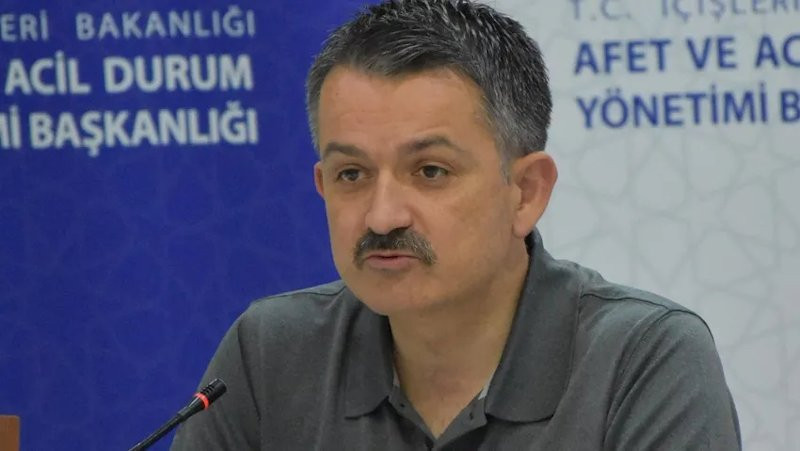 Speaking to reporters on Aug. 8, Pakdemirli said that there are no fires that currently threaten residential areas, noting that Greece asked for help from Turkey.
"Two planes that were sent to us from abroad had to leave due to the severity of the fires in Greece and the EU. Greece has demanded planes. We are trying to evaluate it. We'll be providing Greece with them if we can after the fires here are weakened," the minister said.
His remarks prompted surprise on social media, as well as among politicians, with Good (İYİ) Party deputy Koray Aydın calling on the government to not make fun of the people.
Sn. Pakdemirli "Yunanistan'ın uçak talebi var. Bizdeki yangınların hafiflemesiyle beraber bunu da sağlıyor olacağız" diyor.
Envanterinizde #yangın söndürme uçağı olmadığını bizzat açıklamıştınız.
Hafızanızı yoklayın,
milletin aklıyla alay etmeyin bari.
Allah akıl fikir versin! pic.twitter.com/nijtFx5J1H

— Koray Aydın (@korayaydintr) August 8, 2021
"You personally announced that there are no firefighting planes in your inventory. Try to remember and don't make fun of people. May God give you common sense," Aydın said on Twitter.
Greek fires on seventh day
Thousands of people fled their homes on the Greek island of Evia as wildfires burned uncontrolled, and ferries were on standby for more evacuations after taking many to safety by sea.
The blaze on Evia, Greece's second-biggest island, quickly burgeoned into several fronts, ripping through thousands of hectares (acres) of pristine forest across its northern part, and forcing the evacuation of dozens of villages.
The flames engulfed homes in five villages but the full extent of the damage was not immediately known.
Wildfires have broken out in many parts of the country during a week-long heatwave, Greece's worst in three decades, with searing temperatures and hot winds creating tinder-box conditions. Across the country, forest land has burned and dozens of homes and businesses have been destroyed.