Turkey's Hatay province in crisis after two major quakes
The Hatay Medical Chamber Chair Servar Yılmaz has said that the center of Hatay province has not received any help yet one day after the major quakes. About 2,000 buildings collapsed only in the southern province of Hatay, Mayor Lütfü Savaş noted.
Duvar English
Hatay Medical Chamber Chair Servar Yılmaz got caught in the major earthquake that struck southeastern Turkey with 7.7 magnitude in a private hospital which was collapsed in Hatay province on Feb. 6.
Saying that the aid and rescue teams has not yet come to Hatay as of Feb. 7, Yılmaz said, "We don't know about the peripheral areas. None of the destroyed apartments have been touched yet."
Yılmaz told daily Birgün that the public hospitals in the province are completely destroyed, adding the dead bodies lying around the corridors of the hospital.
In the province, two public hospitals have collapsed and some tents have been built to take care of the wounded. It is impossible to conduct advanced medical operations in these facilities, Dr. Yılmaz said. At midnight on Feb. 6, a military ship arrived at the province's port in order to carry the wounded to nearby hospitals.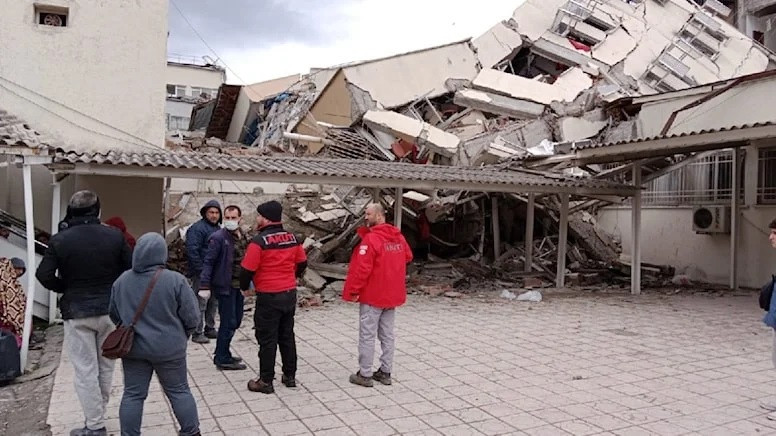 Yılmaz emphasized that another problem after the earthquakes is security, and said "People come and go as they please (to the hospital). No one to check in and out. Citizens come and try to find the bodies of people that they know."
He stated many people might be alive under the rubble of the hospital even though most of those who were in intensive care units have been probably dead.
"People are trying to find corpses of their relatives out of the rubble with their own hands," he said, adding there are thousands of apartments in Hatay, which rescue teams of Turkey's Disaster and Emergency Management Presidency (AFAD) have not arrived.
The Peoples' Democratic Party's (HDP) Adana Deputy Tulay Hatimoğullari Oruç as well stated that there are not enough rescue operations in Hatay, and thousands are under the rubble.
📢Hatay'da deprem bölgesinden bildiren HDP'li Hatimoğulları:

📌Hatay'a üvey evlat muamelesi yapılıyor, sokakta tek bir yetkili dahi yok

📌İçler acısı bir durum var

📌Binlerce insan enkaz altında pic.twitter.com/ym4hHP0hsi

— T24 (@t24comtr) February 7, 2023
Hatay Mayor Lütfü Savaş on Feb. 7 morning said that about 2,000 buildings collapsed only in their province, but rescue teams just started to arrive, one day after the initial major quake.
"We could have survived with less damage and fatalities," Savaş told Halk TV channel on Feb. 7 morning.
Moreover, the Hatay Airport has been out of use since the initial quake as its runway split in half, which was built right above the fault line in 2007 despite several expertise reports.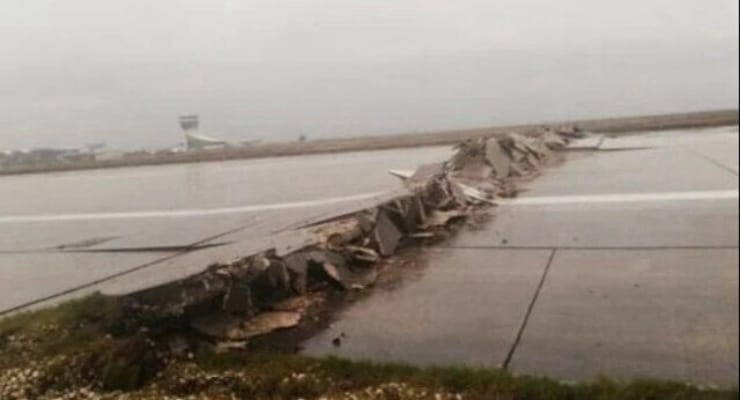 Rescue team of 100 people of the opposition run Istanbul Metropolitan Municipality have been searching for survivors under the rubble in Hatay province, Mayor Ekrem İmamoğlu said.
İBB arama kurtarma ekipleri afet bölgesinde. Hatay'a ulaşan ilk ekibimiz 8 vatandaşımızı enkazdan sağ kurtardı. Hatay'da şu an 100 kişilik ekibimiz var. G.Antep'ten 108, Adana'dan 100 kişilik ekibimiz Hatay'a ulaşmak üzere. Bu gece İstanbul'dan 100 kişilik tim daha yola çıkıyor. pic.twitter.com/zGqcIJGctj

— Ekrem İmamoğlu (@ekrem_imamoglu) February 6, 2023
The death toll from devastating earthquakes in southeastern Turkey has risen to 5,434, more than 31,000 people were injured, and at least 5,775 buildings collapsed as a result. Turkey has declared 7-day national mourning due to quakes.
The initial earthquake at a magnitude of 7.7 struck southeastern province of Kahramanmaraş's Pazarcık district on Feb. 6 at 4:17 a.m. local time.
The second earthquake at a magnitude of 7.6 struck Kahramanmaraş's Elbistan district at 1.24 p.m. local time on the same day.
Five million people live in the region affected by the earthquake. The population of the ten affected Turkish provinces exceeds 13 million.