Turkey's new government: Erdoğan changes almost all cabinet members
President Recep Tayyip Erdoğan on June 3 announced Turkey's new cabinet after his swearing-in ceremony. Only two previous cabinet members retained their positions, while 16 new ministers were appointed.
Ceren Bayar / Gazete Duvar
President Recep Tayyip Erdoğan on June 3 announced the new presidential cabinet in a ceremony at the Çankaya Mansion after he was officially sworn in at the Parliament.
As a result of the May 14 elections, rumors circulated that certain ministers-turned-MPs, namely Hulusi Akar, Mevlüt Çavuşoğlu, and Süleyman Soylu, would step down as MPs at the request of President Erdoğan and resume their roles as ministers. However, these speculations proved unfounded as none of the ministers who held parliamentary positions were included in the new cabinet. Consequently, almost the entire presidential cabinet underwent a significant reshuffling.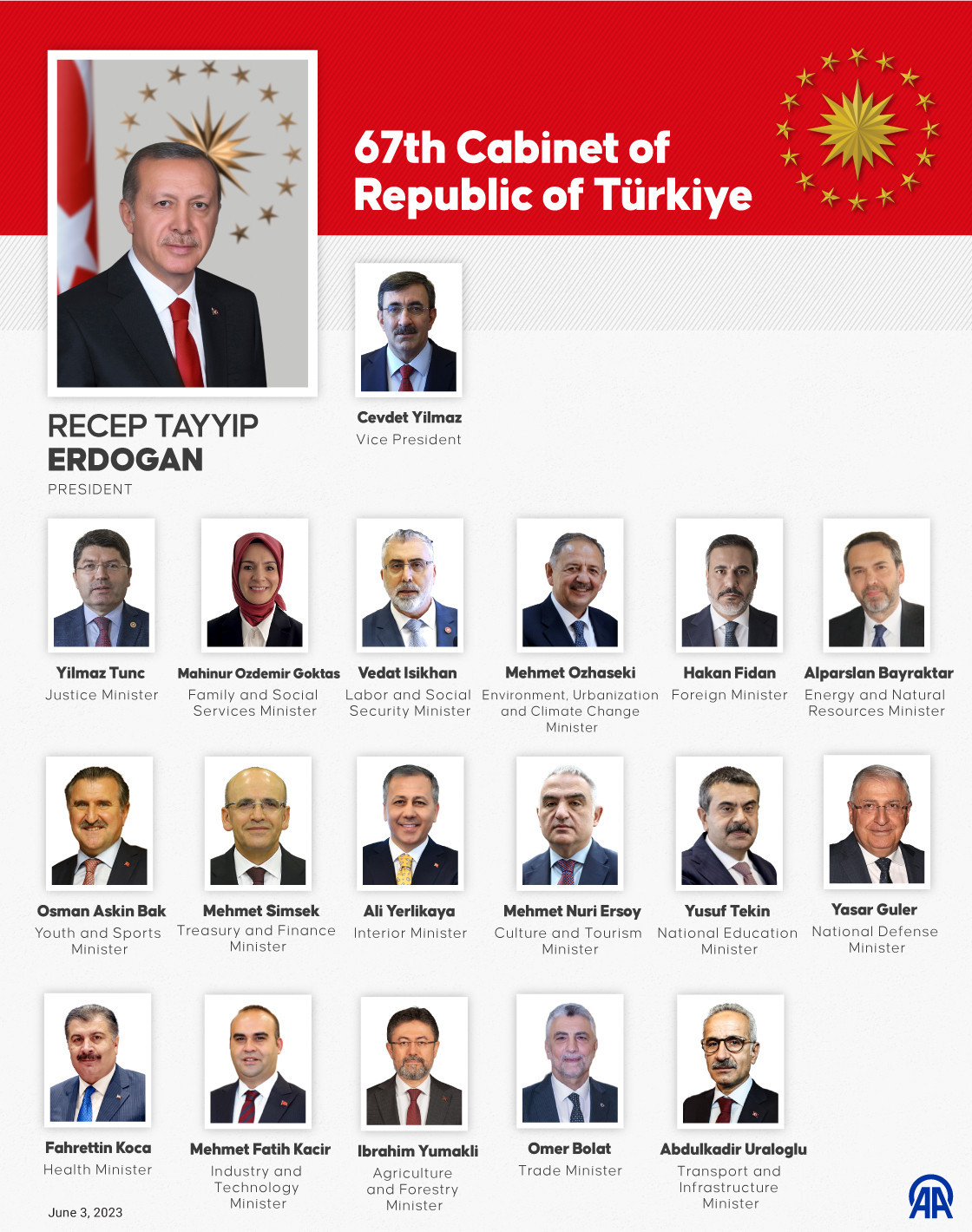 Only Health Minister Fahrettin Koca and Tourism Minister Mehmet Nuri Ersoy, who did not run as candidates for parliamentary seats, maintained their positions in the cabinet. President Erdoğan appointed 16 new ministers.
Many economic experts had expressed that former minister Mehmet Şimşek would be reappointed to the cabinet, highlighting that Şimşek would come with certain conditions regarding economic management and that the repercussions on the markets would be positive. As expected, Şimşek indeed assumed the position, replacing Nureddin Nebati as the head of the Treasury and Finance Ministry.
Following the transition from a parliamentary system to the presidential system in 2018, the position of the vice presidency was created, and Fuat Oktay occupied the newly added position in the cabinet from the very beginning. However, Cevdet Yılmaz, who has been alongside Erdoğan throughout his political career, replaced Oktay in the new cabinet. Yılmaz and Şimşek have a close relationship and are considered similar figures.
After leaving a significant mark on Turkey's recent period with his notable oppressive policies and attitude, Interior Minister Süleyman Soylu has stepped down from his position after seven years. Ali Yerlikaya, the Governor of Istanbul, has been appointed as his successor.
President Erdoğan also replaced Justice Minister Bekir Bozdağ with AKP's parliamentary group deputy chair Yılmaz Tunç.
Erdoğan did not include former minister Mevlüt Çavuşoğlu on the list as well. Hakan Fidan, the head of the National Intelligence Organization (MİT), replaced Çavuşoğlu as Foreign Affairs Minister.
Hakan Fidan, who has served as a top executive in the MİT since 2015, played important roles in many critical periods such as the 2013–2015 Kurdistan Workers' Party (PKK)–Turkey peace process and the coup attempt in 2016.
It is expected that İbrahim Kalın, the presidential spokesperson, will be appointed as the head of the MİT, and Akif Çağatay Kılıç, a former Youth and Sports Minister will fill the vacant spokesperson position.
President Erdoğan appointed Chief of General Staff Yaşar Güler as the National Defense Minister. Güler has been serving as the Chief of General Staff since 2018.
Mahinur Özdemir Göktaş, on the other hand, was appointed as the Family and Social Services Minister, becoming the only female minister in the cabinet. Born in Brussels, Öztaş had previously served as a Christan Democrat MP for two terms in Belgium.
Erdoğan appointed Mehmet Özhaseki as the Environment, Urbanization, and Climate Change Minister -- a position that he held five years ago. Osman Aşkın Bak, who has been appointed as the Youth and Sports Minister, previously held the same position in 2017-2018 as well.
Erdoğan appointed Yusuf Tekin, rector of Hacı Bayram Veli University, to the head of the Education Ministry. Tekin's previous appointment as rector had caused controversy. Just before Tekin took office, the requirement to serve as a professor for at least three years was abolished by presidential decree and Tekin became rector two months after becoming a professor.
In the new cabinet, three former deputy ministers have been appointed as ministers. Alparslan Bayraktar, who was serving as the Deputy Minister in the Energy and Natural Resources Ministry, has been appointed as the minister in the same ministry. Mehmet Fatih Kacır, who became the Industry and Technology Minister, and İbrahim Yumaklı, who became Agriculture and Forestry Minister, previously served as deputy ministers in their respective ministries.
Erdoğan appointed Abdülkadir Uraloğlu, the General Director of Highways, as the Transportation and Infrastructure Minister.
The newly appointed Labor and Social Security Minister Vedat Işıkhan was serving on the Presidential Social Policies Council -- just like his predecessor Vedat Bilgin.
Erdoğan appointed Ömer Bolat, a former president of the pro-government conservative Independent Industrialists and Businessmen Association (MÜSİAD), as the Trade Minister. Bolat has been the CEO of the pro-government conglomerate company Albayrak Group since May 2000.
(English version by Can Bodrumlu)