Turkish court releases two Boğaziçi students being tried over Mecca poster with LGBT flags
An Istanbul court on March 17 released two Boğaziçi University students who are on trial for a poster depicting Islam's most sacred site with LGBT flags during a protest against Erdoğan's appointment of a party loyalist as rector to the university. Five other students are also on trial with the two released. The next session in the case will be held in July.
Duvar English
Seven Boğaziçi University students appeared for the first time before judges on March 17 as part of a case in which they are accused of inciting hatred and insulting religious values over a poster depicting Islam's sacred site Kaaba with LGBT flags.
The poster in question was part of an exhibition that displayed several other artworks in protest of Turkish President Recep Tayyip Erdoğan's appointment of a new rector to the university.
The Kaaba in Mecca is the holiest site in Islam with believers across the world praying in its direction.
On Jan. 29, the students were detained after being targeted by government officials. On the same day, the police raided a room used by the university's LGBTI student club and confiscated flags and books. Two days later, Melih Bulu, the new rector, shut down the LGBTI club.
The hearing with regards to the case took place at the Istanbul 21st Criminal Court of First Instance at the Çağlayan Courthouse. It was observed by several politicians, including main opposition Republican People's Party (CHP) Istanbul chair Canan Kaftancıoğlu, CHP deputy chair Özgür Özel, independent MP Ahmet Şık, Workers' Party MP Barış Atay and Left Party MP Alper Taş.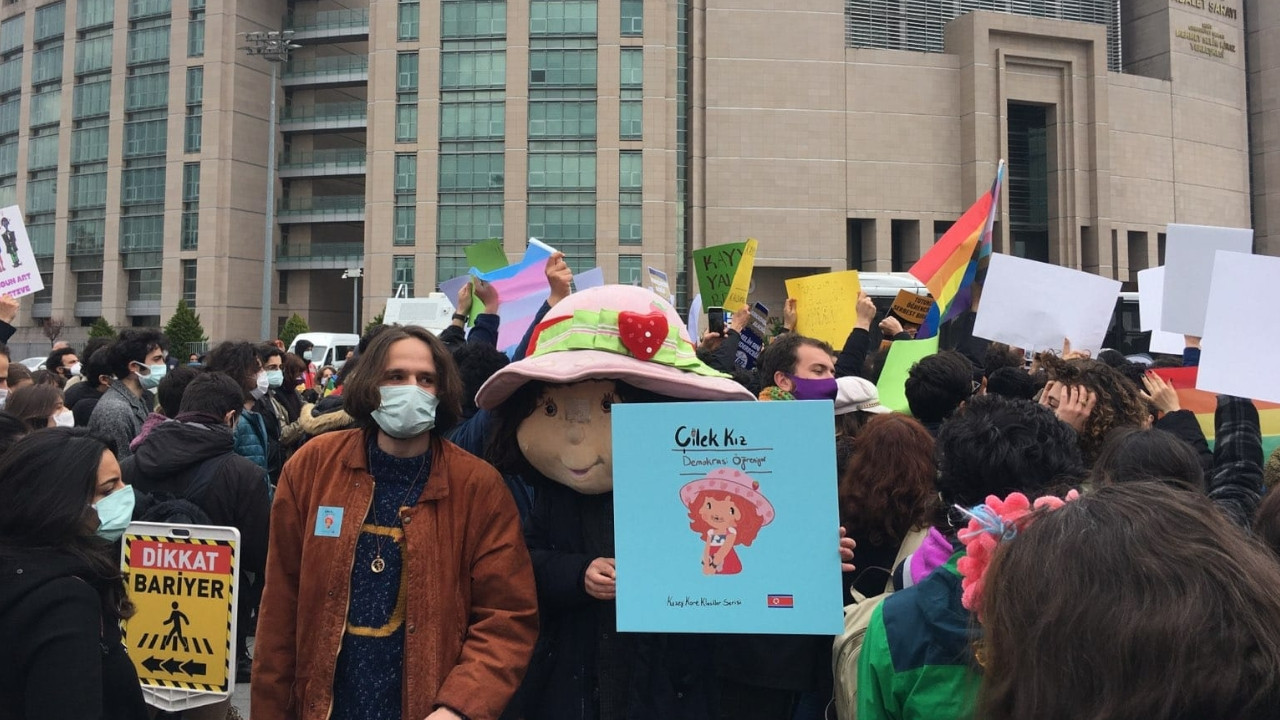 Of the seven students on trial, two are arrested and one is under house arrest.
During the hearing, the students made their defense statements, saying they refuse the charges as their protest had nothing to do with either inciting hatred or insulting religious values.
"Because police intervened with tear gas during protests, we held an exhibition as a more peaceful method," Doğu Demirtaş, one of the two arrested students, told the court.
Judge asks students if they have membership to LGBTI club
The judge presiding the court asked the students if they were members of Boğaziçi's shut-down LGBTI student club. The students then listed the names of clubs to which they hold membership.
Lawyer Levent Pişkin demanded the immediate acquittal of all students, saying the displayed artwork was within the framework of freedom of speech.
The lawyer noted that the indictment makes references to Sharia laws and thereby violates the Constitution's second article which says Turkey is "a democratic, secular and social state governed by rule of law." Pişkin demanded that the court return the indictment back to prosecutors.
The court ordered the release of two arrested students, while postponing the trial to July 5.
Meanwhile, several students, academics and alumni of Boğaziçi University were in front of the Çağlayan courthouse in support of the students.
A press release read here by Assoc. Prof. Zeynep Gambetti said that Boğaziçi academics stand against the targeting of students as "criminals and suspects."
"Criticism and holding protests are rights. We do not accept the accusations against our students who have used these rights. We demand that our students are immediately released and they start their new academic year without losing any more time tomorrow," the press release said.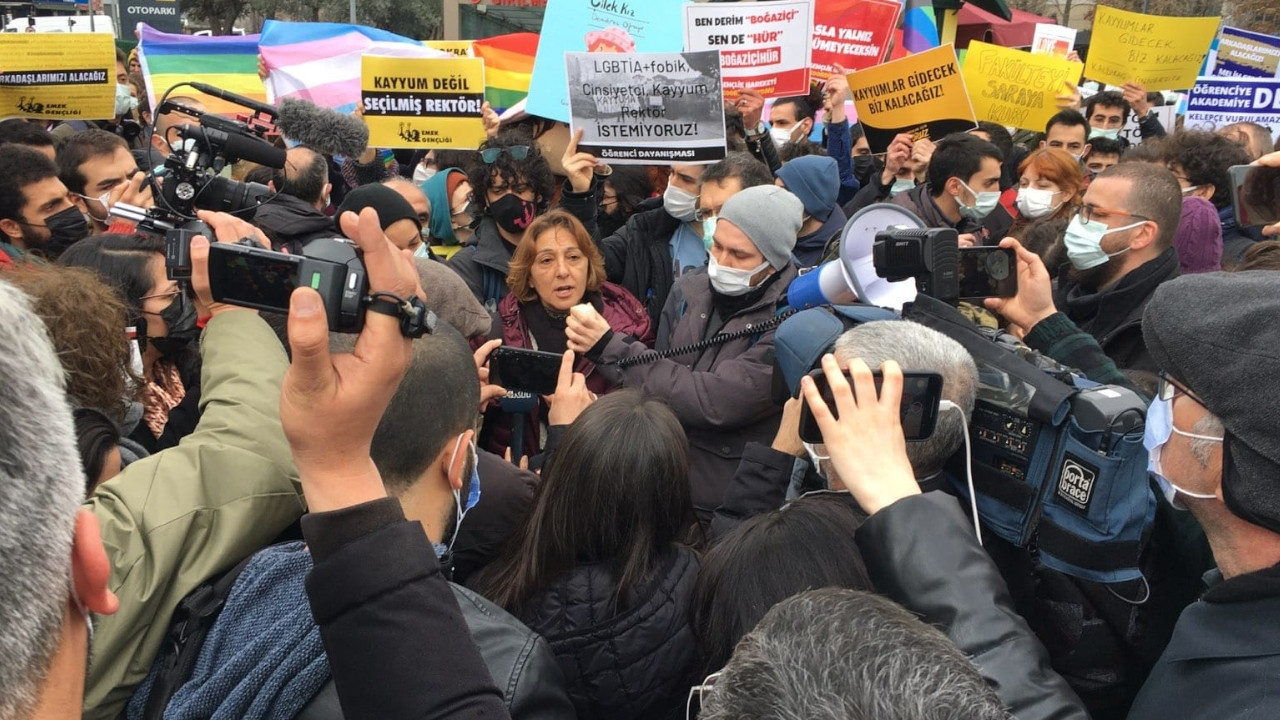 Students and faculty members have been battling against Erdoğan's attempt at controlling Boğaziçi University since early January by partaking in several demonstrations.
Hundreds of people were detained during these protests. Authorities later officially arrested nine of the protestors, while put 25 others under house arrest, mandating them to wear electronic bracelets.
Students under house arrest did not leave their friends alone on March 17 and came to the Çağlayan courthouse having removed their electronic bracelets.
"We have removed and thrown away our electronic bracelets. It is now time to do this for fascism," said LGBTI activist and Boğaziçi protestor Yıldız İdil Şen.
Interior Minister Süleyman Soylu repeatedly labeled the students "LGBT deviants" and Erdoğan praised his ruling Justice and Development Party (AKP)'s youth wing for not being the "LGBT youth."