Turkish drones displayed at Ukraine's Independence Day parade
Ukraine has displayed the newly acquired Turkish-made drones for the first time during a parade commemorating the 30th anniversary of its independence on Aug. 24.
Duvar English
The Bayraktar TB2 drones from the Turkish defense company Baykar have been exhibited during Ukraine's Independence Day celebrations on Aug. 24.
At the event, Ukrainian military vehicles and soldiers paraded through the streets of Kyiv.
Among the displayed high-tech weaponry systems were also Bayraktar TB2 drones which were transported on a tractor-trailer in a mechanized column.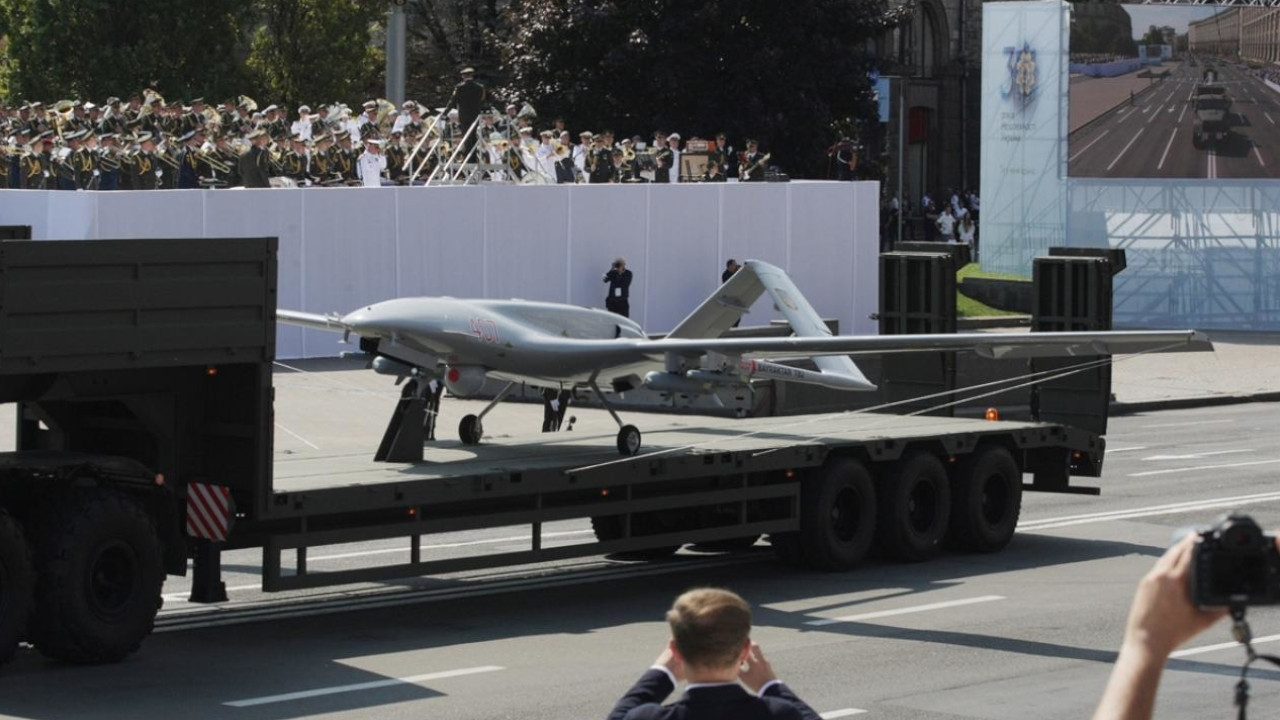 Opening the parade, Ukrainian President Volodymyr Zelenskyy said that a strong Ukraine is "a country that dreams ambitiously and acts decisively."
"Such a country becomes Nato's Enhanced Opportunities Partner; such a country is officially supported by others when it applies to join the European Union," Zelenskyy said.
Ukraine declared independence from the Soviet Union on Aug. 24, 1991.
Turkey delivered the Bayraktar TB2 drones to the Ukrainian Navy in July. The Turkish defense company Baykar won a contract in 2019 to supply six drones to Ukraine. The deal also included ammunition for the Turkish-made drones.
The military cooperation between Ukraine and Turkey has strengthened in recent years, much to Russia's ire. Russian Foreign Minister Sergey Lavrov said in May that "We strongly recommend that our Turkish colleagues carefully analyze the situation and stop fuelling Kyiv's militaristic sentiment."
Lavrov's comments came after Turkish President Recep Tayyip Erdoğan pledged support to Kyiv amid a buildup of Russian forces along its border with Ukraine.
Meanwhile, Kremlin spokesperson Dmitry Peskov said on Aug. 23 that Moscow views the Crimean Platform summit that opened in Ukraine as an "unfriendly" act towards Russia.
"We regard this event as extremely unfriendly towards our country. We absolutely do not accept such assertions relative to the Russian region, to Crimea. In this regard, the attitude is absolutely clear: we view it as an anti-Russian event," Peskov was quoted as saying by TASS.
Top officials from 46 countries and blocs took part in the summit, including from Turkey.
All 30 member states of the NATO were represented in the summit designed to keep international attention focused on Russia's 2014 annexation of Crimea.